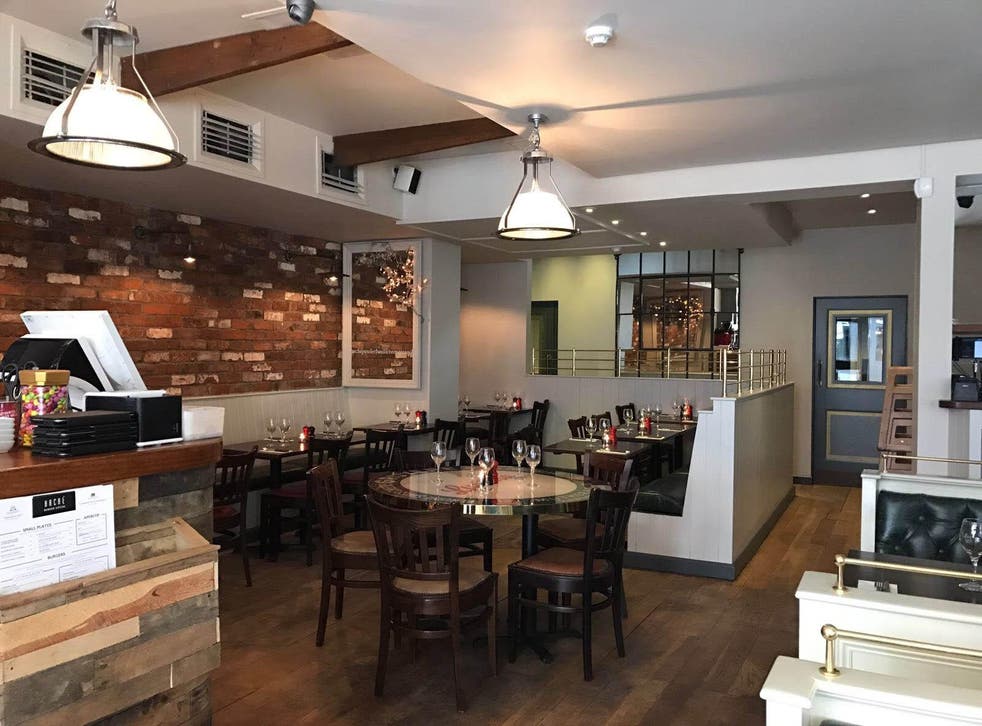 Brunch on Saturday: Hache review and one-pan black pudding recipe
Trends occasionally force restaurants to expand their USP, as Emma Henderson finds at one of London's best burger restaurants, while a classic country fry-up can also help cut down on the washing-up
Brunching out...
When you think of Hache in London, you think of burgers. And not just any old burger but the best burger I've ever had – and not just in London. They're big patties, pink in the middle with oozing sauces, brioche buns and independent beers to match.
What's new here is the brunch menu, although it actually began in June in a few of its branches and still seems to be finding it hard to sell itself and branch out from Hache's unique selling point – excellent burgers. Well, so suggests the quietness anyway. But it is January – so people can be forgiven for not knowing it does brunch and preferring not to venture out in this miserable month.
The menu has been kept simple with just four main dishes (no one likes a huge menu that takes 20 minutes to read and understand). Each is themed too – the full Parisian, the full Riviera (the only veggie option), the full Canadian and the breakfast burger.
Obviously there had to be a burger in there somewhere… For £9.50 you get a (as mentioned earlier) a huge beef pattie (cooked to your liking), smoked bacon, a crispy potato rosti topped with a fried egg and a coffee-flavoured ketchup. Perfect if you're hungover, or like us, can't visit your favourite burger joint without the signature.
For something a little lighter, the full Riviera (£10.75) hits the spot with kale, avocado, eggs of your liking (go for poached as they're straight-from-farm-bright-orange), served with crusty sourdough and the salty deliciousness of halloumi.
For what it lacks in presentation it certainly makes up for in size, coming on a large square plate which leaves little white china visible. But that's no bad thing, it's what a good brunch should be – filling and capable of seeing you through to an early dinner.
I desperately wanted to try the poutine dish, but there's something about cheesy, soaked-in-gravy chips in the morning that's just a bit, well, much. Perhaps at 3pm when I'm in need of carbs or after a particularly boozy night, but not at 10am.
In a bid not to be too niche, there's also the "rise and shine" part of the menu with the likes of toast and jam, granola from £2.95, or waffles with classic toppings from £3.95. So after nailing burgers, Hache has pretty much covered most avenues in the brunch world, and covered it well.
Hache Chelsea, 329-331 Fulham Road, London SW10 9QL; 020 7823 3531; hacheburgers.com; open daily
Brunching in...
Black pudding one-pan fried breakfast
Serves 4
280g black pudding
​280g white pudding
200g bacon rashers
3 large potatoes
4 free range eggs
Handful of parsley
1 onion (optional)
Peel and slice potatoes and place them in boiling salted water for 5 to 8 minutes until parboiled. Put a pan on medium heat. Add a small amount of butter or oil and then the puddings. Adjust heat as needed and keep turning puddings until cooked through.
Place rashers under a medium grill and flip after 10 minutes. Keep cooking until desired level of crispiness has been reached. Chop the onions, then remove the cooked pudding and rashers and chop them into smaller pieces.
Heat a frying pan on medium heat and add butter or oil. Add onions. Once they start to soften add the potatoes and brown each side. Add chopped pudding and rashers.
Whisk eggs and season with salt and pepper. Add egg mix to pan and keep stirring until egg is cooked. Cut into four servings, remove from the pan with a fish slice and put on a plate. Top with parsley to serve.
For more recipes, visit Clonakiltyblackpudding.ie
Register for free to continue reading
Registration is a free and easy way to support our truly independent journalism
By registering, you will also enjoy limited access to Premium articles, exclusive newsletters, commenting, and virtual events with our leading journalists
Already have an account? sign in
Register for free to continue reading
Registration is a free and easy way to support our truly independent journalism
By registering, you will also enjoy limited access to Premium articles, exclusive newsletters, commenting, and virtual events with our leading journalists
Already have an account? sign in
Join our new commenting forum
Join thought-provoking conversations, follow other Independent readers and see their replies