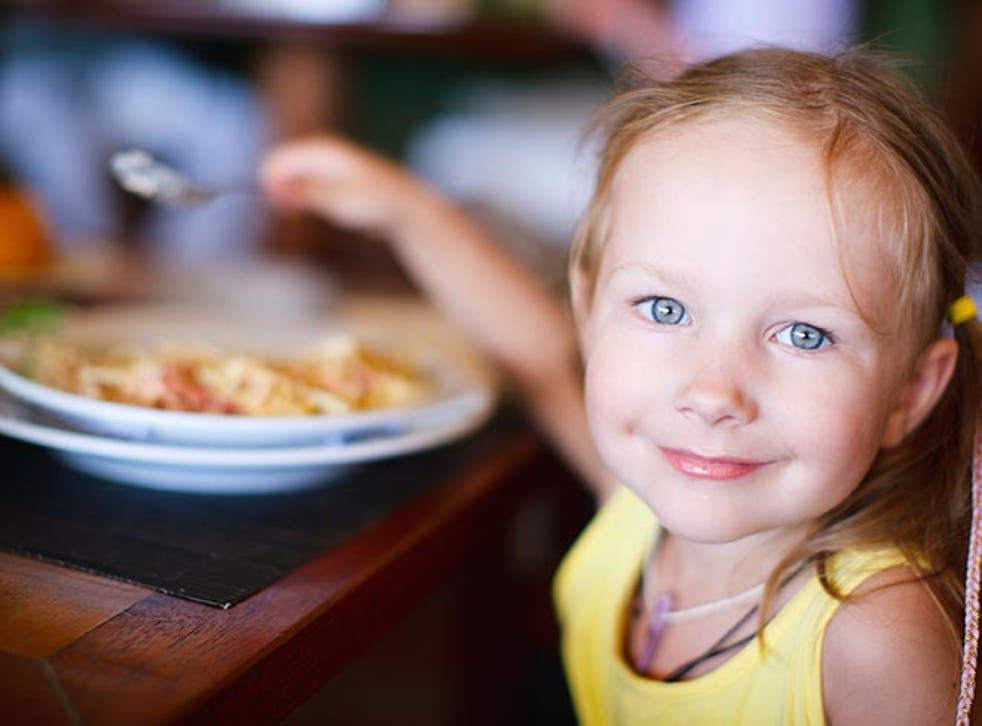 Healthy eating for children 'almost impossible' in top UK restaurant chains, according to new research
Jamie's Italian has the healthiest children's meal options, parents told researchers
Some of the most popular restaurant chains in the country fail "to serve fresh food or healthy choices" for their children's meal options, new research has found.
The findings were revealed by the Soil Association after parents were asked to survey 21 of the UK's most popular restaurants to see how healthy the kids' menus were.
In a statement, the charity said it had "uncovered continuing widespread poor practice" with some restaurants serving potatoes pre-mashed in Holland and fish-fingers pre-cooked in Poland.
Other chain restaurants - Café Rouge, Frankie & Benny's and Pizza Hut - increased children's sugar intake by offering free or discounted refills of fizzy drinks.
Rob Percival, of the Soil Association, said some menus made "healthy eating for children almost impossible".
The Soil Association also published a league table ranking how healthy children's food was in the 21 chains.
Parents voted Jamie's Italian as having the healthiest children's meal options. But they felt their children were offered the least healthy options at fast-food chain Burger King, which came in last position, followed by chicken restaurant KFC.
Jamie's Italian, which also won the top spot in 2013 when the first league table was released, was the only chain that could tell parents where its meat had come from.
Mr Percival said: "Our 2015 league table includes big winners and big losers - adults expect to be offered real food and real choices in restaurants and we think children deserve the same. We've found some up-market eateries are designing menus that make healthy eating for children almost impossible."
The top five restaurants also contained Giraffe and Wagamama, and the more inexpensive options of Wetherspoons and Harvester.
Hayley Coristine, of the Soil Association, told The Independent eating in a more expensive restaurant did not mean the food would be healthier.
"When parents go out to eat, they usually want the best for their kids and sometimes they think that price is going to have a bearing on that. Unfortunately, we've discovered that's not necessarily the case. And some of the more affordable options like Wetherspoons and Harvester are in the top five of the league table."
The top 25 best restaurants in the world

Show all 25
The research forms part of the Soil Association's 'Out to Lunch' campaign. With 40 per cent of parents taking their children to dine out at least once a fortnight, the initiative is calling on restaurant chains, pubs and cafes, "to have a better offering for kids," said Ms Coristine.
"It's so easy for parents to go out and get whatever options they like but that's not the case for kids. So often, kids' options are solely burgers and fries and chicken nuggets and sugar-laden desserts… so parents [either have to] give their kids unhealthy options when they go out to eat or purchase an adult size [meal]."
'Healthy food can be expensive'
"We just think that kids should be given a better deal when it comes to food outside the home and they shouldn't have to be relegated to unhealthy, high-fat and high-sugar menus."
But the Soil Association's research did reveal some shift towards healthier options. A total of 10 restaurants now served a portion of vegetables or salad with every child's meal, up from just six in 2013.
Jamie Oliver said in a statement: "I'm incredibly proud that our kids' menu has reached the top spot on the Soil Association's league table for the second time running. Over the last 12 months we've been working really hard to make sure that all the dishes are not only super-tasty and visually fantastic, but are nutritionally balanced, too."
Join our new commenting forum
Join thought-provoking conversations, follow other Independent readers and see their replies