How reviving the pastime of carving a spoon enriches your life
We once used just a simple spoon and a bowl to eat, but now we have a plethora of utensils. One man hand-making spoons from a single piece of wood is Ethan-James Osbourne, who says anyone can learn to carve one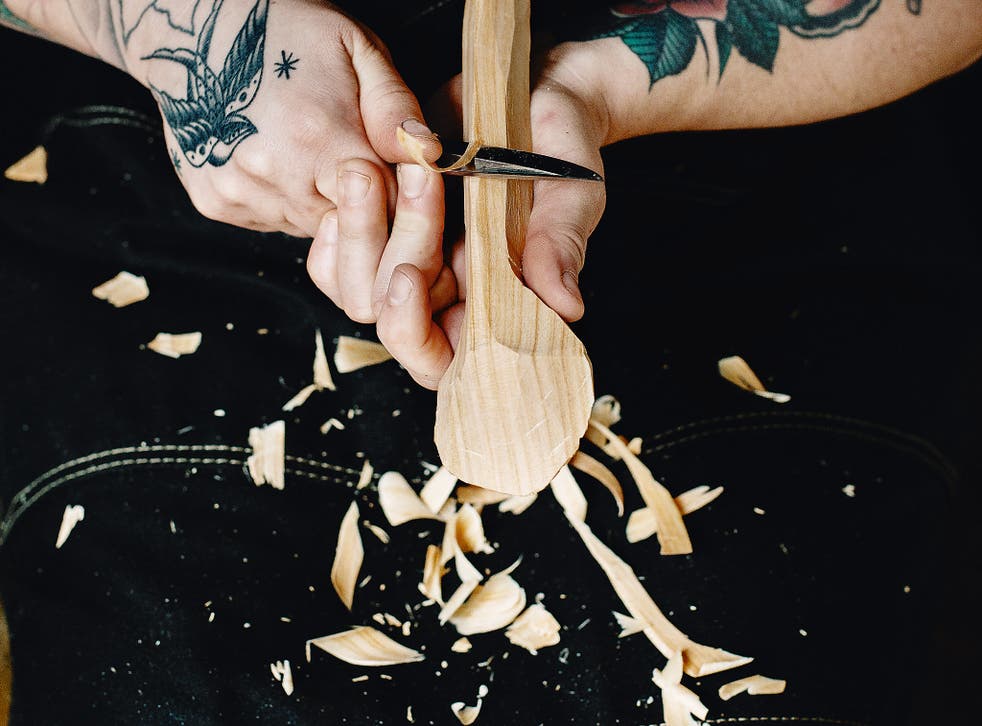 It's thanks to a bad case of the flu that Ethan-James Osborne carves spoons. He was in bed, delirious with a raging fever, when he was struck by what he admits was a rather mad idea: to go outside, find some wood, and carve a spoon.
"I hobbled out into the garden with my dressing gown on and it was raining. If anybody was looking out the window it would have looked practically psychotic. I headed down to the bonfire pile and pulled off a large branch of half burnt thing and dragged it into the garden, started carving away with a Stanley knife and cut myself."
It was at this point that his partner intervened. He recovered from the flu and his self-inflicted wounds, but what remained was a passion for finding pieces of wood and turning them into something beautiful and practical in what he calls, "an almost mythical exchange between the maker and the person using the spoon."
That was in 2011. Today, he has a devoted following for his work which sells under the name Hatchet + Bear. His range varies based on what wood he's using, but recent finds include his wild pesto spreaders (selling for £10), a long spalted scoop for £45 and a gorgeous, one-of-a-kind, thick chopping board made from storm-felled ash for £195. As soon as new pieces are posted on Instagram, they're snatched up by a dedicated group of followers who he calls his 'tribe'. While he could work on a larger scale, he doesn't.
"I don't want to be a machine. I don't want to come close to feeling like a machine. So I like to make extremely small batches of things. I've got six spatulas in front of me and I've got six because that's all the material would allow. That branch with that bend in it, to make six spatulas that bend round to the right is all that could be made."
While others might be frustrated with that, Osborne revels in what he thinks of as a 'collaboration' between him and the tree. "I shaped this beautiful thing but it was a beautiful thing before I got a hold of it." He's inspired by the shape, contours and grain of an individual piece of wood. "You can suggest what is the handle and what is the head. For me design is all about signs and signals and some of them just have to be subtle and that's a beautiful thing."
Food and drink news

Show all 35
While Osborne makes spatulas, wooden chopping boards and other creations, you feel when you listen to him that spoons hold a special place in his heart. Part of it is the sheer simplicity of it: a stick and a bowl. "There are so many things that a spoon represents. Of course feeding, nourishment, giving. It's the first utensil someone uses for you as they feed you. It's a tool of giving and providing."
It also has a long history in Britain that reaches back centuries. "Before the Romans came and 'civilised' us, we didn't have a set of cutlery, we didn't have a set of silverware. We were all wandering around with one spoon and one bowl. And if you were to eat together, you used to get your one personal bowl out and your one personal spoon and you would sit down and eat together."
Osborne now captures some of that feeling in his weekend spoon making courses. Students gather in the woods, sleep outdoors, cook over campfires and learn how to make their own wooden spoons.
"I get quite a lot of people on the course who work in an office from 9-5. A lot of them come from cities. A lot of them are quite embarrassed almost when they turn up with really soft hands and really clean shoes and I definitely sort that out," he laughs. "When they go away after a weekend of spoon carving, they go away with the smell of smoke in their hair. They go away with grubby hands. And they're tired but they're smiling and that's a wonderful thing."
Students often come in pairs with one very keen and one more reluctant. But the reluctant students are often the best, Osborne says. "There are no expectations, in fact they need a bit of building up. And because there's no pressure to try and create something amazing, they are the ones who often end up with the best spoons. They're way ahead without even knowing it."
They start by making a spatula ("essentially a spoon without a bowl") but quickly move on to making their own spoons. It's a rewarding process on many different levels. "It is a functional item and you have just made it in a relatively short space of time and you have the skills to get better and better." For would-be carvers who can't join the weekend course, Osborne has written a book, The Hatchet + Bear Spoon Carving Book, to guide novices through the art and craft of carving.
Other benefits to carving your own spoons? You only need a few tools and some wood and you're ready to go. Once you've got the carving bug, your vision changes, Osborne says, and you suddenly start to notice people pruning trees, pull the car over and ask for a bit of wood. He says people invariably say 'yes', although they're often curious to know why. Spoon carving is also portable so you can carve almost anywhere. "How cool do you look on a picnic when you say, 'Hang on a minute' and whittle a spoon. That's practically like husband and wife material."
The Hatchet + Bear Spoon Carving Book, by E J Osbourne. Published by Quadrille (£20); hatchetandbear.co.uk
Register for free to continue reading
Registration is a free and easy way to support our truly independent journalism
By registering, you will also enjoy limited access to Premium articles, exclusive newsletters, commenting, and virtual events with our leading journalists
Already have an account? sign in
Register for free to continue reading
Registration is a free and easy way to support our truly independent journalism
By registering, you will also enjoy limited access to Premium articles, exclusive newsletters, commenting, and virtual events with our leading journalists
Already have an account? sign in
Join our new commenting forum
Join thought-provoking conversations, follow other Independent readers and see their replies