How to make the best cocktails according to the head of Europe's best bar
 Erik Lorincz, the head bartender at The Savoy, explains how to make the perfect cocktail at home and recalls his time spent on the sets of Spectre and Sky Fall.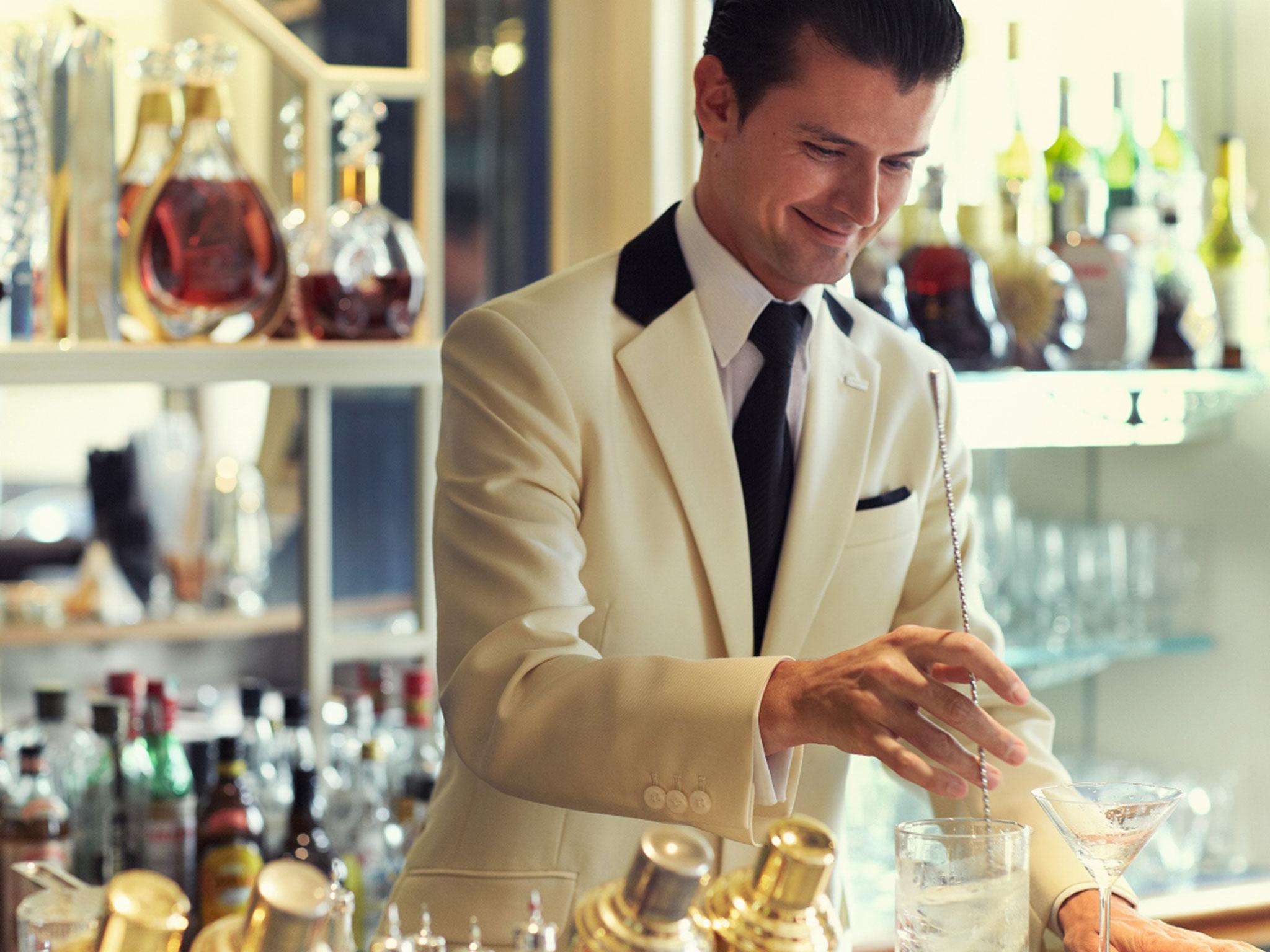 "If I were a cocktail," says Erik Lorincz, the head bartender at The Savoy's iconic American Bar in London, without a pause, "I'd be a dry martini. It's classy, elegant, simple and tasty".
His snappy answer – despite knowing the recipes for hundreds of cocktails by heart - is a testament to Lorincz's cool personality and why he landed a job at one of the world's most famous bars. You need a steady hand and a clear head to serve up their world's best cocktails to the high profile figures that stop by each day (although he won't disclose exactly who.)
Lorincz - who grew up watching his herbalist grandmother in Slovakia prepare tinctures, oils and teas – worked at the Attica club in Soho and the Connaught Bar before being head-hunted by The Savoy when it reopened in 2010. Under his guidance, the 125-year-old bar has been named the Best in Europe and second in the world, thanks to this year's menu inspired by different areas of London.
The Independent caught up with Lorincz, to ask him how to make the perfect cocktail and talk about working on the James Bond set. Scroll down for two recipes to try at home.
Cocktails at The Savoy's iconic American bar - In pictures
Show all 7
How do you dream up with new cocktails?
We have about 60 different whiskies, 30 rums, and 30 gins to work with, as well as different herbs, aromatised wines and spices. You have to understand the tasting profiles of those drinks, and what works with that type of flavour. Sometimes it's a surprise. Last week I was creating a cocktail for a special event where I infused aromatised wine with absinthe, whisky and infused this with oyster mushrooms. I tasted the raw mushroom and it almost cooked itself. I wanted to throw it out but realised it was tasty and I used it as a garnish.
As the head bartender at the Savoy, how many cocktails do you expected know off the top of your head?
To pass the exam to get my job at The Savoy I had to learn 250 classic cocktails, and since then I have picked up more that I have learned or created. Yes, I think I know about 400 and I would be ready for the challenge to see if that's true.
What is the easiest cocktail to make at home?
Vodka, rum, gin and whisky are all the basis of very simple drinks that don't require you spending £100,000 on ingredients. With a bottle of gin, sweet vermouth, and Campari and you have seven or eight combinations. A Negroni is equal parts gin, Campari and vermouth with a garnish of orange. Drop off the gin and mix sweet vermouth with Camari top with soda, you have an Americano. Stir the gin and add dry vermouth then you have a dry martini.
What can you safely scrimp on, and what should you invest in?
First of all don't try to judge the drink by the bottle. Some drinks with fancy bottles are no good inside, while some artisanal makers focus on the liquid rather and have very plain bottles. It's best to go to professional store where they know what they're sell rather than buying anything. The guys at Gerry's Wine and Spirits in Soho are professional and they know their stuff. Don't be afraid of spending a few more pounds. Use fewer ingredients, but better quality ones.
What are your top tips for making the perfect cocktail?
It's like cooking. If you want to make drinks at home its very important to following the recipe and measure everything. I've been a bartender for 15 years and I still measure every single drink.
If someone comes to my bar three times and orders the same drink, they want consistency.
For instance, absinthe is so strong with an aniseed flavour, and the Sazerac cocktail only needs three drops. Any more, and you'll cover the whole flavour profile of the drink. If you measure by hand, then you're very brave.
What is the most incredible thing you have been involved in since working at The Savoy?
I was asked to consult for the Spectre and Sky Fall Bond movies. I taught actors at Pinewood Studios how to hold a shaker and bottle, how to pour and make cocktails on screen when Bond came to the bar.
Who is the most famous person you have served and what did they drink?
I serve someone famous every day, but I can't name anyone. But the most popular drink among famous people would be a dry martini, or a whisky cocktail: the Old Fashioned (with whisky, Angoustura bitters, a sugar cube, and water).
Is there a drink that you refuse to make, or that you really don't like?
We have a certain rules. There are drinks that we don't stock because they are known as party drinks rather than indulgence drinks. So we decline the order because we don't stock the ingredients. We don't do Vodka Red Bull because we don't stock Red Bull but I'd be happy to make a vodka with fresh orange or Martini or cloudy apple or sour.
What message would like you people to take away from your bar?
People can be too worried about what they're drink looks like, or whether it's "girly". If you are an industry expert and you have a preference, then fine, but if you're not in the field just know there is a purpose for every ingredient. Have a little bit of trust, and I'll take you on a journey.
Policeman's Hook
​45ml Haig Club
​30ml Vermouth blend infused with kombu seaweed
3 drops Angostura
​10ml roasted grain syrup
Vermouth Blend
Mix equal parts:
​Cocchi torino
​Cocchi Barola Chinato
Dubonnet
20cm roasted kombu
Wash the salt from the kombu, dry and roast before mixing with vermouth 
Join our commenting forum
Join thought-provoking conversations, follow other Independent readers and see their replies