How to make vegan pancakes
London's Christopher's shares recipe to its Vegan Pancake Trio - Born to be Healthy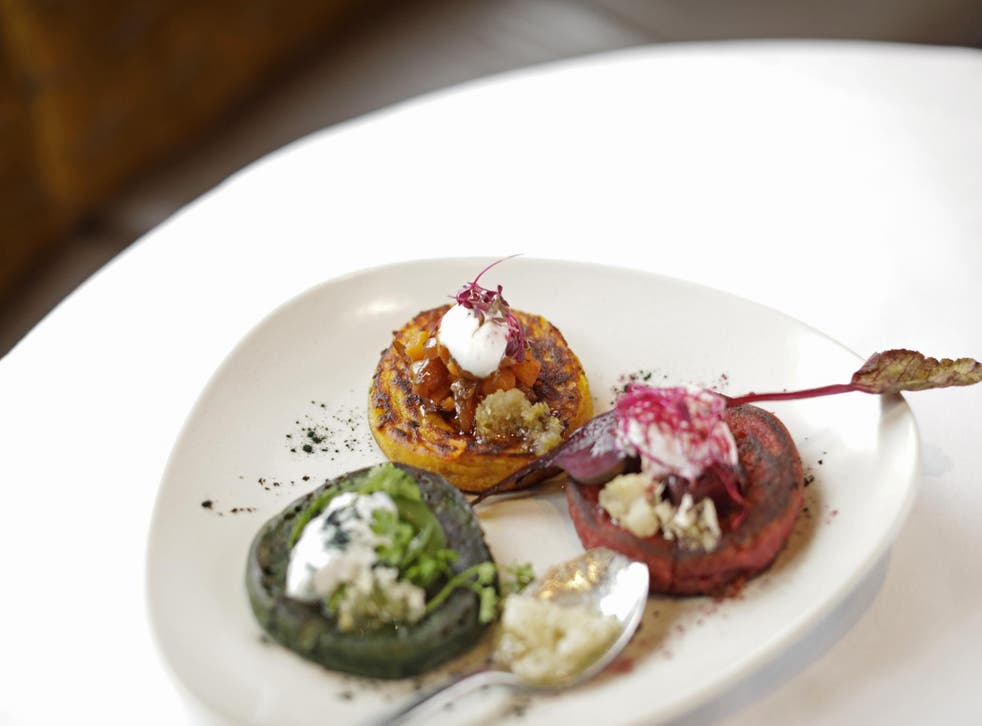 For Pancake Day, Covent Garden Martini bar and restaurant Christopher's will be serving up three pancake specials, along with their brunch favourite, build-your-own pancakes.
Specials this year include: The Lobster One; The Vegan One and The French Toast One.
For those who'd rather do-it themselves, Christopher's Build-Your-Own pancakes will also be available all day, with bases from buttermilk to buckwheat, and toppings including matcha ice Cream, coconut yoghurt, maple syrup, and Valrhona chocolate sauce.
And those who wish to recreate Christopher's recipe at home, Head Chef Francis Agyepong), shares his Born to be Healthy recipe featuring beetroot and sunflower seeds, rainbow chard and spirulina;and pumpkin, caramelised onion and turmeric, garnished with pomegranate and coconut yoghurt.
How to make Christopher's Vegan Pancake Trio - Born to be Healthy
Vegan Pancake Mix: Makes 10-12
Equipment:
1 Non-Stick Pan

Whisk

Spatula

Ladle

Serving Plate
Base Mix Recipe:
200g Buckwheat Flour

2 Teaspoons Baking Powder

1 Teaspoon Coconut Oil (or Rapeseed)

1 Small Lemon - Juiced

2 Tablespoons of Maple Syrup

1 Small Banana (mashed)

Pinch of Sea Salt
For Garnish:
Coconut Yoghurt

Pomegranate
Additional bases (to add to 60g of the base mix above):
For Beetroot Pancake Mix
1 Tablespoon of Beetroot Powder (or 2 Tablespoons of Smooth Beet Puree)
For Butternut Squash Pancake Mix:
2 Tablespoons of Squash Puree
1 Tablespoon of Caramelised Onion
1 Tablespoon of diced Roasted Squash
Pinch of Cumin
For Rainbow Chard Pancake Mix:
2 Tablespoons of Rainbow Chard puree (can also use spinach puree)
1 Small Teaspoon of Spirulina
Instructions:
Mix all dry ingredients of base mix together, before slowly adding milk and whisking until smooth.
Add Syrup and Banana, once again whisking until smooth.
Add Lemon Juice and Oil. For each flavour of pancake, add the mix ingredients above to 60g of the base mix.
Rest for 15 minutes before cooking.
Heat pan with coconut oil, and slowly pour mixture into pan, using the base of ladle to create circular shape.
Cook 2-3 minutes one side, before flipping for another 2-3 minutes.
Serve with fresh pomegranate and coconut yoghurt - other garnishes can include variety of Baby Shoots, Baby Beets, Fresh Chard or Butternut Squash Chutney.
Christopher's is in 18 Wellington Street, WC2E 7DD.
Register for free to continue reading
Registration is a free and easy way to support our truly independent journalism
By registering, you will also enjoy limited access to Premium articles, exclusive newsletters, commenting, and virtual events with our leading journalists
Already have an account? sign in
Register for free to continue reading
Registration is a free and easy way to support our truly independent journalism
By registering, you will also enjoy limited access to Premium articles, exclusive newsletters, commenting, and virtual events with our leading journalists
Already have an account? sign in