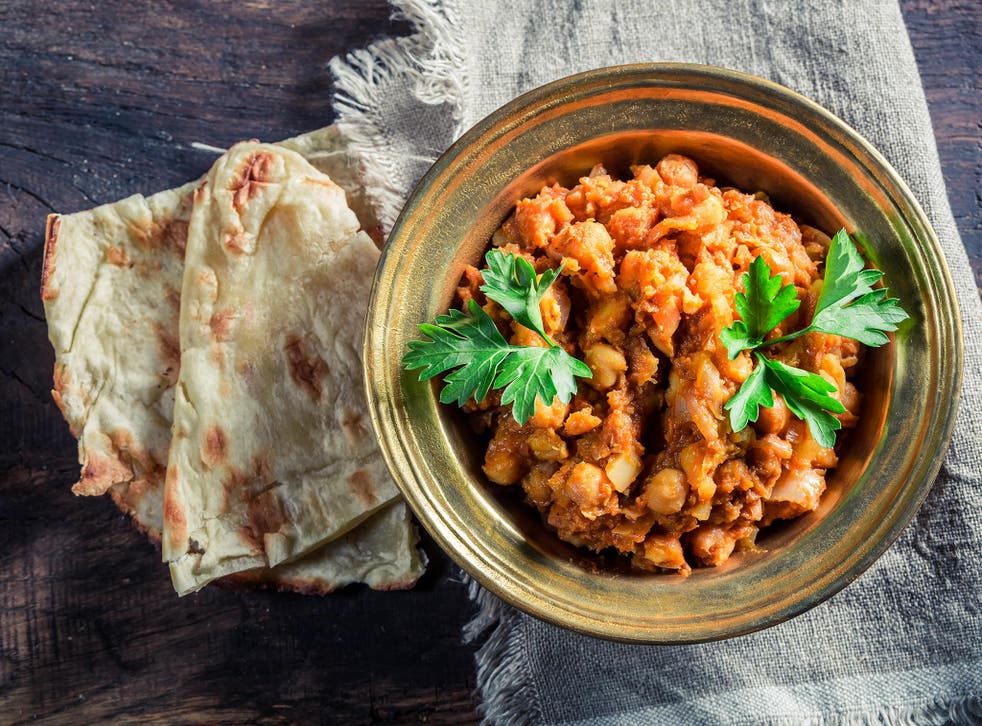 Indian Chef of the Year on the biggest mistakes people make when cooking curry
Milon Miah beat 10,000 other chefs to claim the award 
Kashmira Gander
Monday 16 October 2017 10:54 Comments
"I started out peeling potatoes, chopping onions - you've got start out doing the donkey work!" says Milon Miah, the newly crowned Indian Chef of the Year.
Starting out in kitchens aged 15 alongside his uncles and cousins, 36-years-old Miah is still considered young in the industry where mastering the techniques of Indian cooking can take decades and decades. But beating over 10,000 other chefs from around the world to claim the prestigious accolade certainly gives the head chef of Spice Island in County Durham some clout.
"You need to know everything - grinding spices and doing all the laborious work - so you understand the foundations before you start cooking," he tells The Independent. Working with his uncle who has since retired after 57-years in the business, Miah gradually mastered the tandoori oven to baked bread and grill meats, before finessing his marinating skills.
To win the competition founded in 1991 by celebrity chef Tommy Miah (of no relation to Milon), he served a panel of judges borta roulette, or three breadcrumb-coated potato balls filled with either salmon dill and cracked pepper; roasted onion with chilli and coriander; and tamarind and cauliflower. For a main, he presented a curried venison steak marinated in his personal hand-ground garam marsala recipe alongside asparagus.
Judges consider contestants on presentation, anticipation - that's whether the dish smells good and are creative and if the ingredients are high quality - and, of course, the taste.
With is cooking, Miah wants to remind diners that Indian food is highly complex and deserves the same respect as any other fine cuisine. His quest is vital at a time when two or three curry houses are closing down each week as customers are drawn to other cuisines, and the children of curryhouse owners look for jobs outside the kitchen, according to The Guardian.
"For too many years has been dismissed as not mainstream or as a fine cuisine. It has been wrongly categorised with fast food and people dismiss it is as very simple or easy or unhygienic."
So, how can the amateur home cook bring some of the flare and flavour of the Indian kitchen into their home? A good place to start would be to ditch the fake jars of sauce and ready-meals. The next is to practice and gain confidence in the kitchen until you feel comfortable experimenting and finding your unique cooking style.
The world's biggest food fights

Show all 11
"If you want to do a roast dinner there's a set way of doing it. You can deviate slightly but they will all be similar. But a jalfrezi can be made one hundred different ways. But you can still make each taste nice even though they are different The deviation from the spice is all personal. It's a cuisine where you can adapt and change.So don't be afraid to try something different and see what works."
As for professional Indian chefs, he urges them not to drastically rework traditional dishes to the point they become unrecognisable.
"I think what a lot of owners need to do is take risks but be prepared to say no to certain things. Our fathers' generation were always ready to please or go above and beyond. Of course it's what you should do but they would do too much. It would change the balance of the quality. It's like if someone asks for a jalfrezi but says they don't want chillies or onions, then it's not a jalfrezi anymore. You've just made a dish that's non-existent. Of course, it shows that you can cook fresh and that's great but you are creating an extra thing to do in a busy restaurant and it becomes hard to maintain quality and consistency. People need to train their staff to explain the menu and recommend appropriate dishes."
This, Miah hopes, will restore a sense of respect for the curry in a way that French cuisine enjoys. (When was the last time someone asked a French chef to take potatoes and cheese out of a gratin dauphinois?).
"At my age, there aren't many chefs because it's not a very glamorous job. I want to help bring some glamour back. When a restaurant is full of people and they are complementing you, it's a very rewarding job."
Register for free to continue reading
Registration is a free and easy way to support our truly independent journalism
By registering, you will also enjoy limited access to Premium articles, exclusive newsletters, commenting, and virtual events with our leading journalists
Already have an account? sign in
Join our new commenting forum
Join thought-provoking conversations, follow other Independent readers and see their replies