Cloud eggs: How to make the latest Instagram breakfast craze
They're healthy, tasty and oh so 'grammable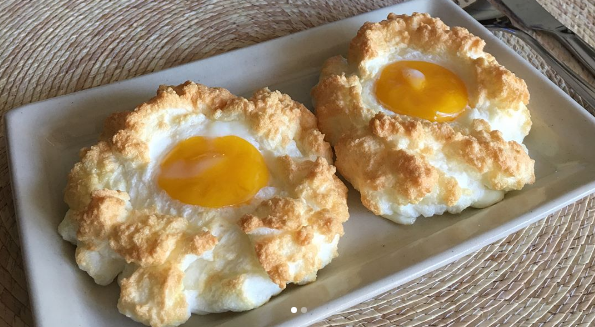 Instagramming your breakfast or brunch eggs is nothing new - perhaps you've posted a mouthwatering snap of the yolk dripping down your boiled eggs, or maybe you've even made a Boomerang of a knife piercing a poached egg to release the bright orange goodness inside.
But if you are still 'gramming boiled and poached eggs, you might be slightly behind the times.
The latest food craze taking Instagram by storm is the cloud egg.
It takes a little effort, but people are loving the cute-looking eggs because they're apparently delicious, healthy and guaranteed to get you racking up precious likes.
Cloud eggs are created thus:
First, separate the yolk from the white.
Whisk the white as if you were making meringues and fold in any optional extras you may like, such as cheese, ham or little cubes of bacon.
Place the whipped white in a cloud shape on a baking tray, leaving dips in the middle where the yolks will go later.
Bake in an oven preheated at 230°C oven for five to eight minutes.
Put the egg yolk in the middle of the cloud and return to the oven for three minutes before serving.
They're reportedly around 161 calories per serving, and can be eaten on toast, with sides such as avocado, bacon or chips, or simply as they are.
Many people on Instagram are big fans of the cloud eggs, with people calling them "delicious," "yummy" and "so good."
Not everyone's convinced however - some people have been put off by the idea of eating what is essentially savoury meringue.
And continuing the current trend for replacing carbohydrates with healthier, lighter alternatives, some people are even using cloud eggs as burger buns.
Ridiculous fad or healthy fun creation? There's only one way to make your mind up.
Join our commenting forum
Join thought-provoking conversations, follow other Independent readers and see their replies