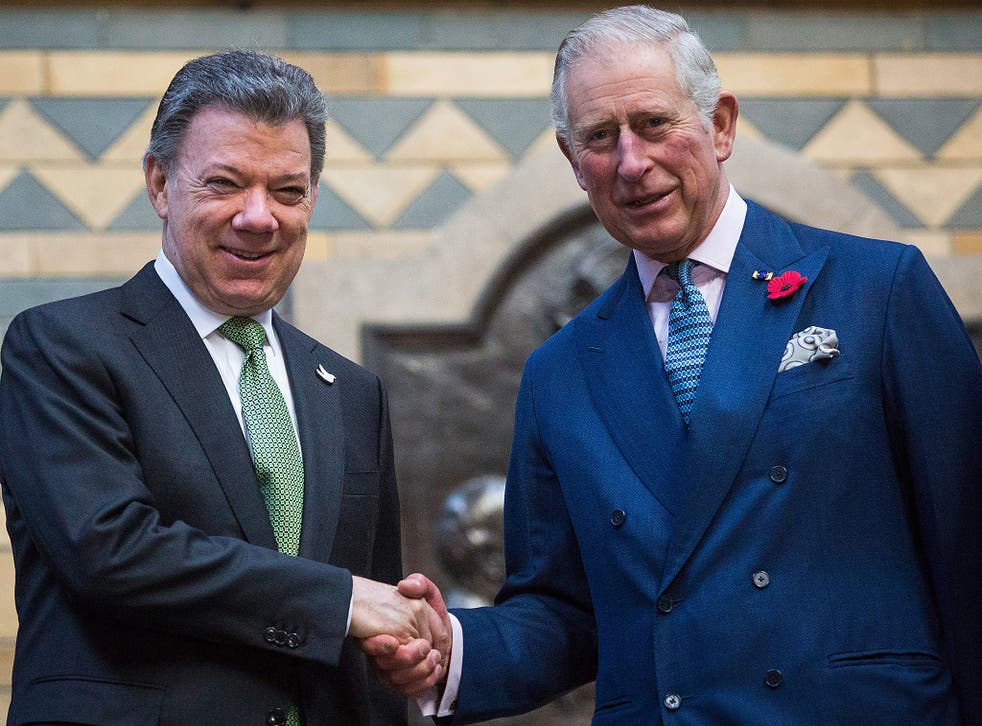 Is Colombian cuisine about to experience worldwide attention?
Colombian President Juan Manuel Santos, currently on a state visit to the UK, is encouraging his nation's food and restaurant industry to blow their own trumpet
As he arrives in London fresh from his triumphant peace accord with the Farc guerrillas, Nobel-winning but torpedoed by subsequent public referendum, Colombian President Juan Manuel Santos may be mulling ruefully over General de Gaulle's famous dictum on the difficulty of governing a country with more than a thousand cheeses.
In Colombian terms, that means a similar problem as France but with 700 varieties of passion fruit. Colombia may be known mainly for cocaine export and guerrilla insurrection, but the country is a powerhouse of Latin culture, its magic realist literary heritage attracting the Hay Festival over from Wales, its popular music among the most electrifying on the planet. And its food scene, issuing from a tremendous geographic diversity, may be about to attract some of the global attention that has focussed recently on Peru, Mexico and Brazil.
This is being encouraged by the Colombian government, with top chefs touring the world at the behest of the Foreign Ministry – and, an open secret in Bogota restaurant circles, a deal just signed to bring the Latin world's most lavish and media-dominating event, the Latin Top 50 Restaurant Awards, to Bogota next year.
I'm in Colombia as part of this process, brought over on behalf of the glossy monthly Food and Travel by Procolombia, an offshoot of the Colombian Ministry of Commerce. I've been given the opportunity (rare nowadays) of working with a living photographer rather than an iPhone to survey the gastronomic riches of the nation – more specifically, the riches of the cool, misty tower-block capital Bogota and its steamy Caribbean colonial alter ego Cartagena.
The latter is where President Santos, John Kerry, Raul Castro, Farc leader Rodrigo Londoño Echeverri (also known as Timoleón Jiménez) and a cast of hundreds have just celebrated the signature of the peace treaty, and tucked into a lunch of sea bass with costeno cheese puree cooked by top local chef Alejandro Ramirez, an alumnus incidentally of the Grove Hotel Watford. The paved 17th-century streets and palm shaded plazas of Cartagena abound with good restaurants. So do the wooded hills and broad avenues of Bogota, where an entire district, composed surprisingly of 1930s mock Tudor redbrick , is named Zona G, the g standing for gastronomica.
Leo Cocina y Cava, the flagship restaurant of Leo Espinosa, is currently one of the top addresses in the capital, colonial townhouse outside and sleek black and white elegance within. Suited waiters offer lengthy explanations of the menu: useful aids would include an encyclopedia of the flora and fauna of South America and a magnifying glass, but Leo's weighty tome Leo, El Sabor, Ancestral y Moderno, available from a stack on the bar, comes in almost as handy.
Leo Espinosa's thing, in common with majority of the new Latin American wave, is painstaking research of arcane traditional ingredients and their incorporation into little jewel like dishes in which purple Andean tubers, tree tomatoes, Pacific mangrove snails, and resonantly named items such as pipilongo and chontaduro sport adornments of microscopic forest blooms.
As the then head of Procolombia, Claudia Lacouture, points out in her introduction to the book, reviving the country's gastronomy, with all the societal advantages that will bring, is founded on rediscovering the riches of tradition. So when not cooking or touring the world, Leo Espinosa spends months investigating indigenous communities, particularly in the far-flung underdeveloped regions of the Pacific coast.
"I want to show Colombian food isn't just ajiaco and arepa de huevo" she says, referring to the classic popular staples of thick chicken corn and potato stew and sizzling egg-stuffed fried corn pasty. Not that Leo spurns such lowly stuff, thank goodness: I subsequently consume delicious versions of both in Misia, her Bogota economy café-diner.
If half the political bigwigs of the Southern hemisphere are in Colombia during my visit, half the top toques of Bogota, including Leo Espinosa, are not. They're in Mexico City, where another summit is taking place. This is the awards ceremony for the Latin World's 50 Best Restaurants 2016, an event which in recent years has assumed major importance among the star chefs and food media. This September, the Awards have been notable not just for the number of listed Colombian restaurants, five including Leo's in 33rd place, but also for the news, still not officially announced, that Colombia will succeed Mexico in hosting the Awards in 2017 and 2018.
Depending on your viewpoint, this may or may not be a big deal. It's certainly going to mean a big party if last year's bash was anything to go by. In the great stone columned halls and cloisters of Mexico City's historic Colegio de San Ildefonso, surrounded by some of the finest murals of Diego Rivera, hundreds of slinkily draped representatives of gastro-showbiz and chefs in gold Award sashes quaffed champagne, mezcal cocktails and exquisite morsels.
According to insiders, a couple of suitably grand Bogota venues are currently under consideration, one in the historic centre, the other near to gastro-epicentre, Zona G.
The bill for such extravaganzas, and the accompanying series of press tours and dinners is much speculated on. What has Colombia committed to spending for its hoped-for 24 months in the international spotlight? No one is saying.
So what are the chances for Colombia, rumoured to have outbid Argentina for the 2017 Awards? According to Diego Salazar, it's less of an obvious foodie destination than predecessors Peru or Mexico. Both those nations have rich food scenes, well recognised and avidly patronised by locals. "People make fun of Peruvians, always talking about the latest obscure new places they're going to have dinner while they're still eating lunch at somewhere equally choice". Colombia on the other hand has never taken its own gastronomy seriously. Until now.
In all the current regional interest, there is one intriguing subject unexplored: the political elite and food. What are the Latin equivalents of Tony Blair's Islington tapas bar or Cameron's Cotswold gastro-pub? Some South American leaders are presumably epicureans, with circumstances to suit. Ms Lacouture, a close associate of President Santos, apparently has a culinary background, though requests for more details generate no response.
But in the nation of magic realist gastronomy everyone, from to kitchen porter to President, is a potentially fascinating character, and if the publicity campaign goes well we're going to be hearing a lot more of them over the next two years.
Register for free to continue reading
Registration is a free and easy way to support our truly independent journalism
By registering, you will also enjoy limited access to Premium articles, exclusive newsletters, commenting, and virtual events with our leading journalists
Already have an account? sign in
Register for free to continue reading
Registration is a free and easy way to support our truly independent journalism
By registering, you will also enjoy limited access to Premium articles, exclusive newsletters, commenting, and virtual events with our leading journalists
Already have an account? sign in
Join our new commenting forum
Join thought-provoking conversations, follow other Independent readers and see their replies