The Independent's journalism is supported by our readers. When you purchase through links on our site, we may earn commission.
Wines of the week: Eight Italian reds for special occasions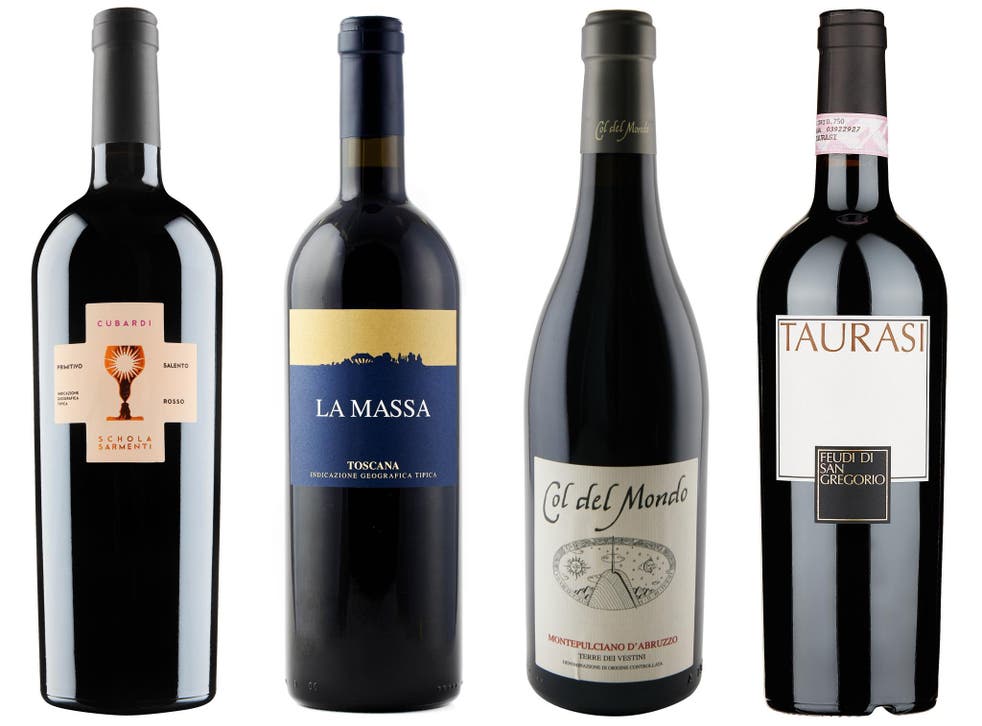 There is much to discover among Italian red wines. Yes, of course there are the big and familiar names of chianti, valpolicella and amarone, or the barolos and brunellos that we all know.
But there are a host of other names out there to be enjoyed, from the juicy, supple, wines of the barbera grape in the Langhe in Piedmont, to the voluptuous reds from the Campania and the dark, violet-scented wines of Puglia in the deep south.
So, starting in the north, here is a quick tour of some splendid Italian reds, all ideal for spring dinner parties and special meals.
The gorgeous rolling hills and vineyards of the Langhe in Piedmont where vines have been tended for centuries were declared a Unesco World Heritage Site only in 2014. This is the home of big, long ageing barolos and barbarescos, But the area also produces succulent medium bodied wines from the barbera grape, which, I think, shares with gamay in France the beguiling ability to be both light and mineral on the palate, but deep in flavour, with a finish that is both clean but lingering.
To discover what I mean, try the Michele Chiarlo Barbera D'Asti Le Orme 2015 (£13.90 strictlywine.co.uk; £14.10 corkingwines.co.uk; £14.55 winebuyers.com) from one of the region's leading producers, which has sweetly juicy, palate-tingling, blackcurrant flavours with mineral clarity on the finish. It's just the absolutely perfect wine for pasta with tomato-based sauces.
For a slightly weightier take on barbera, with some nebbiolo – the other key Piedmont grape used in barolos, try the Langhe Corte Enrichetta Pelassa 2016 (£14.95 davywine.co.uk), for when you might be eating a ragu or meatballs with your pasta.
Moving south, everyone also knows that Chianti comes from Tuscany, but the regions also produces "super Tuscans", which are made with slightly different grape varieties.
The Toscana la Massa 2015 IGT (£21.00 tanners-wines.co.uk) comes from grapes grown in the fabled Conca D'Oro in the heart of the chianti classico area, but is not labelled as such and has the relatively lowly Indicazione Geografica Tipica designation. Made from mostly sangiovese and merlot, with some added cabernet sauvignon, this is luxuriant rather than lowly: supple, plummy, tarry, with earthy notes of chocolate and black cherries. Drink with roast red meats or duck and richer vegetable dishes, like a baked and stuffed butternut squash.
Even though we are on a mission to find new wines, it is fascinating to compare this wine with a more typical chianti, the Fontodi Chianti Classico 2015 (£19.95 winedirect.co.uk; divinefinewines.co.uk; £20.99 rannochscott.co.uk) made with mainly sangiovese organically grown in precisely the same area. A remarkably pure expression of chianti, a touch lighter than the IGT, with masses of ripe, dark fruit and retaining a lovely, ethereal freshness. Different but the same, both wines deliver real elegance and restraint in their own ways.
Over in Abruzzo on the Adriatic side of Italy, montepulciano d'abruzzo is a name familiar from many a restaurant and pub wine list – a go-to standby when in unfamiliar or unreliable vinous territory – but it should never be confused with the long ageing vino nobile di montepulciano, which is not made with the montepulciano grape at all, but with sangiovese. Despite its ubiquity, it is possible to find quality montepulciano d'abruzzo such as the Col Del Mondo Montepulciano d'Abruzzo Terre di Vestinio 2015 (£14.50 Tanners stores; online at tanners-wines.co.uk from next week). The wine is made from low yielding vines grown at altitude but not far from the coast. All the slightly rustic, brambly, chocolate and cherry fruit flavours of the grape are preserved, then a year in oak adds a bit of depth. A great midweek treat wine, for baked pasta or Italian sausages with lentils.
So much for the more well-known Italian winemaking regions. Now we move south to the once much less celebrated Avellino area of the Campania region – inland from Naples in the southern Apennines. After Avellino was struck by a massive, deadly earthquake in 1980, the estate of Feudi Di San Gregorio was founded to help revitalise the local winemaking industry. Using local indigenous grapes such as aglianico and greco, the estate now produces serious wines such as the gorgeous Feudi Di San Gregorio Taurasi DOCG (£22.65 winebuyers.com; £22.69 wineman.co.uk). This lovely wine demonstrates all the best qualities of the aglianico grape – some gentle sweet spices, soft tannins, rich dark fruits and balanced elegance. It suits slow-cooked pork or lamb, moussaka or roast chicken.
The other key red grape of the renaissance of southern Italian winemaking is primitivo – known as zinfandel in the US – which can be literally primitive in taste, with massive, wild, concentrated, ripe, mouthfilling flavours: violets, peppery spice, coffee, chocolate, rich red fruits. And it's sometimes quite alcoholic.
Support free-thinking journalism and attend Independent events
The extraordinary 15 per cent ABV Schola Sarmenti Cubardi Primitivo IGT Salento 2015 (£14.99 virginwines.co.uk) is made from ancient vines grown near Salento in Puglia and should be approached with caution: decant and leave for several hours – or even overnight to let the port-like flavours of baked and dried fruits calm down. Then savour it slowly, with rare red meats, casseroles such as osso bucco or hard cheeses. Don't treat this as a wine for easy guzzling and you will be rewarded with layers of complex flavours.
But if you want something slightly more approachable for a dinner party, try the Prima Mano Primitivo 2015, (£20.50 winedirect.co.uk; £21.49 rannochscott.co.uk) made by a northern Italian/Californian couple from ancient vines grown on the Ionian Sea coast, where the sea breezes may be responsible for taming the primitivo wildness – all the dark, ripe, mocha, plum and cherry fruit flavours are there without being over the top – and the lingering finish is smooth and elegant.
Register for free to continue reading
Registration is a free and easy way to support our truly independent journalism
By registering, you will also enjoy limited access to Premium articles, exclusive newsletters, commenting, and virtual events with our leading journalists
Already have an account? sign in
Register for free to continue reading
Registration is a free and easy way to support our truly independent journalism
By registering, you will also enjoy limited access to Premium articles, exclusive newsletters, commenting, and virtual events with our leading journalists
Already have an account? sign in
Join our new commenting forum
Join thought-provoking conversations, follow other Independent readers and see their replies