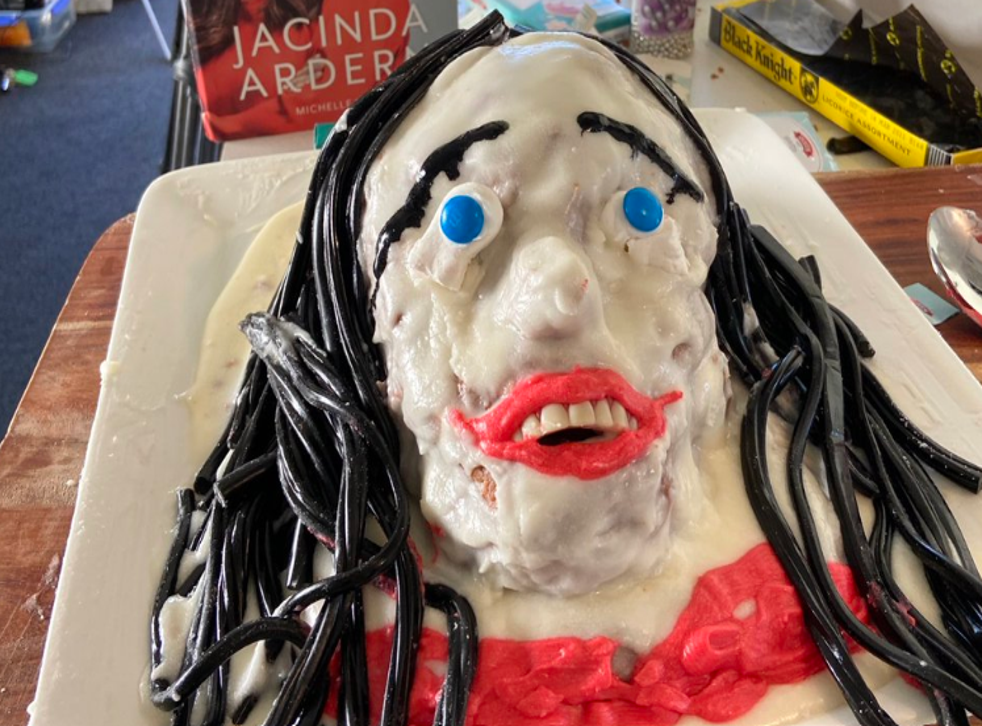 Comedian apologises to Jacinda Ardern for 'nightmare-inducing' tribute cake
'I'm deeply sorry,' said Laura Daniel
Helen Coffey
Thursday 16 April 2020 12:37 Comments
A comedian has apologised to New Zealand's prime minister Jacinda Ardern after baking a cake in her image.
Designed to be a tribute to the Kiwi leader, who has earned praise for her strong response to the coronavirus pandemic, the cake was described by online commenters as "nightmare-inducing" and "cursed".
The culprit behind the bake, Laura Daniel, posted a picture of it on social media with the caption: "They say don't bake your heroes. But I wanted to try anyway.
"I'm deeply sorry @jacindaardern I truly tried my best with what I had available."
She baked it during an episode of the TV programme Seven Sharp, aired earlier this week, as part of a bake-off competition against the show's host, Hilary Barry.
The challenge was to bake an iconic Kiwi cake without using flour in two hours.
Barry made a pavlova in the shape of Mount Cook, New Zealand's highest mountain, while Daniel attempted an ambitious Ardern tribute made from lolly cake.
With black liquorice hair, bright pink iced lips and a coral icing top, the cake was inspired by Ardern's portrait on the cover of her biography, The Story Behind an Extraordinary Leader.
Viewers were most alarmed by the fact the cake appeared to be sporting real teeth.
"The teeth, those are dentures, right? This is amazing," wrote one commenter. Another responded: "There's tonight's nightmare."
"I will have to sleep with lights on now," said one critic.
Daniel explained that the teeth were left over from a stint of impersonating Ardern.
"I impersonated Jacinda for a whole year on television… of course I kept the teeth," she wrote on Instagram.
Lolly cake is a New Zealand speciality where the key ingredient is Eskimo Lollies, a marshmallow-like confectionary.
Ardern has yet to comment on the dubious tribute.
Register for free to continue reading
Registration is a free and easy way to support our truly independent journalism
By registering, you will also enjoy limited access to Premium articles, exclusive newsletters, commenting, and virtual events with our leading journalists
Already have an account? sign in
Join our new commenting forum
Join thought-provoking conversations, follow other Independent readers and see their replies