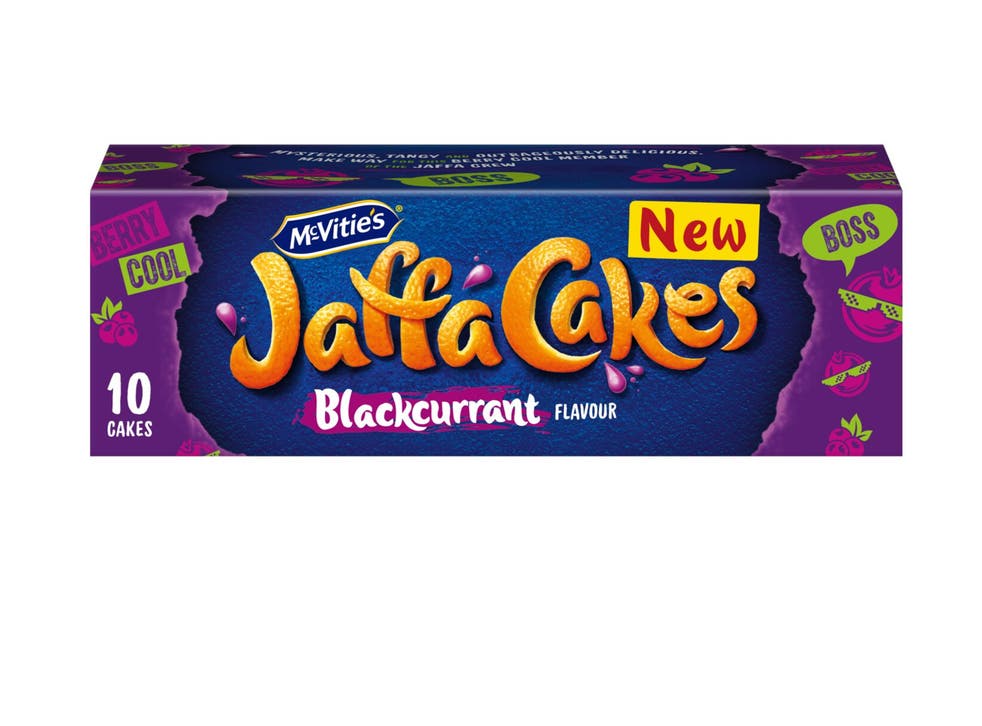 McVitie's are releasing blackcurrant flavour Jaffa Cakes
A berry-exciting twist on the classic snack
Joanna Whitehead
Thursday 22 April 2021 12:01 Comments
While the debate as to whether a Jaffa Cake is actually a biscuit or a cake continues to rage, there's no doubt that the chocolate-covered disc remains one of the nation's favourites.
Now lovers of the classic snack will be able to snap up 'berry cool' blackcurrant flavoured Jaffa Cakes with boxes arriving in stores on 25 April.
Similarly to the original, the treat still adheres to the light sponge base and dark chocolate covering combination, but with a tangy blackcurrant jelly centre, rather than orange.
National Biscuit Day is marked every 29 May, with the original Jaffa Cakes coming in at number four in the nation's top five biscuits in 2019.
To mark the annual biscuit celebration, YouGov shared ratings regarding Britain's most popular biscuits using statistics gathered through more than 7,000 interviews conducted between May 2018 and April 2019.
McVitie's Milk Chocolate Digestives took the top spot, followed by Cadbury's Fingers and Cadbury's Milk Chocolate Digestives in second and third place respectively.
And YouGov data from 2017 revealed that 51 per cent of the public consider a Jaffa Cake to be a biscuit, while 38 per cent define it as a cake.
The remaining 11 per cent said they weren't sure.
To confuse the matter further, a 1991 VAT tribunal ruled that the snacks were actually "biscuit-sized cakes".
Emma Stowers, brand director for McVitie's at pladis UK&I, said: "The tangy berry flavour of our new Jaffa Cakes Blackcurrant flavour is the perfect addition to the Jaffa Cakes crew.
"We're excited to continue to bring new tastes and experiences to Jaffanatics and can't wait for everyone to try this new fruity, cool berry flavour. They're so delicious your sharing box may not last long."
Available in boxes of 10, the new dark-fruit variety will be available for purchase exclusively from Tesco, retailing at £1.20.
Register for free to continue reading
Registration is a free and easy way to support our truly independent journalism
By registering, you will also enjoy limited access to Premium articles, exclusive newsletters, commenting, and virtual events with our leading journalists
Already have an account? sign in
Join our new commenting forum
Join thought-provoking conversations, follow other Independent readers and see their replies