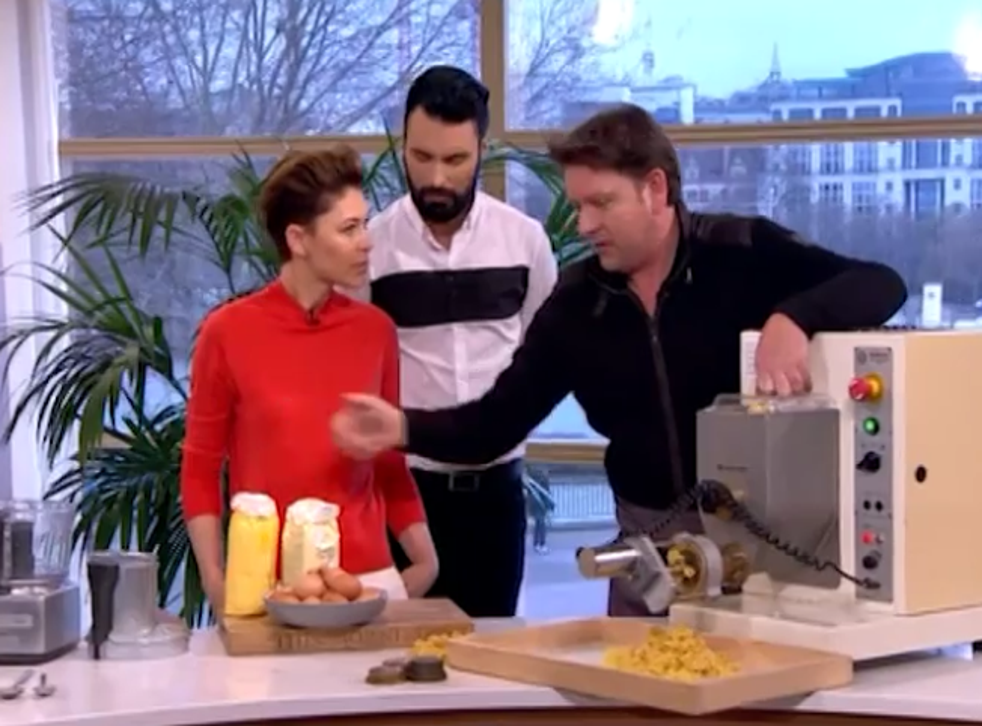 James Martin mocked for using £3,500 machine and hand-picked garlic for 'simple pasta dish'
The dish was meant to be a 'nice and simple' pasta 
Cooking pasta is typically quite simple - unless it requires a £3,500 pasta machine and wild fresh-picked garlic, as James Martin's "nice and simple" recipe did.
Appearing on This Morning, the chef was meant to explain how to make a simple pesto pasta recipe. But viewers and fellow hosts alike were taken aback when Martin pulled out the industrial-sized pasta machine from his restaurant.
If that weren't off-putting enough, Martin then informed viewers: "You have to make a lot of pasta as that's about £3,500 quid," before adding: "You couldn't make this by hand, that's the key to it."
Effectively scratching the recipe off the list of meals most people can make at home, people on social media criticised the chef for being so out of touch - and for showing off.
"What was the point of James Martin showing us that industrial pasta maker that's a couple grand? Just to show off," wrote one person.
Another tweeted: "£3,500 for a pasta machine for pasta you can't do yourself. Thought he wasn't going to tell the price. Who is going to rush out and buy one? Pasta is pasta."
Others took offence to the chef's suggestion that the pasta would require freshly-foraged garlic.
Martin said: "You can go foraging for this, you can find it on pathways," referring to the wild garlic - which is currently in season.
According to Martin, the garlic is easy to find if you know where to look - which happens to be underneath trees in wooded areas.
But he made sure to remind viewers that they should ask permission before picking the little white garlic flowers if they don't grow on their own land.
The recipe also happened to call for 18 eggs - more than most people have on hand.
"So all you need for this recipe is a 3.5k pasta machine and to get up early and pick the garlic before the foxes pee on it," wrote one critic.
Or you could pick up a box of pasta and some garlic at your local grocery store for much less expensive version.
Join our new commenting forum
Join thought-provoking conversations, follow other Independent readers and see their replies