Cookbook review: Jamie's Friday Night Feast Cookbook by Jamie Oliver
Ella Walker takes a look at a cookbook filled with celebrity names
Wednesday 28 November 2018 19:31
comments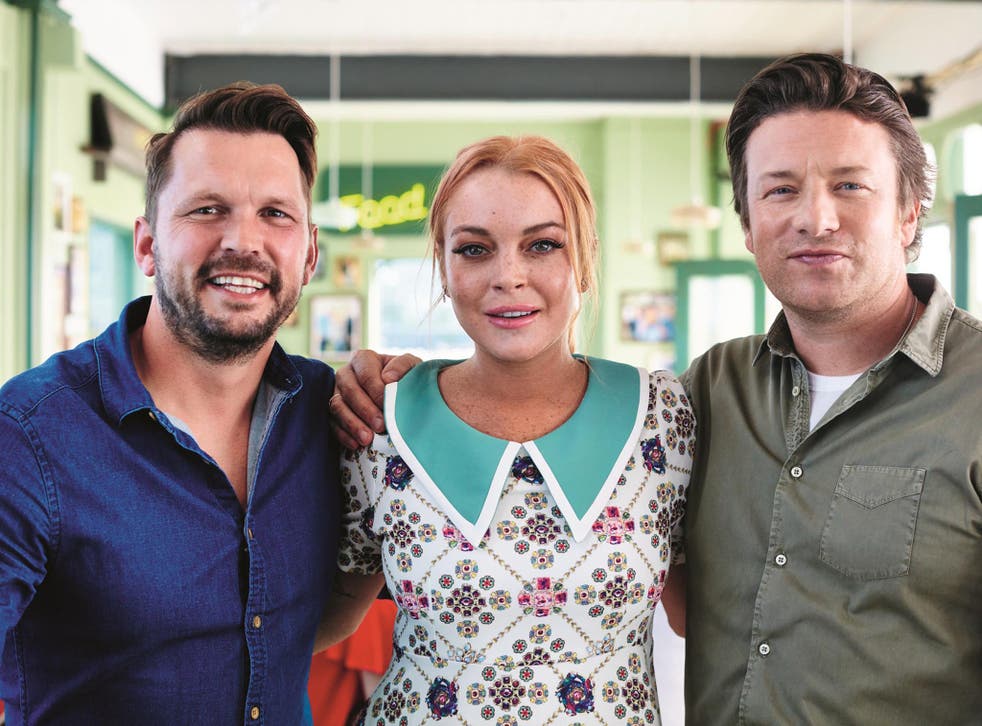 Jamie Oliver is a cookbook machine. Following Jamie Cooks Italy, which saw him and his longtime mentor Gennaro Contaldo learn to cook the food of Italy's matriachs, he's teamed up once again with his friend Jimmy Doherty for a new TV series of Jamie and Jimmy's Friday Night Feast.
It'll be the fifth series of the double act mixing in celebrities to help them out with dishes to serve up at their caff on Southend Pier – but this is the first time the show's recipes have been shared in cookbook form.
Here's our verdict on it…
The book: Jamie's Friday Night Feast Cookbook by Jamie Oliver
Who will love it? If you're a fan of Channel 4 show Jamie and Jimmy's Friday Night Feast, this is one for you. It's filled with recipes from the past four series (like Lindsay Lohan's chicken pot pie), and has meals that'll be showcased on the next series too.
What is it trying to get us cooking? Well, the tagline is "Epic weekend recipes for friends and family", and Oliver always delivers. Think huge vats of traditional Welsh cawl (inspired by actor Michael Sheen's Welsh roots), steak and stout pies (invented for Take That's Gary Barlow) and scotch eggs that even Gogglebox's Scarlett Moffatt wouldn't scoff at.
Food and drink news

Show all 35
How easy is it to use? The majority of these recipes were devised for celebrities, who were tasked with cooking them on the spot during the show – meaning they're hearty and straightforward; not fiddly examples of fine-dining dishes. That said, this is weekend cooking, so don't expect a slew of five ingredient, speedy weeknight suppers – they might involve extra time and effort but the skill level is pretty much achievable for all, if you follow the steps properly.
The best recipe is… Joanna Lumley's aubergine kuzi topped with toasted sultanas and almonds – a Malaysian curry dish, it's served with spicy pineapple relish. It looks amazing.
The recipe we're most likely to post pictures of on Instagram is… Josh Hartnett's pork ramen, chicken broth and soy roasted pork belly – it just looks so fresh and glossy. You gotta love some bowl food.
The dish we're least likely to try is… the chicken in a crust. Pastry and roast chicken, yes, but going to the trouble of cooking an entire chicken inside a pastry crust? That just seems like madness to us.
Overall rating: 7/10
How to make Lindsay Lohan's chicken pot pie, with veal meatballs and homemade pastry
Serves 8
2 onions
2 carrots
2 small potatoes
2 medium leeks
Olive oil
300g free-range chicken thighs, skin off, bone out
300g skinless boneless free-range chicken breast
4 rashers of higher-welfare smoked streaky bacon
1 knob of unsalted butter
50g plain flour
700ml organic chicken stock
2tsp English mustard
1 heaped tablespoon crème fraîche​
½ a bunch of fresh woody herbs (15g), such as thyme, bay or rosemary
White pepper
3 sprigs of fresh sage
300g minced higher-welfare veal (20% fat)
1 large free-range egg
For the pastry
300g plain flour, plus extra for dusting
100g shredded suet
100g unsalted butter (cold)
Preheat the oven to 180C/350F/gas 4. Peel and roughly chop the onions and carrots, then peel the potatoes and chop into 2cm chunks. Trim, halve and wash the leeks, then finely slice. Place a large pan on a medium heat with one tablespoon of oil. Chop all the chicken into 3cm chunks, roughly chop the bacon, and add both to the pan. Cook for a few minutes, or until lightly golden, stirring occasionally. Add the onions, carrots, potatoes and leeks, then cook for a further 15 minutes, or until softened, stirring occasionally. Add the butter, then stir in the flour to coat. Gradually pour in the stock, stirring continuously, then add the mustard and crème fraîche. Tie the woody herb sprigs together with string to make a bouquet garnish and add to the pan. Cook for 10 more minutes, stirring regularly, then season with white pepper.
Meanwhile, for the pastry, put the flour and a good pinch of sea salt into a bowl with the suet, cube and add the butter, then use your thumbs and forefingers to rub the fat into the flour until it resembles coarse breadcrumbs. Slowly stir in 100ml of ice-cold water, then use your hands to gently bring it together into a ball, but don't overwork it. Wrap in clingfilm and place in the fridge to chill for at least 30 minutes while you make the meatballs. Pick and finely chop the sage, season with salt and pepper, then, using your hands, scrunch and mix with the veal. Roll into 3cm balls, then gently place in a large pan on a medium heat with half a tablespoon of oil and cook for 10 minutes, or until golden all over, jiggling occasionally for even cooking.
Transfer the pie filling to a large oval dish (25cm x 30cm), discarding the bouquet garnish. Leave to cool, then dot the meatballs on top. Roll out the pastry on a clean flour-dusted surface so it's slightly bigger than your pie dish. Eggwash the edges of the dish, then carefully place the pastry on top of the pie, trimming off any overhang. Pinch the edges to seal, and make a small incision in the centre for the steam to escape. Use any spare pastry to decorate the pie, if you like. Eggwash the top, then bake for around 50 minutes, or until the pastry is golden and the pie is piping hot. Leave to stand for 10 minutes before serving. Really good with steamed seasonal greens.
'Jamie's Friday Night Feast Cookbook' by Jamie Oliver is published by Penguin Michael Joseph, £20. Photographer David Loftus. Available now.
Join our new commenting forum
Join thought-provoking conversations, follow other Independent readers and see their replies