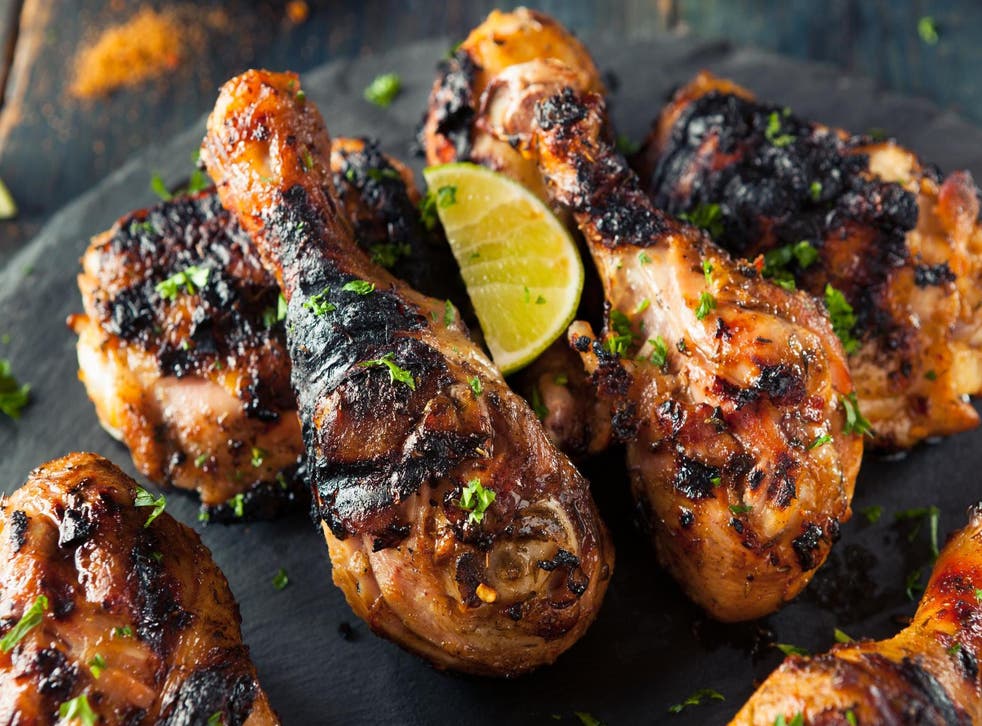 What is jerk chicken and how do you make it?
The popular cooking style is native to Jamaica
[This article was originally published in 2018]
Jerk-style food is at the centre of a media furore.
The style of cooking uses a unique marinade of herbs and spices that is native to Jamaica and was thrust into the epicentre of a heated debate in August 2018 after Jamie Oliver was accused of cultural appropriation for launching a line of "jerk rice" products that reportedly exclude some of jerk's staple ingredients, such as allspice and scotch bonnet peppers.
According to Labour MP Dawn Butler, the British chef's branding was "not ok" and led her to question whether Oliver even knew what "jerk" flavouring was.
"It's not just a word you put before stuff to sell products," she wrote on Twitter. "Your jerk rice is not OK. This appropriation from Jamaica needs to stop."
Even Jamaica-born chef Levi Roots, creator of the Reggae Reggae jerk sauce, has weighed in on the debate, describing Oliver's choice of branding as "a mistake".
So what actually is jerk and how do you make it in its most ubiquitous form: chicken?
Where does it come from?
The style of cooking is native Jamaica and is a national staple, however, it is now commonly used across the world.
The flavourings can be applied to beef, pork, goat and vegetables, although jerk is typically synonymous with chicken.
Levi Roots calls Jamie Oliver's jerk rice dish 'a mistake' on Good Morning Britain
The word "jerk" itself stems from the Spanish word charqui, which means dried strips of meat i.e. jerky.
How did it come to be popular in the UK?
"Jerk is now a really popular dish and this is not surprising as us Brits have always been culinary borrowers," explains food historian Seren Charrington-Hollins.
"When talking about jerk chicken it is interesting to consider how from the 1960s onward, our British cuisine has been subject to more global influence due to a number of factors, including an increase in foreign travel and many of these recipes included ingredients and spices not commonly used in British cuisine," she tells The Independent.
"The trend for foreign dishes has continued to dominate British dining tables since the end of rationing in 1954."
How is jerk chicken different from BBQ chicken?
The major difference between jerk chicken and regular BBQ chicken is the seasoning, explains Delroy Dixon, founder and chef at Caribbean eatery Rhythm Kitchen, which has two locations in East London.
"Whilst BBQ tends to be sweet and smoky, jerk seasoning incorporates savoury and sour flavours followed by a spicy peppery kick from the scotch bonnet peppers," he tells The Independent.
How do you make it?
According to Dixon, the key ingredients for jerk flavouring are pimento (aka allspice), scotch bonnet peppers, thyme, garlic and ginger.
Levi Roots teaches Jamie Oliver how to make jerk chicken
To make your jerk chicken as flavoursome as possible, he suggests seasoning your meat in a marinade made up of the aforementioned ingredients overnight and then cooking it in the oven or over charcoal.
Can you really make 'jerk rice'?
Despite the advent of Jamie Oliver's controversial "jerk rice" product, the branding of which suggests it is inspired by Caribbean traditions, Dixon explains that this is not a dish he has come across before.
"Caribbean people are very passionate about their food and want it represented in the best possible way," he says.
"We would always associate jerk with meat or fish rather than rice."
Register for free to continue reading
Registration is a free and easy way to support our truly independent journalism
By registering, you will also enjoy limited access to Premium articles, exclusive newsletters, commenting, and virtual events with our leading journalists
Already have an account? sign in
Register for free to continue reading
Registration is a free and easy way to support our truly independent journalism
By registering, you will also enjoy limited access to Premium articles, exclusive newsletters, commenting, and virtual events with our leading journalists
Already have an account? sign in
Join our new commenting forum
Join thought-provoking conversations, follow other Independent readers and see their replies