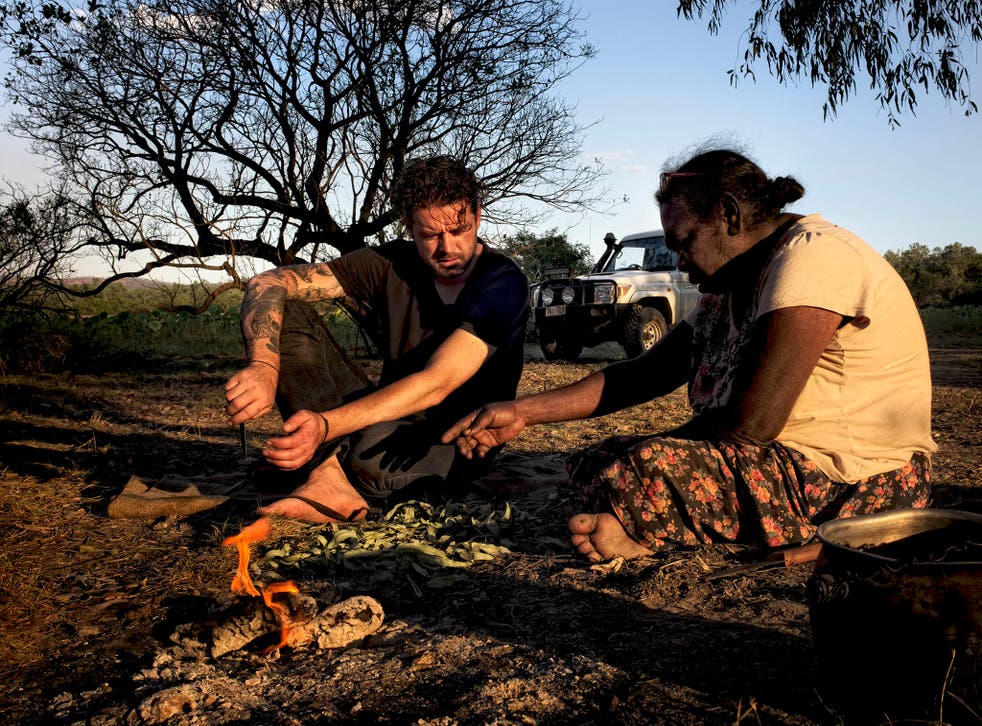 How chef Jock Zonfrillo is helping bring back Australia's indigenous food culture
He was told there were no interesting indigenous ingredients in Australia. But Jock Zonfrillo found the only aboriginal people he could in Sydney, who confirmed what he knew: it wasn't true. It took 17 years to learn about the oldest surviving culture in the world and now he's building a database to preserve it all
​Sitting in his garden near Adelaide, South Australia, Jock Zonfrillo is filled with glee. "My two English longhorns are arriving today!" he crows with joy. His happiness isn't just evident because he plans to make beautiful calves; in 2011, the Scottish-Italian chef and farmer Richard Gunner of Coorong Angus Beef imported livestock embryos from the UK to bring the close-to-extinction breed back to life in Australia.
That endeavour is just one of many legacies that Zonfrillo is building on Australia's food map. And, after 17 years constructing relationships and trying to open dialogues about Australia's indigenous food culture, those efforts have recently recognised: he was awarded 2018's prestigious Basque Culinary World Prize. It's been a long time coming.
In 1990s London after accumulating Michelin-star experience with Marco Pierre White, the chef moved to Australia in 1995. After temping in kitchens, first at a rowing club then the Green Room at Sydney Opera House, Zonfrillo realised he needed to return to fine dining: "I couldn't believe I'd gone from three Michelin stars to making 80 kilos of chicken curry!" He fast found a home at Forty One, which expanded his culinary repertoire for the remainder of his one-year visa.
"It was amazing as I'd open the pantry and it was full of Japanese bottles and Asian ingredients; I had no idea what they were. But I remember wondering: 'Where are all the aboriginal people and indigenous ingredients?' No one talked about it and if they did, they had nothing positive to say."
By 1999, Zonfrillo had returned to London, clocked up some miles with Gordon Ramsay and some more with White when Forty One called, asking him to consider a head chef position. He took it.
"It was perfect timing as I was reaching the end of a serious drug addiction. With indigenous ingredients at the front of my mind, I thought I could carve out the restaurant's direction as head chef. But it wasn't well received.
"It was an unknown area and no one could guide me. I needed to speak to Aboriginal people and that was harder than you can imagine in Sydney in the early 2000s. I'd seen some Aboriginal buskers, and approached them. I asked one guy, Jimmy from northwest Australia, if I could talk to him about his culture." Jimmy blew Zonfrillo's mind.
"Australian chefs had told me there was nothing to investigate with regards to interesting indigenous ingredients. Jimmy and I talked for four hours and it was a turning point in my life and career: he talked about fishing for mangrove jack (red snapper) and how they only cooked it on fallen dried mangrove wood because 'it's right'. As a chef, I liked that: it's salt-of-the-earth stuff.
The new Gold Coast food scene

Show all 7
"Jimmy also talked about the association between food, land and culture. Communities know when the tea tree blossoms on the Victoria coast that it's a key indicator from nature regarding their diet; skates are fat enough to be fished. We never got skate whole in London restaurants, never mind them being fat! I listened to Jimmy talk about the tide going out and how they would spear enough skate for their and other communities, a dozen people fishing together. It was incredible."
Jimmy's precise descriptions confirmed what Zonfrillo suspected, that an indigenous food culture existed. "I thought, 'holy f**k, that's perfectly seasoned', my mouth was watering. I walked away from that conversation changed; how I thought about food and how I looked at Australia. That whole conversation rattled me, that I could be in a country and not even have touched on that, but the greater problem was: 'Why isn't this knowledge more well-known?'"
Disillusioned with cooking, Zonfrillo dropped off the scene to start importing high-end cookware; it gave him time to start connecting with indigenous culture. "I drove to Aṉangu Pitjantjatjara Yankunytjatjara (APY) lands in the middle of the country. 'There's a white guy who's a chef and wants to know about your culture'. The elders, who interview you, were like 'who the f**k is this guy?'. It took 30 hours to drive there and seven minutes to wait, talk to someone then be turned away. It was a sobering drive back to Sydney."
The tenacious chef didn't give up. By the seventh visit, he was allowed to talk to elders, and word started travelling around the bush that he'd met a cousin or an uncle. Doors began opening in different communities.
Additional hurdles in the shape of his second marriage breakup and a failed restaurant project got Zonfrillo thinking. After spending three weeks in the Brazilian Amazon with chef Alex Atala of D.O.M. in São Paulo, (known for his Chef's Table episode in season 2) he realised he could open an establishment highlighting indigenous culture through gastronomy. He took on a space in downtown Adelaide, using the ground floor for a street-food project and the first floor for Orana, which would deal in ingredients "used by the oldest surviving culture in the world that has eaten off the land for 60,000 years. But for the first six months we didn't have any customers upstairs; at one point we had 23 credit cards because Orana was making a loss year after year."
He didn't give up, however, and the next step was setting up The Orana Foundation, which preserves the knowledge of the culture and led to this year's Basque Culinary World Prize; following a first failed attempt, Zonfrillo then recruited Dr Norman Gillespie, former chief executive of Unicef Australia. "We got serious about the foundation, Orana started to garner attention globally and things slowly started kicking into place. Five years on, we deal directly with communities, buying products and the money goes straight to them. We're also building a database of native Australian edible ingredients and with 14 academics working on it, have categorised almost 2,000 in 10 months."
Once completed, the Native Australian Foods Database will be freely available but in the meantime, the foundation's work is about to really kick off. Zonfrillo adds: "As we're coming out of the academic stage and starting up projects, we can connect kids back into their culture and onto the land. It's an exciting time.
"As the Basque Culinary World Prize is global, it opens up more conversations. People who previously would have said 'oh, Jock's banging on about native ingredients again' will now have a conversation. It's been 17 years of going out into the community, pulling together knowledge and I now have a duty of care. I can make a difference."
Find more information about Jock Zonfrillo​'s foundation theoranafoundation.org and restaurant restaurantorana.com
Join our new commenting forum
Join thought-provoking conversations, follow other Independent readers and see their replies