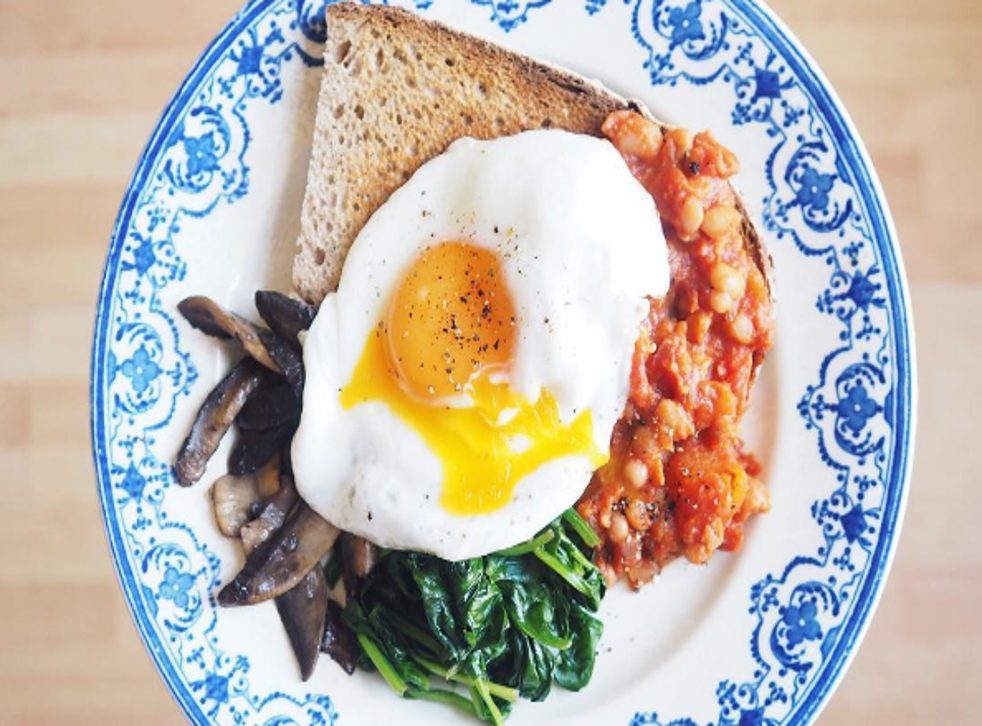 From Joe Wicks to Madeleine Shaw: 6 nutrition experts reveal what they actually eat for breakfast
Unsurprisingly, there's not a Coco Pop in sight
Rachel Hosie
Friday 17 February 2017 13:55 Comments
When you want to shape up or lose a pound or two, a lot of people decide to skip breakfast. But the majority of health experts will tell you that is not the way to go.
A recent study found that 53 per cent of people are more likely to feel irritable and have trouble concentrating that morning if they skip breakfast, and 49 per cent say eating a morning meal increases their productivity.
The trouble is, it can be hard to know what to have when toast and cereal are just such simple options.
Healthy foodies are always instagramming pictures of their elaborate and extravagant ways to start the day, but no one has time to spend hours preparing breakfast every morning.
"Don't make life even harder for yourself by having a sugary breakfast. A bowl of cereal is just a bowl of sugary nothingness and it's the worst way to start your day," Amelia Freer explained to The Independent.
"You need fat and protein with your breakfast as well as vegetables and a portion of fruit. I'm not meaning to overeat until you are stuffed, but a proper breakfast."
So just what can we make that's tasty, healthy and delicious?
We asked six top nutrition experts to share the breakfasts they actually eat on an average day.
In Japan people binge eat 500 bowls of noodles called 'wanko soba'
Joe Wicks
Banana and chocolate overnight oats
Joe says: "I like to train fasted first thing in the morning, it's just what works for me. So after I've smashed a HIIT workout session first thing it's important to refuel your body correctly and that means loading up on some carbs.
"I usually go for something like banana overnight oats as it's really tasty and fills me up, and I know it's helping my body to recover from training. If you train at other times of the day, then you need to eat your carbs then, so you can switch out your breakfast to something less carb-heavy like eggs and avocado."
Ingredients:
250ml almond milk
2 scoops (60g) vanilla protein powder
1 ripe banana, roughly chopped
½ tbsp cocoa powder (over 70% cocoa)
75g rolled oats
a little grated dark chocolate, to serve
Method:
1. Place all the ingredients apart from the rolled oats and dark chocolate in a blender and blitz until smooth.
2. Pour the mixture over the oats and stir well. Leave to soak in a sealable container in the fridge for at least 8 hours, or overnight.
3. When you're ready to eat, sprinkle the dark chocolate over the top.
Joe's book 'Lean in 15: The Sustain Plan' is out now (Bluebird, £16.99).
Madeleine Shaw
Caramelised mushrooms, spinach and poached eggs with red pepper Romesco sauce
Madeleine says: "I'm an eggs girl for breakfast. This is a super-simple recipe that you can whip up in minutes with no compromise on taste. You can make the Romesco sauce in advance and just pop it on your eggs in the morning. I love it because it's colourful, protein-packed and full of veggie goodness."
Ingredients (serves two):
1 tsp coconut oil or butter
100g mushrooms, cut into 0.5cm slices
100g spinach leaves, washed
1 garlic clove, crushed
1 tsp dried thyme
pinch of chilli flakes
½ tbsp balsamic vinegar
4 eggs
2 slices of rye, sourdough or gluten-free bread
salt and freshly ground black pepper, to taste 
For the Romesco sauce:
juice of 1 lime
80ml olive oil
1 red chilli
4 jar roasted red peppers in olive oil
20g toasted flaked almonds (or hazelnuts)
1 garlic clove
¾ tsp salt 
2 spring onions, roughly chopped
Method:
1. Place all the Romesco sauce ingredients in a blender and blend until smooth. Set aside.
2. Heat the oil or butter in a pan over a medium–high heat, add the mushrooms and cook for 2 minutes. Throw over some salt and pepper.
3. Place the spinach in a colander and pour over a little boiling water to wilt. Leave to drain.
4. Add the garlic, thyme, chilli and balsamic vinegar to the mushrooms and stir for 30 seconds, then add the drained spinach and cook for another minute or two. Turn off the heat and cover the pan.
5. Meanwhile, boil a pan of water with a pinch of salt then turn down to a high simmer. Crack the eggs into ramekins one by one and gently tip into the simmering water. Poach the eggs for 2–3 minutes or until cooked to your liking.
6. Toast the bread and top with the mushrooms and eggs, then pour over the Romesco sauce.
Madeleine's book 'READY, STEADY, GLOW! Fast, Fresh Food Designed for Real Life' is out now (Orion Books, £20/£10.99).
Amelia Freer
Warming quinoa porridge
Amelia says: "Quinoa is a seed, not a grain. It's not something that I eat a lot of, but it does make a lovely breakfast porridge and a great alternative to oats. It's naturally gluten free and rich in nutrients and protein so it's a better choice than plain oats.
"It's also really versatile so play around with the flavours. I find that using cinnamon and vanilla with some fruit means that there is no need to add in any other sugars, so try to avoid adding honey or syrups."
Ingredients:
50g quinoa flakes, washed (these flakes can be bought from some supermarkets or health food shops)
250ml filtered water
250ml coconut or almond milk
Pinch of vanilla powder or 1 tsp vanilla extract
1 tsp ground cinnamon
1/2 cup coconut flakes
Fruit of choice to top (I like to use poached pear or fresh peach, stoned and cut into slices)
Method:
1. Put the quinoa flakes into a pan and cover with the water. Bring to the boil, then reduce the heat and simmer for 15 minutes, or until the quinoa has turned translucent.
2. Stir in the milk, vanilla and cinnamon and cook for a further 5 minutes until creamy.
3. Sprinkle with the coconut flakes and serve in bowls with poached pears or fresh peach slices on top.
Dale Pinnock
Eggs Royale
Dale says: "For breakfast I have no set pattern that I stick to every day, I am a firm believer that you have to listen to your body and what it tells you. If I am hungry I will make sure I have something high in protein like fish (rich in omega 3) or eggs.
"However if I have had a large dinner the night before then I do not believe in shovelling food down your mouth just because you think you have to. If you are not hungry it's OK to have just a bowl of fruit for breakfast!"
Ingredients:
Splash of vinegar
3 eggs
75g butter
Juice of ¼ lemon
1 wholemeal english muffin
4 slices smoked salmon
Sea salt and black pepper
Method:
1. Bring a small saucepan of water to a simmer, reduce the heat so that the water is barely bubbling and add the vinegar. Crack two of the eggs, one at a time, into a cup, then slide them gently into the water. Poach for 4 minutes.
2. Make the hollandaise sauce. Melt the butter in a small pan. Put 1 egg yolk and the lemon juice in a small blender or food processor. Once the butter has melted, process the egg and lemon juice on a slow speed to break them up. Add the melted butter teaspoon by teaspoon, then, as the mixture begins to combine, slowly pour in the remaining butter. Once all the butter has been added, increase the speed and process until thickened. Season with salt and pepper.
3. Meanwhile, slice the muffin in half and toast both halves. Place 2 smoked salmon slices on each toasted muffin half. Top each one with a poached egg, then smother the lot in gorgeous hollandaise.
Dale's new book, 'The Medicinal Chef: How to Cook Healthily: Simple Techniques and Everyday Recipes for a Healthy, Happy Life,' is out now (Quadrille, £13.60).
Amanda Hamilton
Apple and berry porridge and a smoothie
Amanda says: "When I'm at home I've got a standard routine. I make a strong coffee in the stove-top maker and then go for a run with my dog. When I come back I make my breakfast smoothie of baby spinach, banana, almond or coconut milk, a tiny bit of maple or agave and some of my own smoothie boosters - chia or spirulina typically.
"I then wait until I'm really hungry to have a brunch of porridge or some avocado or poached eggs on sourdough toast. A couple of mornings a week I'll fast till noon, as per the 16:8 style of fasting, both to keep in shape and for the added benefits of fasting."
Ingredients:
100ml milk - skimmed, semi-skimmed or dairy-free alternative
1/2 medium apple
Handful (about 20g) fresh or frozen berries (I used blackberries but blueberries or raspberries will work too!)
45g porridge oats
1/2 tsp ground cinnamon 
225ml water
Handful (about 10g) pumpkin and/or sunflower seeds
Method:
1. Place the porridge oats with the milk and the water into a saucepan (if using frozen berries add now) .
2. Bring to the boil, stirring frequently and then reduce the heat to medium and simmer for 5 minutes.
3. Grate the apple with the skin intact and add to the porridge, mixing it in well.
4. Stir in the fresh berries, seeds and the cinnamon and then remove from the heat and serve.
Amanda's new book 'The G-Plan Diet' for gut-healthy weight-loss is out now (Octupus Books, £8.99) and is available as an online coached programme with Amanda and her team on gplandiet.com.
Nichola Whitehead
A protein smoothie or protein 'zoats'
Nichola says: "My breakfasts vary depending on how much time I've got. Monday to Friday I usually have a protein smoothie made with a frozen banana, frozen berries, milk, chocolate whey protein and spinach (you can't taste it I promise!).
"At weekends I either have smashed avocado on toast topped with scrambled eggs, or protein zoats; porridge with grated courgette (for volume and fibre) and milk, plus whey protein stirred in at the end, and topped with banana and berries. The key for me is to add a source of green at every meal for goodness!"
Ingredients:
40-50g rolled oats
1 medium courgette, minus the ends and grated
300ml milk
1 scoop vanilla whey protein
Toppings of your choice
Method:
1. Add your oats, courgette and milk into a large bowl and mix well.
2. Heat in the microwave for 3 minutes (stirring half-way through).
3. Mix again before adding your whey protein and mix until combined, before adding any toppings you like.
Nichola blogs at nicsnutrition.com.
Register for free to continue reading
Registration is a free and easy way to support our truly independent journalism
By registering, you will also enjoy limited access to Premium articles, exclusive newsletters, commenting, and virtual events with our leading journalists
Already have an account? sign in
Join our new commenting forum
Join thought-provoking conversations, follow other Independent readers and see their replies