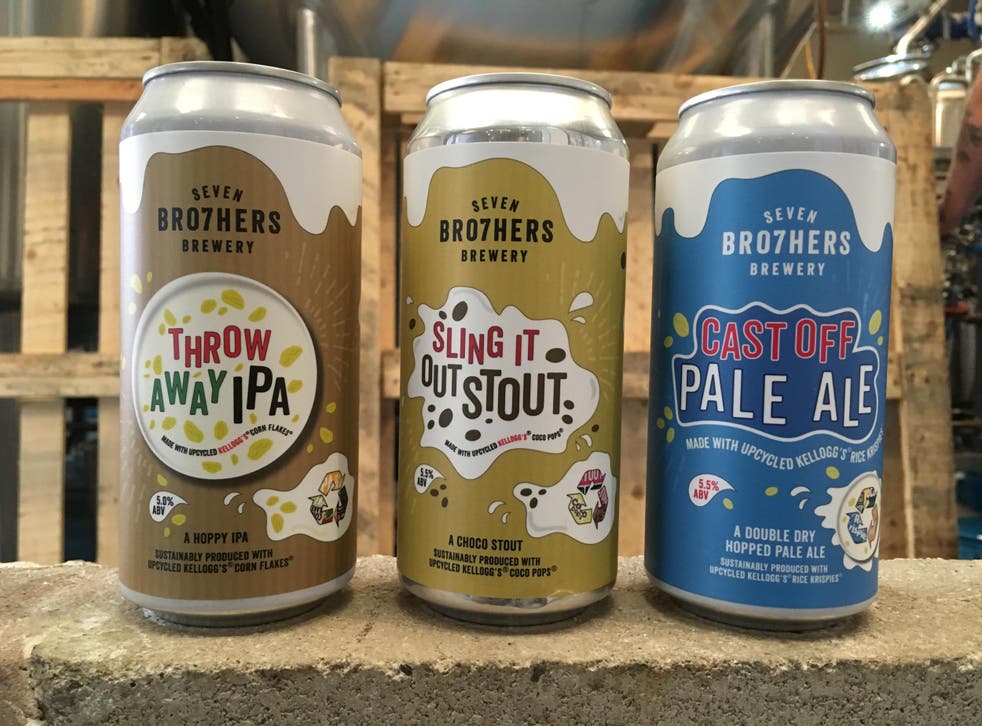 Kellogg's launches new beers made from Rice Krispies and Coco Pops waste
Snap, crackle and pop open the cans 
If you miss the days of sitting in front of the television watching Nickelodeon with a bowl of cereal, Kellogg's is bringing some much-needed childhood frivolity back to our lives.
On Thursday, the food-manufacturing company announced it has teamed up with Salford Brewery Seven Bro7hers to turn its "less-than-perfect" Rice Krispies and Coco Pops into beer.
Following the success of the brewery's Throw Away IPA – made from leftover Kellogg's CornFlakes – the brewers have created a new range of beers made from the grains discarded during the cooking process at the cereal giant's Manchester factory.
The new craft beers include a coco-based Sling It Out Stout, and a snap, crackle and pop Cast Off Pale Ale.
The beverages are made from rice-based flakes that are either overcooked, uncoated or discoloured and therefore have not passed Kellogg's strict quality control, would not make it into the pack and would inevitably go to animal feed.
Man spends life collecting over 9000 beer cans

Show all 10
"Our primary objective is to convert every kilo of grain we buy into food that we can sell," explains Kate Prince, corporate social responsibility manager for Kellogg's UK and Ireland. "However, that's not always possible."
Perfected over five days, the Sling It Out Stout brew uses 80kg of Kellogg's Coco Pops per kilogram to replace malted barley.
A similar process is used to create the Cast Off Pale Ale, using a similar quantity of Kellogg's Rice Krispies to replace malted barley with the cereal creating sweet flavours in the beer.
The new drinks will form part of a three beer collection, accompanied by the Throw Away IPA which launched last November.
However, if you want to get your hands on the beers you'll have to be quick as they are limited edition.
The beers are currently being sold on tap across Manchester in Seven Bro7thers Brewery pubs, as well as locations that stock the brewer. They are also available from the brewery's website, with plans for Ocado and Selfridges to sell the drinks in the pipeline.
Following the success of Bro7hers Brewery's first sustainability conscious beer, Throw Away IPA, the company's founder, Keith McAcvo says: "To carry on with this partnership and create two new exciting craft beers is even better.
"We are extremely proud to be working with Kellogg's and being part of the fight against food waste."
Support free-thinking journalism and attend Independent events
The news comes after Kellogg's announced it would be adopting a new "traffic light" labelling for most of its cereal packaging last November.
The food giant said the voluntary labels would begin appearing on breakfast cereal packs made exclusively for sale in Britain, including Coco Pops, Crunchy Nut, Corn Flakes, Rice Krispies, Frosties and Special K from January, with all products changed by early 2020.
Join our new commenting forum
Join thought-provoking conversations, follow other Independent readers and see their replies