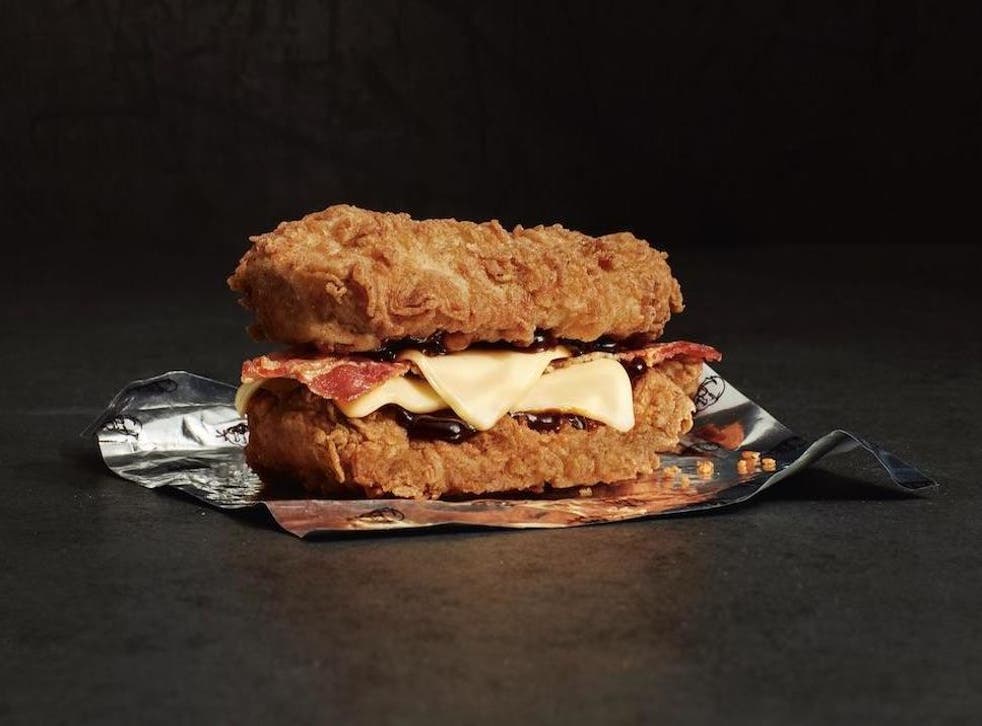 KFC's Double Down burger finally arrives in UK - and fried chicken fans are excited
What the cluck?
Olivia Petter
Tuesday 03 October 2017 16:58 Comments
KFC's most decadent burger ever is finally arriving on British soil.
For those unfamiliar with the fast food chain's legendary delicacy, the Double Down consists of strips of bacon, lathered in melted cheese and barbecue sauce which are then sandwiched between two succulent pieces of – you guessed it - fried chicken.
There's no bun: the chicken IS the bun.
It has been hailed by some chicken-lovers as the best fast food sandwich in the world and is already a hit in the US, Australia and New Zealand.
With a universal fan base and an increasing global demand, it's the closest a single item of food has ever come to achieving celebrity status.
The beloved sandwich will be available for a limited six-week period in the UK from Monday.
"There's been so much excitement for the Double Down since it first launched to the US in 2010," said Jack Hinchliffe, Innovation Director at KFC UK & Ireland.
"It's sold out in every country that it's been released in, so we're anticipating it'll be a sell-out success here in the UK."
Naturally, the news has sparked a national fried chicken frenzy as fans anticipate the Double Down's arrival.
"The KFC Double Down is finally coming to the UK! OH EM GEEEEEE!" wrote one excitable customer.
"God bless KFC for bringing the double down to the UK about damn time," added another grateful fan.
Register for free to continue reading
Registration is a free and easy way to support our truly independent journalism
By registering, you will also enjoy limited access to Premium articles, exclusive newsletters, commenting, and virtual events with our leading journalists
Already have an account? sign in
Join our new commenting forum
Join thought-provoking conversations, follow other Independent readers and see their replies