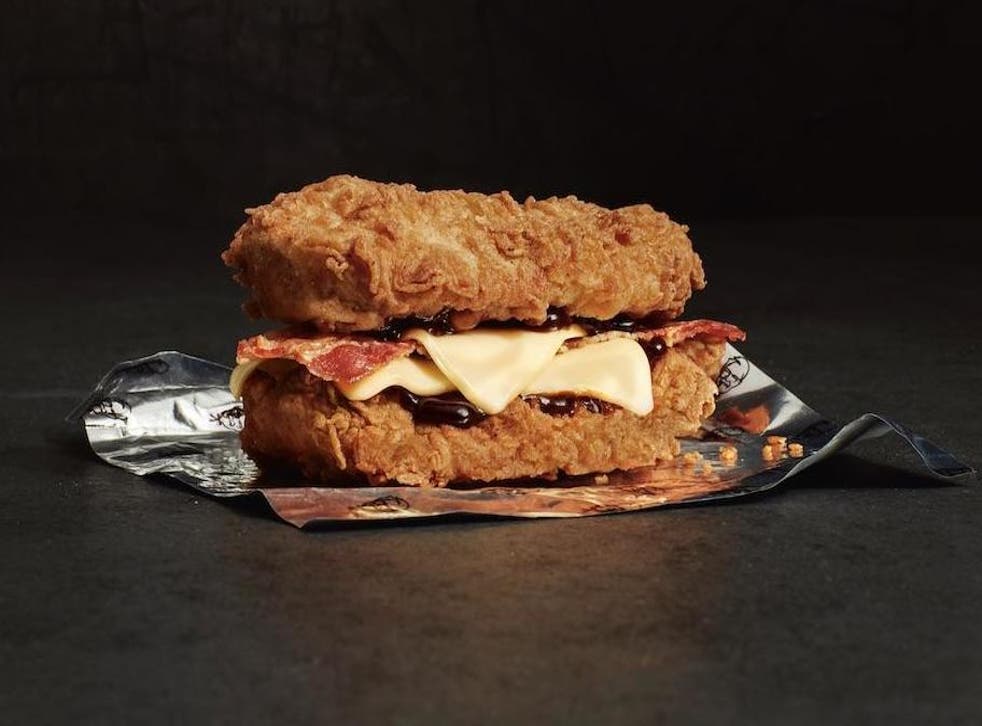 KFC's Double Down burger: Is bacon and cheese sandwiched between chicken as good as it sounds?
Arguably it's a high-protein, low-carb meal. Arguably.
One of KFC's most legendary burgers has today arrived in the UK.
The Double Down burger consists of bacon, melted Monterey Jack cheese and barbecue sauce sandwiched between two breaded chicken fillets.
It's one of the fast food chain's most popular burgers in the US, Australia and New Zealand, and has finally touched down in the UK - but for six weeks only.
If you really wanted to justify it to yourself, you could argue that the Double Down is actually a healthier option than a standard burger, and it could even fit into the Keto diet due to its high protein, low-carb make-up.
Naturally, The Independent made sure to be amongst the first few to try this game-changing burger, and this is what we thought.
As is often the case with fast food, it didn't look much like the press shots as we opened our silver foil wrapper.
It was flatter and sadder-looking, but there was something enticing about the oily chicken and oozy cheese.
The foil wrapping kept our Double Downs warm, and when each of us picked up our afternoon snacks, they were noticeably heavier than a regular burger - after all, chicken is a lot denser than bread.
The first bites were taken, and the general consensus was… they were delicious.
Across the group, scores ranged from 6/10 - to 10/10, but we were all fans.
Despite the chicken coating getting slightly soggy in parts, the chicken breast itself was juicy and tender.
There was a lot of barbecue sauce and it was pretty salty with the bacon and cheese too, but it was oh so satisfying.
Ideal end-of-night or hangover sustenance.
It's greasy, dirty and messy, but damn tasty too. We did all feel like we were having minor heart palpitations afterwards though.
At the end of the day, the bread is always the worst part of a burger. Who needs it?
Jack Hinchliffe, Innovation Director at KFC UK & Ireland, said of the Double Down: "There's been so much excitement for the Double Down since it first launched to the US in 2010. It's sold out in every country that it's been released in, so we're anticipating it'll be a sell-out success here in the UK.
"Fandom has gone wild over the past few years on social media, and we've even had reports of our customers taking things into their own hands by hacking the menu to create the sandwich. It seems people agree with us… there's nothing better than an Original Recipe fillet, so if you can't beat it – double it!"
Considering we've already seen burgers with avocado halves and mac 'n' cheese patties as buns, what could be next? A chicken fillet sandwiched between two beef burger patties?
When that happens, we'll be first in line.
The Double Down is priced from £4.79 – or from £5.79 with fries and a drink.
Join our new commenting forum
Join thought-provoking conversations, follow other Independent readers and see their replies