LET'S UNPACK THAT
Let them eat quiche: The curious culinary history of royal coronation food
From coronation chicken to King Charles's veggie quiche, Benjamin Parker unpacks how different dishes have shaped the monarchy's image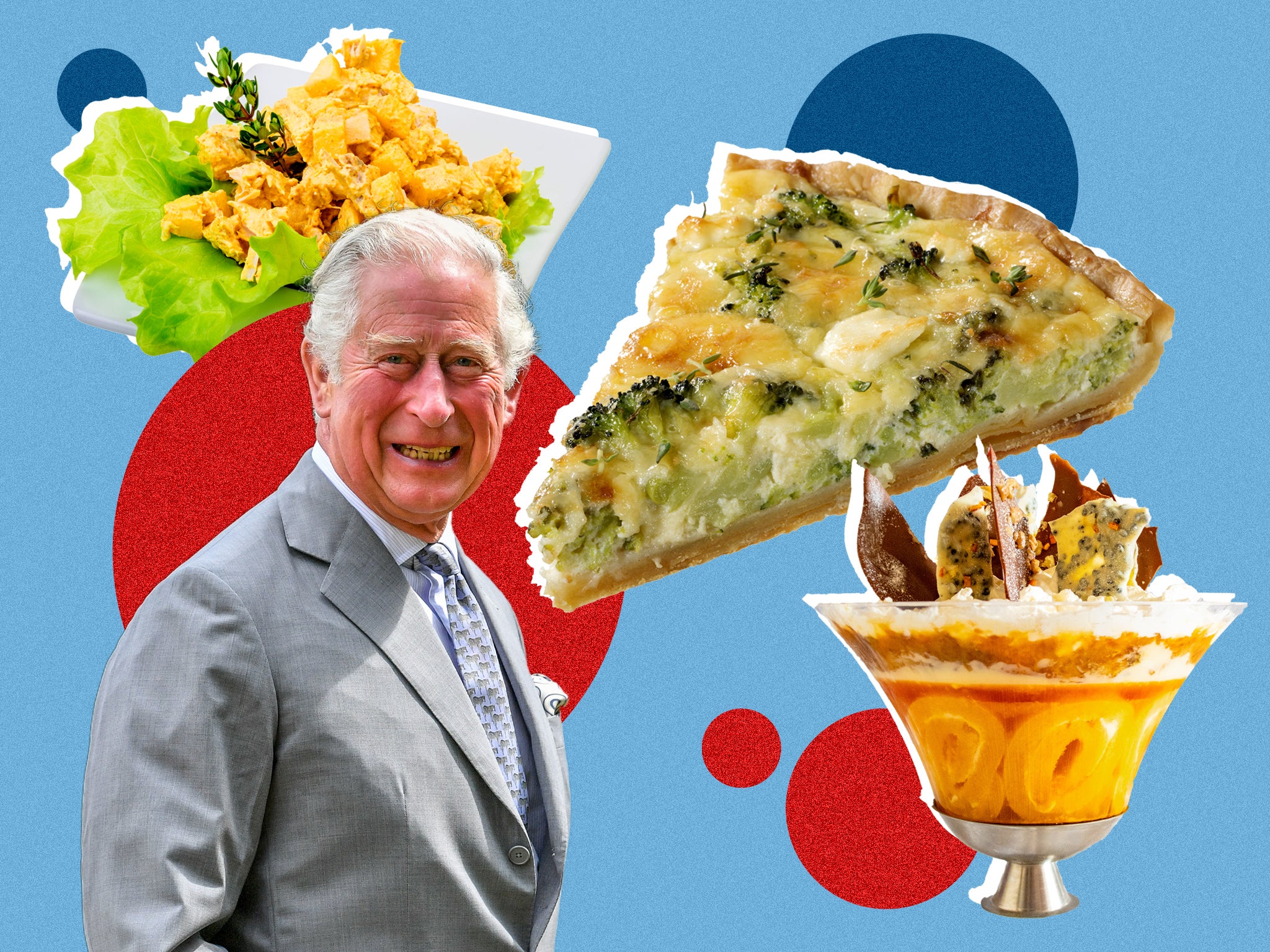 Tucking into coronation chicken? That's all a bit 1953. With the crowning of King Charles III just a week away, the dish du jour we'll be tucking into is the recently revealed "coronation quiche".
The recipe – which features spinach, broad beans and tarragon – was personally chosen by the monarch and his wife, the Queen Consort, as a way to mark the occasion. Expect to see it on tables across the country during the "Big Lunch" street party celebrations, taking place throughout coronation weekend.
That it's vegetarian feels apt, given that the King has admitted to eating a plant-based diet on certain days of the week, as does the use of ingredients that are in season right now, helping keep those food miles down for the famously eco-conscious royal.
Leaving aside the quiche's obvious "Frenchness" (yes, there were cream and egg pastry dishes in Italy and England as far back as the 13th and 14th centuries, but a quiche is a French dish, I'll hear no more), the announcement – which garnered a mixed reaction – was a thoroughly modern step by the royal family.
Although coronation chicken has long been a popular fixture on the sandwich filling scene, the unveiling of an "official" coronation recipe is, in fact, a new concept. Seventy years ago, for the crowning of the late Queen Elizabeth II, there was no effort to bring royal dining into the home kitchen.
As part of the coronation luncheon on 2 June 1953, guests were served "Poulet Reine Elizabeth", a dish credited to Rosemary Hume and Constance Spry from Le Cordon Bleu London, who catered the event, with the original recipe consisting of "young roasting chickens, water and a little wine to cover carrot, a bouquet garni, salt, peppercorns and a cream of curry sauce" and served with salad of rice, green peas and pimentos, according to the cookery school's website.
Given that most of the UK was still feeling the effects of post-war rationing, it was quite a remarkable list of ingredients. It's said to have been inspired by jubilee chicken, a dish of chicken dressed in mayonnaise and curry powder created for King George V's silver jubilee in 1935.
But it's unlikely that anyone expected this to be a stand-out dish, one that would go on a journey from royal meal to 1970s dinner party favourite, through to popular sandwich filling (Pret's latest menu features coronation chicken between bloomer bread). Food historian Dr Annie Gray described the origin story as "all a bit of a damp squib".
"Coronation chicken was one dish among many at a private banquet in 1953, and wasn't called that until a couple of years after the coronation," she tells me.
Consequently, the link between Queen Elizabeth's coronation and the creation of coronation chicken came as a surprise to some on social media when the royal quiche recipe was announced.
One Twitter user wrote: "Oh my f**king god... coronation chicken... right in front of my face for 28 years without a clue".
We find ourselves in uncharted territory with a recipe to mark the coronation – picked by the king and queen themselves, no less – but one that's indicative of a 21st-century approach to a monarchy that positions itself as warmer and more open in its relationship with the public.
According to Professor Rebecca Earle, ­from the University of Warwick, this is a genuine innovation. "Historically, members of the public were not urged to celebrate coronations by inventing new dishes, or by recreating the menus of the official banquets. Home cooks hoping to replicate the côtelettes de bécassines à la Souvaroff served at Edward VII's 1902 coronation would have confronted a complex recipe involving fillets of snipe, pâté, brandy and truffles," she says.
"The method was later described in royal chef Gabriel Tschumi's cookbook [Royal Chef: Recollections of life in royal households from Queen Victoria to Queen Mary], but it was unlikely to inspire any but the most intrepid.
"Today's efforts to encourage us all to join in by baking a coronation quiche reflect the enormous popularity of cooking as a leisure activity, as well as the monarchy's attempts to repackage themselves for the 21st century."
During the 70-year gap between coronations in the UK, recipes have been shared only on limited occasions. To mark Queen Elizabeth II's golden jubilee in 2002 – and almost a throwback to Poulet Reine Elizabeth – a recipe of baked chicken dressed with creme fraiche, mayonnaise, ginger and lime (and served pasta salad) was revealed. For the platinum jubilee last year, the "Platinum Pudding" was created as part of a national competition; the winner was lemon Swiss roll and amaretti trifle, triumphing over 5,000 other desserts.
But it's the Empire Christmas pudding that is usually considered the first recipe to have a royal connection – it was created by Henri Cedard, who was head chef at Buckingham Palace – and be promoted as a national dish. The dessert dates back to the 1920s, with each of the 17 ingredients coming from somewhere in the British Empire. It was incredibly popular – something of a coup for the Empire Marketing Board.
With King Charles opting for a smaller coronation than his predecessors, and even eschewing the Commonwealth banquet held by his mother, his celebrations will be a far cry from those of King George IV in 1821.
Back then, the new monarch – known for his penchant for rich French food – followed tradition dating back to the 12th century by hosting a grand banquet under the vaulted ceilings of Westminster Hall. It would be so indulgent that it would bring this tradition to an end after more than 600 years; there has not been a coronation banquet there since.
More than 1,500 guests gathered around almost 50 tables for the spectacle, was a multi-million-pound affair in today's money. According to The Conversation, the first course consisted of 20 dishes, such as les filets de poulards, sautés aux champignons (chicken sautéed with mushrooms), les cotelles d'agneau, panées, grillées, sauce poivrade (breaded, grilled lamb chops in a pepper sauce), and le paté chaud de caille à l'espagnole (a quail pie, served hot).
The courses that followed were no lighter, with 22 then 31 dishes, including sole cooked in champagne, turtle soup and a spun sugar vase filled with meringues.
Nine years later, at a time of economic strife, George's successor, William IV decided against such extravagance.
A slimmed-down approach from the monarchy and a time of financial crisis, you say? History is prone to repeat itself…
Join our commenting forum
Join thought-provoking conversations, follow other Independent readers and see their replies