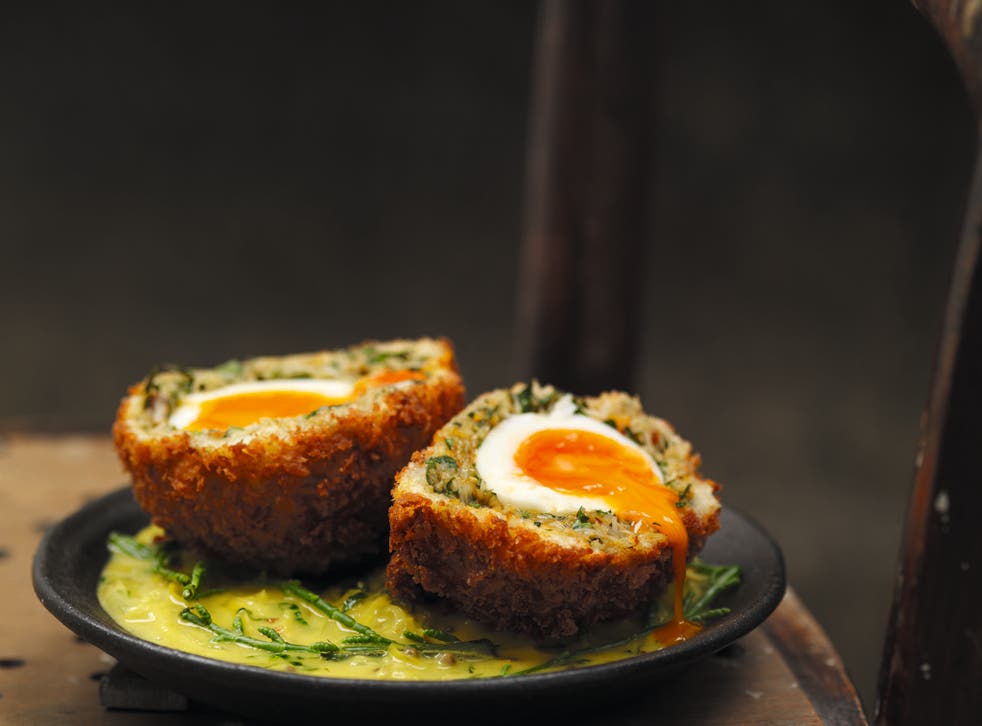 'Kricket: An Indian-inspired Cookbook': Recipes from crab scotch egg to bhel puri
Drawing inspiration from all over India, Will Bowlby turns some classic small plates into elegant meals perfect for sharing
Crab scotch egg with moilee sauce
The scotch egg is a quintessential British pub snack that has been given an Indian reinvention here, with the addition of spiced crab meat and a light, sweet and spicy moilee sauce. Make sure you time your boiled eggs to perfection, for maximum oozey, yolky goodness!
Serves 4
6 medium free-range brown eggs
160g unpasteurised white crab meat
80g unpasteurised brown crab meat
1 tbsp peeled and finely chopped fresh ginger root
1 tbsp finely chopped garlic
1 tbsp finely chopped green chillies
Handful fresh coriander, finely chopped
Handful fresh curry leaves
200g plain flour
500g panko breadcrumbs
1l vegetable oil, for deep-frying
Samphire, quickly sauteed in a little oil or butter, to serve
For the moilee sauce
1 tbsp coconut oil
1 tsp yellow mustard seeds
Handful fresh curry leaves
1 large onion, chopped
1 tbsp ground turmeric
2 green chillies, finely chopped
1 thumb-size piece of fresh ginger root, peeled and grated
200ml coconut milk
Generous squeeze of lime juice
Handful fresh coriander, chopped
Caster sugar, to taste
Sea salt, to taste
First make the moilee sauce. Heat the coconut oil in a large saucepan, then add the mustard seeds and cook until they start to splutter. Add the curry leaves, then turn down the heat before adding the onion. Cook for about 10 minutes until soft and translucent but without any colour. Add the turmeric, green chillies and ginger and stir to coat the onions in the spices. Pour in the coconut milk and bring to the boil, then remove from the heat. Add the lime juice and coriander, then season to taste with sugar and salt. Cover and leave to stand, ready to heat up when you serve.
To make the scotch eggs, bring a pan of salted water to the boil, lower 4 eggs into the water and simmer gently for 5 minutes. Remove the eggs from the water and place them straight into a bowl of iced water to stop them cooking. Once cooled, remove from the water, peel the eggs and set aside.
In a bowl, combine the white and brown crab meat together with the ginger, garlic, chillies, coriander and curry leaves. Shape the mixture around each egg. Beat the remaining 2 eggs in a bowl and put the flour and breadcrumbs into another. Roll the boiled eggs first in the beaten eggs, followed by the flour and breadcrumbs mixture. Put the eggs into the refrigerator to firm up.
Pour the oil in a deep frying pan (skillet) or kadai, and heat until it is about 180C (350F). The oil is hot enough when a cube of bread sizzles when dropped into it. Lower the eggs, one by one, into the oil and fry for about 3-4 minutes until golden brown, then remove and drain on kitchen paper. Reheat the moilee sauce and serve with the scotch eggs and the sauteed samphire.
Bhel puri
This is another signature Kricket dish that has been on the menu since day one. Each street vendor in Mumbai has their own version – perhaps just changing a few spices – and we have kept this recipe fairly traditional. The only aspect that you wouldn't typically see is the addition of yoghurt, which I believe is needed to balance the moisture levels in the dish. It's incredibly quick to make and virtually all raw so it's healthy to boot! You will find both bhel mix and sev in most Indian stores. Bhel mix is made from puffed rice and vegetables while sev is a deep-fried chickpea noodle snack seasoned with turmeric.
Serves 4
4 tbsp yoghurt
Caster sugar, to taste
100g store-bought bhel mix
½ red onion, finely diced
1 green raw mango, finely diced
4 tbsp coriander chutney (see below)
4 pinches of chaat masala
4 tbsp tamarind and date chutney (see below)
80g store-bought sev
Small handful of coriander
Cress or finely chopped coriander leaves
Beat the yoghurt in a bowl and sweeten to taste with sugar. Set aside until ready to serve. Put the bhel mix in a bowl, add the onion and mango, along with the coriander chutney and chaat masala. Mix well.
Spoon the mixture into mounds on 4 serving plates, then generously spoon over the yoghurt and tamarind and date chutney, leaving some yoghurt visible. Sprinkle the sev, and top with the fresh coriander. Serve immediately as will become soggy very quickly.
Tamarind and date chutney
This recipe makes a sweet and sour chutney that matches perfectly with Indian dishes, especially the street food. I use it in my version of bhel puri, and it makes a great accompaniment to my Jersey Royal aloo chaat.
Makes approx 900g
500g tamarind paste
2 cinnamon sticks
1 tsp black peppercorns
2 fresh Indian bay leaves
300ml water
2 tbsp Kashmiri red chilli powder
​4 tbsp date puree or a handful of fresh dates (6-7 dates)
200g caster sugar
The nine best restaurants in the world (2017)

Show all 9
Boil all the ingredients in a large heavy-based saucepan over a low heat for about 1 hour until well blended and thick. Set aside to cool. If you have used fresh dates, you may need to blitz the chutney in a blender until smooth. Once cool, store in sterilised jars in the refrigerator for up to 2 weeks. This chutney will also freeze well if you wanted to keep it for longer.
Coriander chutney
If you are making a larger batch of this chutney, omit the lemon juice, sugar and salt until just before serving. This will allow the chutney to retain its colour.
Makes about 450g
500g fresh coriander, stems and leaves
200ml vegetable oil
Thumb-size piece of fresh ginger root
4 garlic cloves, peeled
2 green chillies
6 tbsp lemon juice
Caster sugar, to taste
Sea salt, to taste
Blitz the coriander in a food processor with the oil, ginger, garlic and green chillies until it forms a fine paste. Add the lemon juice and season to taste with sugar and salt. Store in sterilised jars in the refrigerator for up to 1 week. This chutney will also freeze well.
Oysters in coconut cream with green chilli granita
On my most recent trip to Goa, I was introduced to a new restaurant hidden among the trees, off the beaten path in the north. The menu here changes daily, according to what is on offer and fresh that day. Here I had my first experience of oysters in India, and the memory stuck with me. The local oysters were served raw with coconut and green chillies.
We do the same in the restaurant, using native British oysters – Porthilly happen to be my favourites – with the addition of sweet little bits of pickled cucumber. To enhance the flavour of this dish, you can garnish the oysters with an oyster leaf, but they can be hard to come by, so if you can't find them, don't worry!
Serves 10
20 fresh oysters of choice
200g coconut cream
For the green chilli granita
100g caster sugar
Pinch of sea salt
200 ml water
4 green chillies
2 bunches of fresh coriander
For the pickled cucumber
1 cucumber, deseeded and finely diced
100ml pickling liquor (see below)
Begin by making the green chilli granita. Dissolve the sugar and salt in the water in a small heavy-based saucepan over a medium heat. Remove from the heat and allow to cool. Add the green chillies and coriander to the cooled seasoned water and place in a blender and blitz to a paste. You should end up with a vibrant green mixture. Place in a plastic freeze-proof tub and place in the freezer.
After 30 minutes, break up the crystals using a fork to stop it from solidifying. Do this for a few hours until you have the desired granita consistency.
To make the pickles, steep the cucumber in the pickling liquor for 1-2 hours at room temperature, then keep in the refrigerator until needed. Open the oysters using an oyster knife, ensuring that you loosen the flesh from the shell but retain all the liquid. To serve, arrange the oysters on a platter and spoon a little coconut cream on top of each oyster, followed by a spoonful of the chilli granita and then a little pickled cucumber. Serve straight away.
Pickling liquor
I use this with all kinds of vegetables but cucumber is a special favourite. It will keep in the refrigerator for several weeks – it keeps forever! If you want to make a smaller amount, the recipe is based on equal quantities of vinegar and sugar.
Makes 1 litre
500ml white wine vinegar
500g caster sugar
2 star anise
1 cinnamon stick
4 cloves
2 fresh Indian bay leaves
Put all the ingredients in a heavy-based saucepan over a low heat and stir occasionally until all the sugar dissolves. Remove from the heat and set aside to cool before decanting into a sterilised jar. Store in the fridge until required.
'Kricket: An Indian-inspired Cookbook' by Will Bowlby (Hardie Grant, £26.00) is out now. Photography by Hugh Johnson
Read our interview with Will Bowlby here
Join our new commenting forum
Join thought-provoking conversations, follow other Independent readers and see their replies