Landrace Bakery review: The best bacon sandwich you'll have all year
There's fresh hope for Bath, says Ed Cumming, in this outstanding bakery which instils new meaning to that most staple of sarnies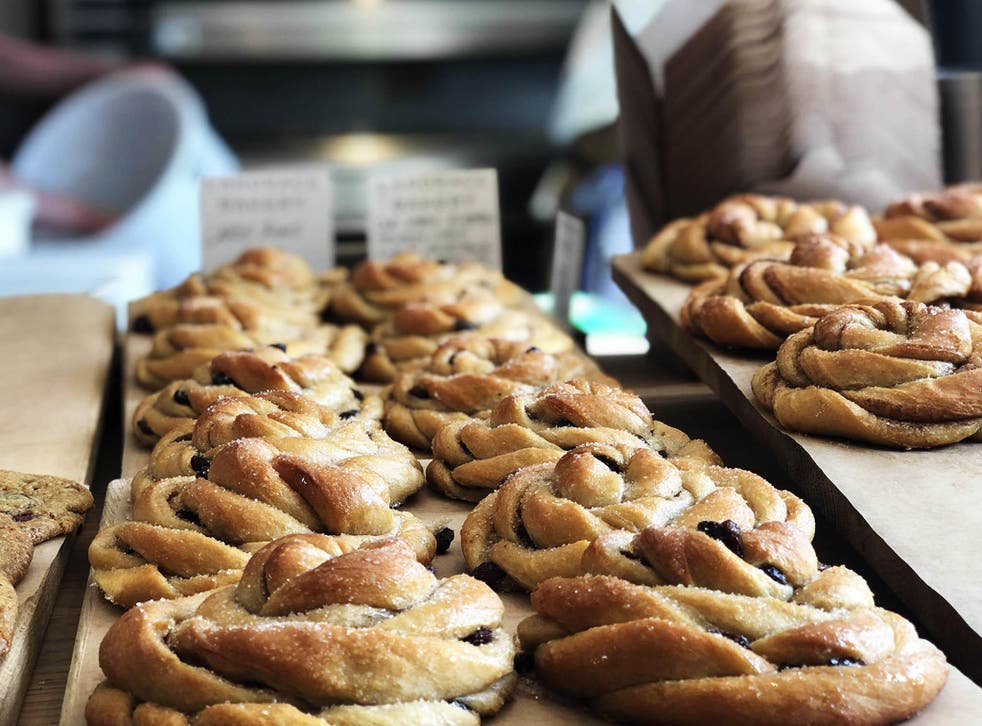 Landrace is a small new independent bakery just outside the centre of Bath. I think it's in the posh bit, because it's near the Royal Crescent, but it's not really my patch and frankly to the uninitiated, the whole city looks like what would happen if The Truman Show was run by Julian Fellowes.
Tourists walk around in a kind of daze at the spoof Englishness of it all, gawping at the architecture and queueing for pasties and mineral water, while amiable chins in chinos walk into performatively dog-friendly shops swinging their car keys.
I can see why people like it, which is to say I can see why it becomes appealing to a certain kind of person once they have abandoned hope of somewhere more exciting.
Or at least, I thought this until I walked into Landrace, which on a bright clear morning in May was enough to make you hopeful about the sleepiest of museum towns. It's everything you want in a bakery: small, clean, bright and run by young people pursuing a passion.
Co-founder Andrew Lowkes is a grain nut, obsessed with the provenance of his flour, which all comes from two house millers, who grow their own grains and grind it on traditional stone mills. He used to work at Neal's Yard Dairy and Pump Street Bakery, a robust training in British produce. He gave the impression that he would ideally stop and talk about grain varieties all day, but had to go back to his kneading. Britain's bread heritage has been largely lost, but it's our national starch, so perhaps we should show it some more love beyond endless weekend sourdoughs.
The counter is heaped with an assortment of loaves, buns and sausage rolls to take away, depending on the day of the week and the mood of the bakers, with a short list of things to order written on a blackboard. It was 10am when we went, so we didn't get to sample the chicken broth or the cheese and onion toast available in the afternoon, but if they're anything like breakfast there's nothing to fear.
A crunch slab of toast came with fluffy ricotta, confit wet garlic, honey and radish; flavours that might have swamped the bread, but instead brought out its rugged depth. "The menu is really designed to give meaning to the bread," Lowkes told me. The other ingredients were really just an excuse to get the dough out. A breakfast bun, plaited in on itself with cinnamon and sugar, was so pliant you could imagine eating the dough raw.
The undoubted highlight was the bacon sandwich, not only the best I've had this year but easily in the top 10 of my life. Few foods are more context-dependent, because they are so often eaten on hangovers. Really the platonic form of the bacon sandwich, the ur-sarnie, can't be bought in a shop, it's the one brought to you the morning after, delivered on some inappropriate piece of china, like a saucer, and comprising a white bap, a heap of unspecified number of rashers of bacon, butter on one side and the brown sauce on the other. At its best the bacon sandwich has the ability not only to set you up for the day ahead but also to retrospectively justify any number of poor decisions taken over the preceding 10 hours. Dishoom's bacon naan was the last shop-bought variant to provoke this much joy.
Here at Landrace the rashers sat in a fresh milk bun, with a generous dollop of rhubarb ketchup alongside. The bread was pillow-soft, plump and round on the plate but gently resistant in the hand, giving way slightly beneath the fingers, so the bread and bacon and sauce hit the mouth as a trio. I had always thought bacon sandwiches were about the meat. Landrace's version suggests they are really about the bread, just as sushi is really about the rice. It's £6.50, which I'm sure sounds extortionate to some ears, but they are welcome to fold a couple of Pepperamis into a slice of white.
There are other places to like in Bath, too. Colonna and Small is a freelancer's nirvana of a coffee shop, with a tiny suntrap garden at the back and baristas who know that a flat white needs a different flavour profile from an espresso. I was in town to visit a friend, Tobias, who has opened a new shop there, called 8 Holland Street, a sister site to the original premises in London (on Holland Street, number eight). It sells glasses and rugs and cushions and prints and bowls. I'm biased, but his taste has the effect of making the other furniture and design shops around look drab and tired. Landrace does the same for bakeries.
Should you go? Yes
Would I go again? Yes
Could you take your parents? Yes
Register for free to continue reading
Registration is a free and easy way to support our truly independent journalism
By registering, you will also enjoy limited access to Premium articles, exclusive newsletters, commenting, and virtual events with our leading journalists
Already have an account? sign in
Register for free to continue reading
Registration is a free and easy way to support our truly independent journalism
By registering, you will also enjoy limited access to Premium articles, exclusive newsletters, commenting, and virtual events with our leading journalists
Already have an account? sign in
Join our new commenting forum
Join thought-provoking conversations, follow other Independent readers and see their replies