Best bites
How Liverpool became the home of independent restaurants
While high street shops around the country suffer and chain restaurants continue to close, Ellie Fry finds one city's food scene that's absolutely thriving thanks to proudly supporting its independents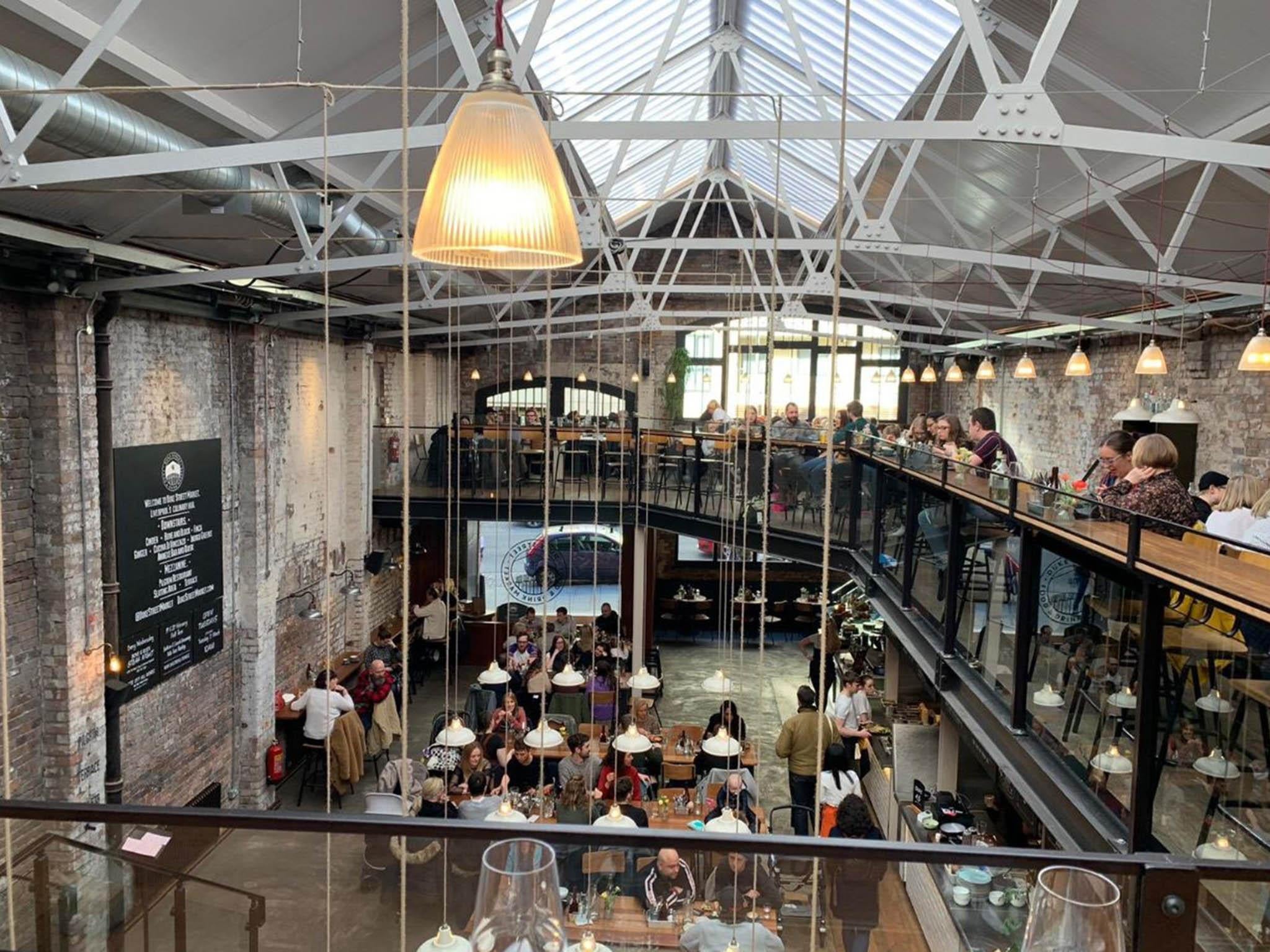 Liverpool is a city that's been trying to have its own referendum for decades, but not to leave Europe.
It's staunchly voted Labour since the Seventies, was one of the few northern cities to vote remain in the 2016 Brexit referendum, and has petitioned for political independence since the days of Margaret Thatcher.
This rejection of Whitehall bureaucracy and celebration of the little man seeps into Liverpool's food culture, and it breeds an authenticity that is unmatched elsewhere.
Independent restaurants in the city are thriving: old favourites want new upcomers to succeed, and Scousers will turn up to new openings by the bucketload, helped by concepts like Independent Liverpool, a platform which champions the city's independent food scene.
Two best friends, Oliver Press and David Williams, started blogging about Liverpool's independent food haunts in 2013.
Six months later, they launched a members discount card, rewarding people for eating local, which then evolved into the fully fledged brand, hosting food and drink festivals, an app, and now their very own street food market, which opened in 2017.
Revered by locals as a go-to for food recommendations, both founders believe that Independent Liverpool's success comes from Scousers' determination to support grass-roots ventures.
"Liverpool is a super political city and people are very active with how they spend their cash," Williams says. "We've always said that where you spend your money dictates the kind of city that you want. I think that message has really resonated with people."
Baltic Market, Independent Liverpool's food and drink court, is the perfect vehicle for the duo to further support independents. Through offering trading slots to new local food ventures, David wants the market to be "that little stepping stone from somebody's idea to bricks and mortar". So far, nine traders have opened restaurants following their time at Baltic Market.
Set in the Baltic quarter – a network of refurbished warehouses and a former brewery – it's just one example of the well-preserved Victorian architecture in the city.
The market is socialising and eating at its finest: a live DJ fills the large space with music, while 10 independent traders – some with existing restaurants, others just starting out as vendors – surround rows of wooden benches packed with punters.
It has an ad hoc charm with the plywood stalls around the bar and exposed pipework, but feels far more authentic than the likes of London's Box Park. Traders change every couple of months, but standouts from my visit are Hafla Hafla's halloumi fries (these little slices of heaven have gained cult-status in Liverpool), Bao Boy's moreish buttermilk chicken buns and the wood-fired, Neapolitan style pizzas from Little Furnace.
An honorary mention goes to the prin and tonic; a pink gin and elderflower cocktail named after the "Scouse prin", a term describing Scouse women who are dressed up to the nines.
Oliver and David describe Liverpool as a "story-telling city", which rings true of all my favourite haunts in Liverpool, but none more so than Six By Nico. Scottish chef Nico Simeone quite literally tells a story with a tasting menu that changes every six weeks; each invoking a sense of a particular place or memory, whether it be transporting you back to your childhood with a nostalgic dish, or to the bustling street food markets of Thailand. Previous menus include Mexico, "mad hatters tea party", Paris and "guilty pleasures".
His first restaurant opened in Glasgow in 2015, and he's since expanded to four other sites, including Manchester and Belfast, plus a London venue is set to open in the spring. But what's really good here, is that Six by Nico is really accessible with each six-course menu costing just £29 a head, and even the London one will be just a few pounds more.
Nico's Liverpool restaurant launched in November last year with a concept close to Scousers' hearts – the chippy tea – but I'm here for the New York menu. The restaurant's right in the centre of town, a short walk away from the royal Albert dock and Grade I-listed Liver building, which are also two symbols of the city. Inside, it's dimly lit with dark interiors and the walls feature Liverpool plaques which Nico's dad collected as a lover of the city, including one featuring Beatles lyrics.
The dishes are clever odes to local delicacies which challenge form and flavour in ways you'd expect from a far pricier menu. From dishes such as the self explanatory eggs benedict to a beef ragu, named Little Italy, each dish is explained by the waiter, with some arriving more dramatically than others, like the flat iron steak which comes in a smoked glass jar.
The menu is balanced and well-crafted; heavier plates like the beef burger doughnut are relieved by lighter dishes like the clam and coley chowder, which is my favourite. The coley is meaty and flakes with the touch of a fork, which is surrounded by clams that are like little salty jewels of the sea, with roasted corn and barbecued leeks that provide an earthy sharpness. Desert is a rather theatrical New York cheesecake in the shape of a glossy red apple, and slicing it reveals an apple compote, all sitting on top of a pecan and oat granola. The apple's frozen shell is a tad too cold, but the cheesecake is perfectly creamy and the granola offers a welcome texture to the plate. Working out at under £5 a dish, it's a radically affordable tasting menu with a compelling concept that leaves me eager to visit again. I'm not alone it seems, as the restaurant gets booked up, even before the next concept is announced.
After a night of (heavy) drinking in many of Liverpool's vibrant bars, I'm off for lunch at Duke Street Market, another food court. But instead of the food hall itself, I'm here to visit its flagship restaurant, Pilgrim, which sits on the mezzanine level of yet another renovated warehouse building. Opening in April last year, it's a bright and beautiful space; light seeps through the sky light and low hanging lamps are tied to the exposed beams in the ceiling. I'm met with a florist stall as I enter, along with a kiosk selling speciality wines and barristers serving fresh coffee and pastries. Pilgrim's food is based on the Camino de Santiago, the ancient pilgrimage Christians and hikers take on which leads to the tomb of Saint James (an apostle of Jesus) in northwestern Spain.
The menu draws inspiration from a specific route of the pilgrimage, of which there are 12, with flavours and produce you'd find from villages along the way. It will change again in the summer to reflect a different route, but I'm here for the Camino Frances, a journey that starts in France. Anthony Power, one of the restaurant's founders, says that this particular pilgrimage route stops in the town of Burgos in the region of Castile and Leon, famous for its own version of morcilla, a Spanish delicacy made with rice and spices.
This features on the menu, along with a Gordello wine from a producer that quite literally has the pilgrimage path run through the middle of its winery. Describing itself as radically seasonal, Pilgrim's menu changes daily depending on what produce has arrived from its mix of UK and Spanish suppliers. There's a focus on sustainability too, from Spanish Iberico pork that comes from free-range pigs, to Galician ex-dairy cows used in many of the beef dishes.
I start with some nibbles; warm sourdough bread arrives with smoked butter and charcoal salt – a comforting, moreish mix. The same can be said for the manzanilla olives which are about the size of my head. Next up was the Galician fillet steak, the retired dairy beef has a far more pronounced flavour than younger meat – the higher fat content translates into a rich, creamy flavour, which is balanced with a fresh mojo verde on top.
Heritage potatoes arrive dressed with crispy pancetta and chopped egg, a posher cousin of the fried egg chorizo hash you find at many Spanish restaurants. It's simple but the quality produce makes it stand out.
Much of Pilgrim's menu is cooked over charcoal on its custom built live-fire hearth, and the next dish, fresh off the coals, is a whole barbecue mackerel, which is the star of the show. The natural smokiness of the fish is heightened by the crispy barbecued skin, and I can taste the influence of the charcoal and wood mix it's cooked on.
The fish is huge and fresh, its meatiness is balanced with a fresh fennel salad and grilled lemon which I of course drizzle all over. I wash it all down with a crisp glass of white and at this point... I feel like I'm having a religious experience myself.
I didn't need it, but finished off with the blood orange cake that was packed with cinnamon sugar – no regrets there. Pilgrim embodies everything I love about this city: its pride in telling a story of a place and respect of authentic, quality ingredients has left feeling inspired.
A weekend really isn't enough to enjoy the amount of food, culture and charm that Liverpool has to offer. Oliver and David tell me that people from all over the world visit Baltic Market, something that, to them, would have felt unimaginable in the city even just a few years ago. But I understand why; it's an infectious place with a growing food culture that its rivals should watch out for.
Join our commenting forum
Join thought-provoking conversations, follow other Independent readers and see their replies