Restaurant in Thailand sits customers with toy pandas to prevent loneliness during social distancing
"The doll makes me feel less lonely eating by myself" one customer says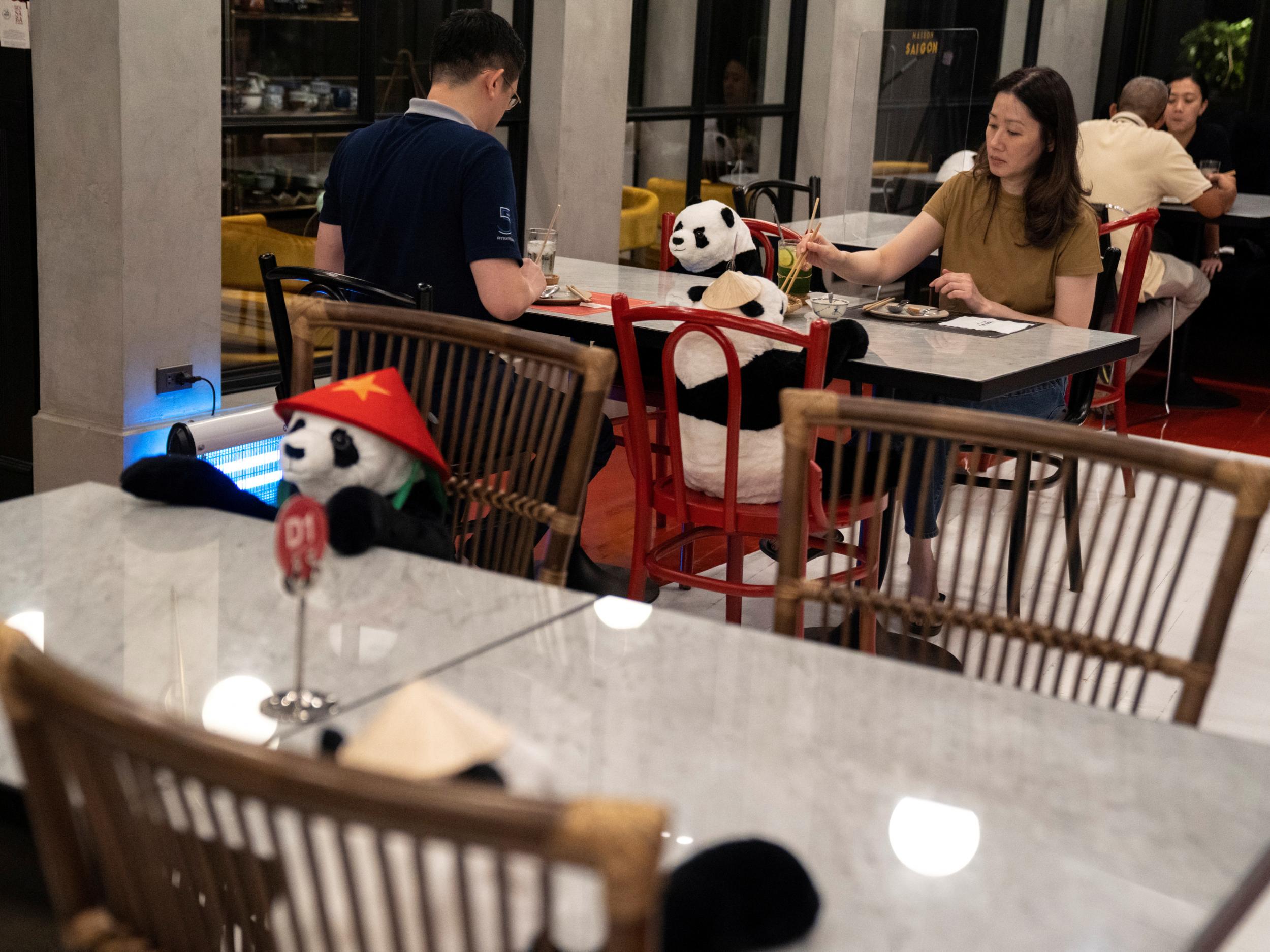 A restaurant in Thailand is seating customers with stuffed toy pandas to stop them feeling lonely while eating under social distancing restrictions.
Maison Saigon, the Vietanese eatery in Bangkok, recently reopened after Thailand relaxed lockdown restrictions for businesses earlier this month, as the number of coronavirus cases slowed.
Restaurants are now allowed to open their doors to customers, as long as they adhere to strict rules to reduce the risk of the virus spreading.
Natthwut Rodchanapanthkul, the owner of the eatery, was concerned that the new social distancing measures were making solo diners feel lonely, so he came up with the stuffed toy initiative to bring some normality back to the restaurant, placing one on each table to help customers navigate the new seating rules.
"Earlier we had only one chair for the tables where the customer came alone. But for me, it felt strange, so I thought I'd give them some company," he said.
Visitors at the restaurant have welcomed the concept, appreciating the presence of the plush pandas as a welcome break from isolation.
Customer Sawit Chaiphuek said he was happy to have some company as he stepped out to eat for the first time in months.
"The doll makes me feel less lonely eating by myself," the 25-year-old said.
Another diner, Sawit Chaiphuek, said that customers often get perplexed by the new seating rules that have recently been put in place during the coronavirus crisis, so the stuffed panda dolls make things a lot clearer in Maison Saigon.
"It's a lot easier to understand compared to other restaurants where people always get confused about where to sit and end up sitting too close to each other," he said.
The novel concept is the latest way in which restaurants are trying to encourage customers to comply with social distancing measures.
A vegan eatery in Amsterdam called Mediamatic ETEN recently set up a new way to dine out during the coronavirus pandemic, introducing individual greenhouses to keep customers apart.
Thailand reported one new coronavirus case on Thursday (14 May) and no new deaths, bringing the total to 3,018 cases and 56 deaths since the outbreak started in January.
On Wednesday 13 May, it reported zero new cases for the first time since early March, before lockdown began in the country.
Join our commenting forum
Join thought-provoking conversations, follow other Independent readers and see their replies