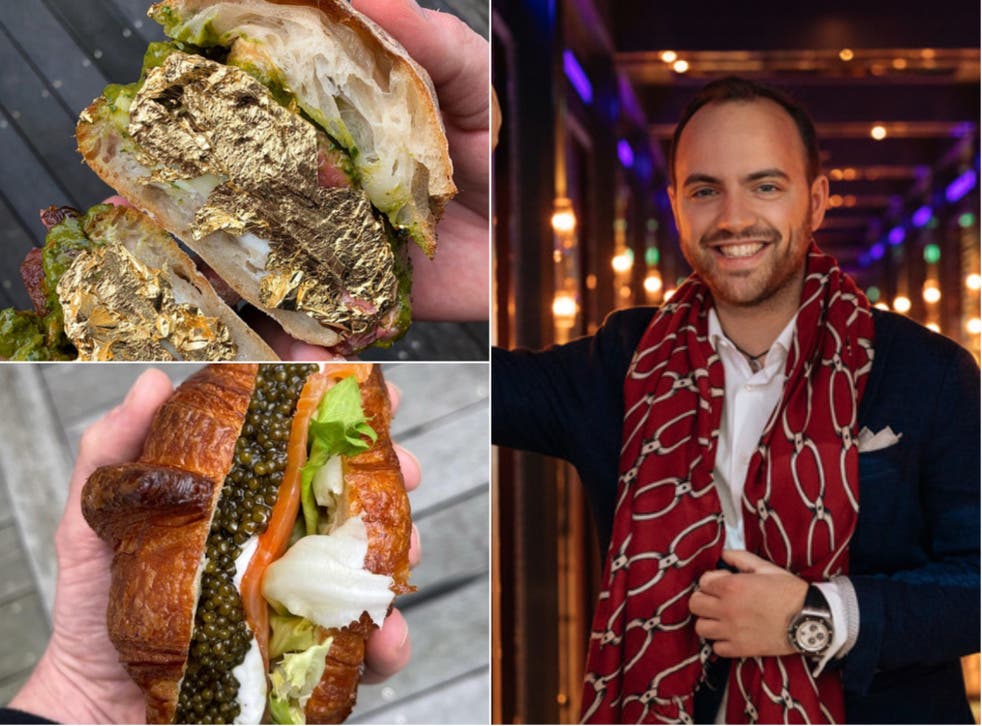 'I wanted the best': Chef defends £50 luxury sandwiches delivered to customers in a Mercedes
'A sandwich should be an expression of my love for life,' said Zagatti
When gourmet chef Andrea Zagatti published his new sandwich menu on social media last week, he wasn't expecting his offerings to go viral.
But this is no Subway or Tesco meal deal. Zagatti (AKA Mr Z) sells luxury gourmet sandwiches, ordered via Instagram DM and delivered in a Mercedes S Class. 
The Italian Cordon-Bleu-trained chef, 28, attracted shock from some social media users after posting an image of his new menu. 
The sandwiches on offer range from £25 to £50, and feature ingredients including caviar, aged beef rib-eye and edible gold. They are available for home delivery in London's swanky Knightsbridge and Chelsea.
Some Twitter users called the menu "pretentious" and "obscene", and said it was insensitive to charge more for one sandwich than many families have to spend on food in a week. 
But, when The Independent spoke to Zagatti, he defended the pricey sandwiches, and said he had sold out every day since their launch on Saturday 6 February. 
The chef was unimpressed with sandwich culture in the UK, saying it is defined by "simple ingredients", "stale bread" and a £5 price point. "I like to eat well and live well, so even a sandwich should be an expression of my love for life," he adds.
"I wanted the best ingredients, the best combinations, the best breads, otherwise, it's not a satisfying snack."
What about the price tag? "If you use great ingredients in great bread, it's very, very, very easy to spend that money for sandwiches," Zagatti says. 
Typical clients for the private chef include affluent tech workers and those working in investment, though he says his new sandwiches have also been bought by influencers. 
As for the backlash, the chef has been inundated with "fake orders and hate messages" via Instagram, forcing him to create a website for the sandwich order service. "I could not even filter the orders through the negative messages," he says. 
"I'm lucky enough that, in my private chef career, I never received a negative review," he says. "And when I started this company, all I was receiving was negative reviews, without people trying the sandwiches."
Of those who have taken an order, the chef says that "not one person hated" the sandwiches, and all his customers have been "astonished" by the taste.  
Zagatti says private cheffing has been trickier in lockdown as much of his business comes from dinner parties, and it was actually his girlfriend who first suggested he sell high-end sandwiches for delivery. 
"'Why don't you do something crazy?'" he recalls her asking. "'Do luxury sandwiches, deliver it to the home of the clients, deliver it in a Mercedes S class?' I was like, 'Oh, let's just try it out'."
So far, viral fame has brought Zagatti more customers, but he has no fixed idea of how the business will develop. 
"It's wrong to have expectations, I'd rather see what happens," he says. "But, I can assure you, I'm working hard every single day to force things to happen."
Register for free to continue reading
Registration is a free and easy way to support our truly independent journalism
By registering, you will also enjoy limited access to Premium articles, exclusive newsletters, commenting, and virtual events with our leading journalists
Already have an account? sign in
Register for free to continue reading
Registration is a free and easy way to support our truly independent journalism
By registering, you will also enjoy limited access to Premium articles, exclusive newsletters, commenting, and virtual events with our leading journalists
Already have an account? sign in
Join our new commenting forum
Join thought-provoking conversations, follow other Independent readers and see their replies