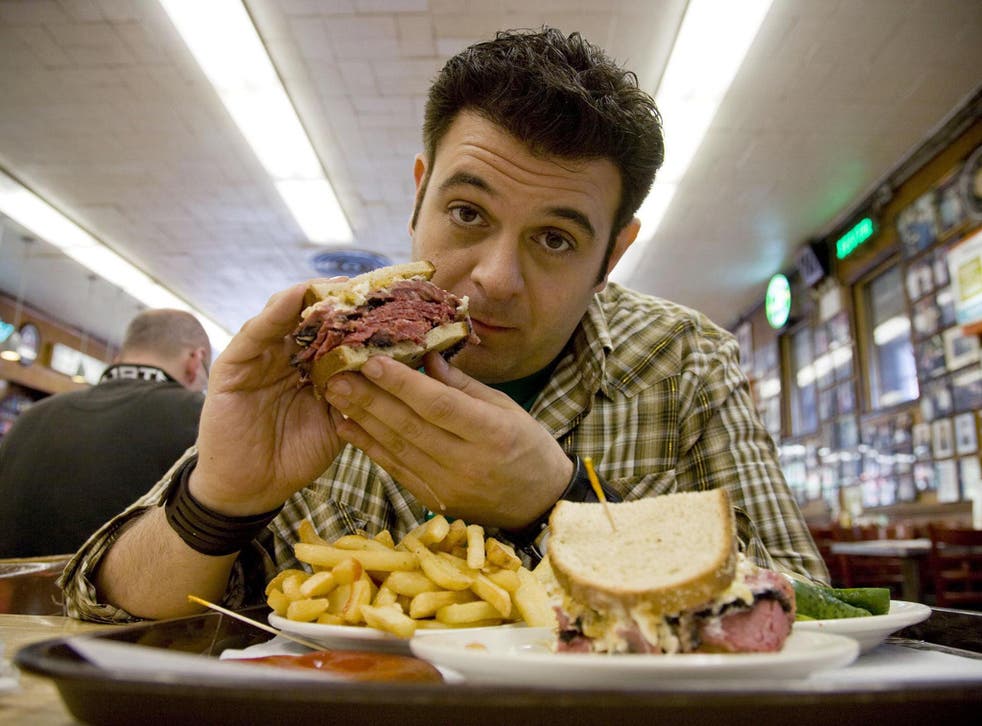 What happened when Adam Richman from Man vs Food visited my restaurant
The New Yorker visited almost 200 restaurants across the US between 2008 and 2012 
Almost a decade ago, Adam Richman's dude-next-door's face became synonymous with the gut-busting feats of his show Man vs Food as he ate his way across America.
Richman was faced with the biggest portions and spiciest food that the nation had to offer, from sandwiches drenched in cheese and not much smaller than a newborn baby to clubs so hot they made him sweat. Eventually, and possibly to avert clogged arteries and diabetes, Richman packed the show in in 2012 after four seasons and eating at 189 restaurants. In 2015, he revealed to The Independent that he now goes vegan for months at a time as he trains for the football season.
So, what was it like to be caught up in the media whirlwind that saw Richman become an international name? And did a secretly diva-ish attitude overshadow Richman's cheeky-chappy on-screen persona?
The world's biggest food fights

Show all 11
Mark Cohen, the owner of The Chicken or The Egg in New Jersey, was visited by Richman in 2010. They are best known for their chicken wings.
The producer of the show emailed Cohen and asked if he would like to appear, and throw down the gauntlet of the Ludicrous Wings Challenge to scarf down hot-sauce slathered 12 jumbo wings in 15 minutes.
The most memorable moment for Coheh was when Richman tasted the hot sauce in his kitchen and it "literally took his breath away."
Cohen says he was nervous about appearing, but "Adam made it easy". "He and the crew were incredibly laid back and easy to work with."
"He was very friendly, genuine and funny," he recalls.
But that didn't mean that painstaking levels of work didn't go into shooting the seemingly chatty and relaxed 20-minute episodes.
"The crew arrived at around noon on a Saturday. We did kitchen shots, slow motion recipe simulations, and b-rolls."
"The actual challenge did not take place until almost 9pm. Then Adam took a very long break and returned to do the follow-up interview."
"Interestingly enough, the audience responses were taped before he was filmed asking the questions," he adds.
The crew finally wrapped up 12 hours later at midnight, but hung out at the joint until about 3am.
After the show aired, the popularity of the restaurant was kicked into another gear, says Cohen. Eventually he had to bolster his staff to 60 people to keep up with demand.
"We started seeing many more challengers than in the past, many of whom were clearly pros trying our best challenge."
"The show made us feel a bit like celebrities," adds Cohen. "It's fascinating to me that even after more than six years since the episode aired we still have people coming in asking about it. Some customers do still tell us they came just because they saw us on Man Vs Food."
Join our new commenting forum
Join thought-provoking conversations, follow other Independent readers and see their replies