Manteca restaurant review: A rare spot – reliable, reasonable and in central London
It might look simple, but a whole lot of thought has gone into this place, where you're even thanked for coming, says Ed Cumming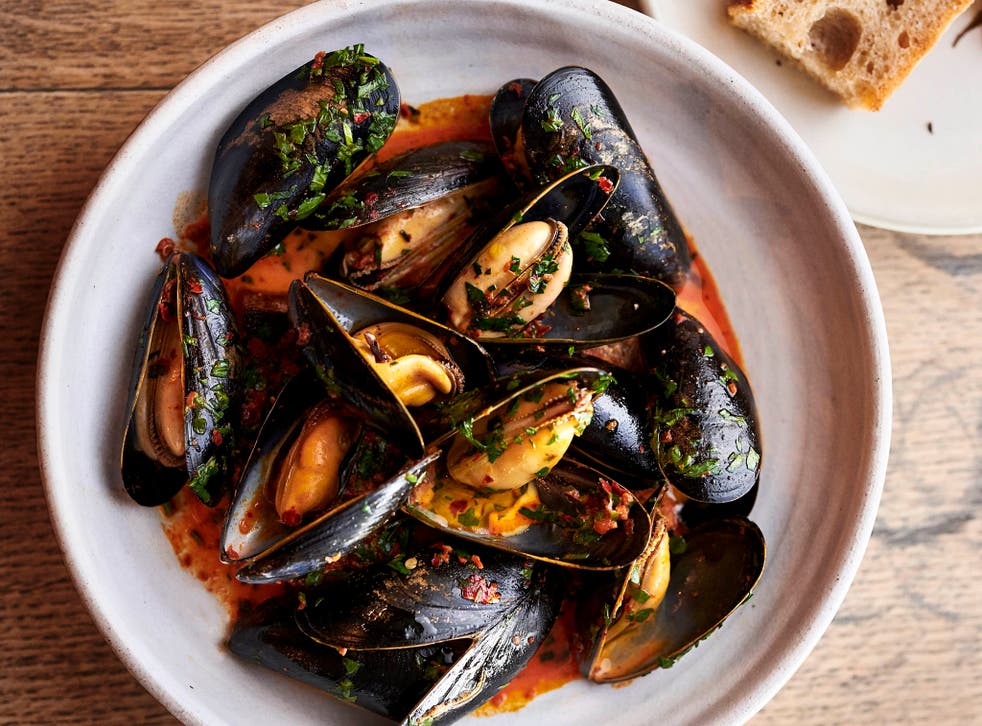 Manteca is the permanent incarnation of 10 Heddon Street, a popular pop-up on the fringes of Mayfair that was open for four months last year.
The new site is on Great Marlborough Street, on the walk from Liberty to Soho proper, which for anyone who spends time in central London is about as convenient as the food being spooned into your mouth in bed.
Its creators, Chris Leach and David Carter are best known as meat men. Carter, a tall Bajan with one of the best accents in food, gave us Smokestak, a barbecue-van-turned-reliable-meaterie in Shoreditch and is on the operational side at Manteca.
Leach comes from the foodie wine bar Sager + Wilde and previously worked at Pitt Cue Co and Kitty Fisher's.
The latter venue's signature dish is, or at least was when I last went, ages ago, a hunk of old dairy cow, so it's slightly surprising that while there are big flesh options on the menu at Manteca, including a charcoal-grilled old dairy steak, the focus is just as much on pasta.
There's a shortlist of snacks, from which we order focaccia with homemade mortadella, followed by a pig croquette with a curl of crisp puffed skin. There's a lot of pork on the menu, pointing to an unobtrusive whole-animal philosophy. Mortadella is the ugly duckling of the cured meats, hated even by ham lovers. It is too pink, too smooth, too obviously processed. The islands of fat in its folds are too visceral for many tastes. Carter's version here comes thin-sliced with a rougher texture and falls apart willingly in the hand, just the thing to convert the unbelieving.
After that, a bowl of nduja mussels, with the mollusc flesh, is happily overwhelmed by the heat from the sausage. The pool of nduja mussel sauce left at the end is exactly as mop-inducing as it sounds.
We order all four of the pastas between two and it is too much food, unusual in the new wave of pasta places, where portions and prices are usually designed to entice you to share three or four plates. Not that we didn't lick every scrap of sauce from them, especially the brown crab cacio e pepe, where the deep flavour of the meat mingles with the cheese to create something just the right side of moreish. Pigtail ragu finds purpose for yet another part of the beast. Mushroom ravioli: woody. Agnolotti feel slightly underdone, with a residual flour texture in the bite, but perhaps we are just full by then. With a couple of glasses of wine each, the bill came to £50 a head. It would be easy to spend less.
Finding food on the front line of climate change

Show all 17
Manteca's apparent simplicity is misleading. Plenty of thought has gone into it. The interior is unpretentious, with simply-painted breeze blocks, plain tables, low lights and a soundtrack of studied low-fi vibe. The kitchen is not fully open but visible through a letterbox window, a kind of half-way house where you don't feel like you are working there yourself, but you're also not wondering what kind of mysterious practices are going on behind the closed door.
The room is surprisingly large and they hold back half the tables for walk-ins. Service is knowledgeable but easygoing, and we are even thanked for coming, a startlingly rare occurrence at a time when you are often made to feel like the restaurateur is doing you a favour by granting you a timeslot in their temple.
All of which means Manteca has the potential to become that rarest of spots: a reliable, reasonably priced standby in central London, flexible enough to handle a work lunch and a grand bouffe. An unfussy idea, executed with aplomb, a vision for 2020.
Would I go again? Yes
Should you go? Yes
Can you take your parents? Yes
Manteca, 58-59 Great Marlborough St, Soho, London W1F 7JY; 020 3827 9740; open Mon-Sat; mantecarestaurant.co.uk
Register for free to continue reading
Registration is a free and easy way to support our truly independent journalism
By registering, you will also enjoy limited access to Premium articles, exclusive newsletters, commenting, and virtual events with our leading journalists
Already have an account? sign in
Register for free to continue reading
Registration is a free and easy way to support our truly independent journalism
By registering, you will also enjoy limited access to Premium articles, exclusive newsletters, commenting, and virtual events with our leading journalists
Already have an account? sign in
Join our new commenting forum
Join thought-provoking conversations, follow other Independent readers and see their replies