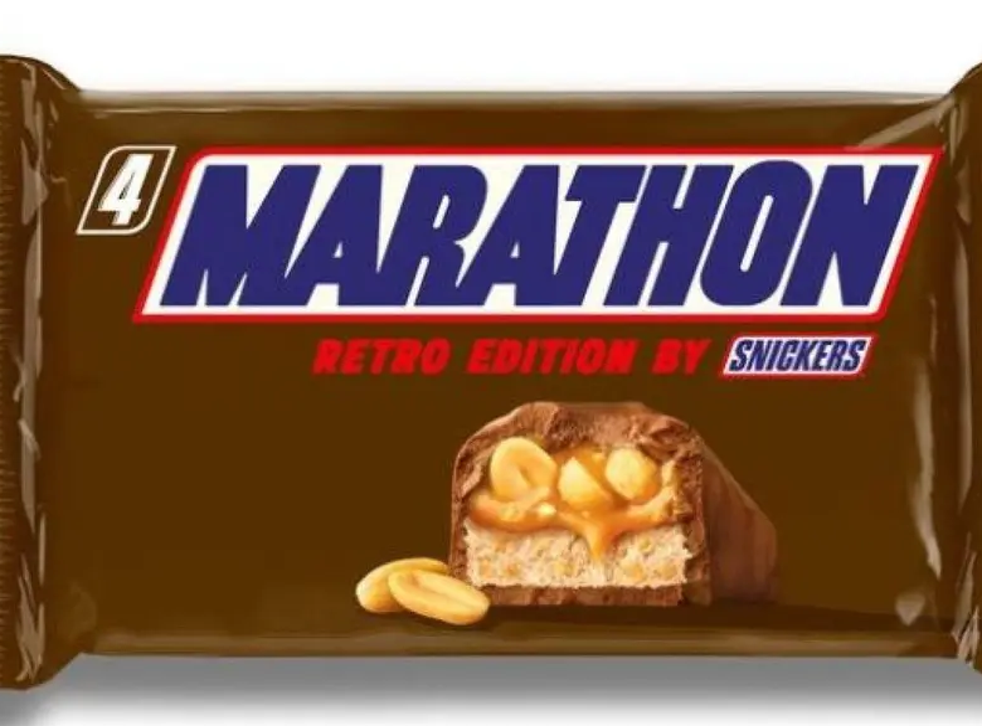 Snickers rebranded as Marathon bars again 30 years after name change
The name was changed in 1990 to bring the UK into line with the rest of the world 
Sophie Gallagher
Wednesday 12 August 2020 12:15 Comments
After a year of bad news, nostalgic chocolate fans have something to celebrate – as the classic Marathon bar returns to supermarket shelves.
Marathon is the original name for a Snickers bar, made up of nougat, peanuts, caramel and chocolate. The name was changed in the UK 30 years ago.
From 10 August, Mars Wrigley has reintroduced the classic chocolate bar under its original name, at Morrison's and McColls stores.
The retro chocolate will now be available as a Marathon bar for a three-month period.
The popular item – which sold 4,000,000 bars in a brief 12-week stint in 2019 – was last in full-time circulation over 30 years ago.
Snickers is an American chocolate bar created in 1930 and named after the favourite horse of the Mars family – Marathon.
Until 19 July 1990 the Snickers bar was the name given to the nutty chocolate bar in the rest of the world but in the UK it remained known as the Marathon.
Then the global brand decided to bring the product into line with the rest of its markets.
It was so popular when Mars revived it for the first time 12 months ago that Morrisons had to put a customer limit on the number of chocolates anyone could buy.
This time round the brand is hoping for even more success as the bars will be sold as single chocolates as well as in multi-packs.
Mary Quant retrospective at the V&A

Show all 10
David Manzini, general manager at Mars Wrigley UK said in a statement: "At Mars Wrigley we're all about creating better moments through our sweet treats.
"It's clear that after nearly 30 years away, people loved the return of the Marathon bar last year. When the British public speaks, we always aim to deliver! It's great that after making chocolate in the UK for nearly 90 years people still love our chocolate!"
Snickers remains Britain's second favourite chocolate bar, after Cadbury's Dairy Milk, and has global sales of £1.6 billion a year.
Other snacks from the have also been revived. In 2017, Cadbury's brought back the Tiffin bar, and in 2008 Starburst very briefly became Opal Fruits once again.
Register for free to continue reading
Registration is a free and easy way to support our truly independent journalism
By registering, you will also enjoy limited access to Premium articles, exclusive newsletters, commenting, and virtual events with our leading journalists
Already have an account? sign in
Join our new commenting forum
Join thought-provoking conversations, follow other Independent readers and see their replies