The Independent's journalism is supported by our readers. When you purchase through links on our site, we may earn commission.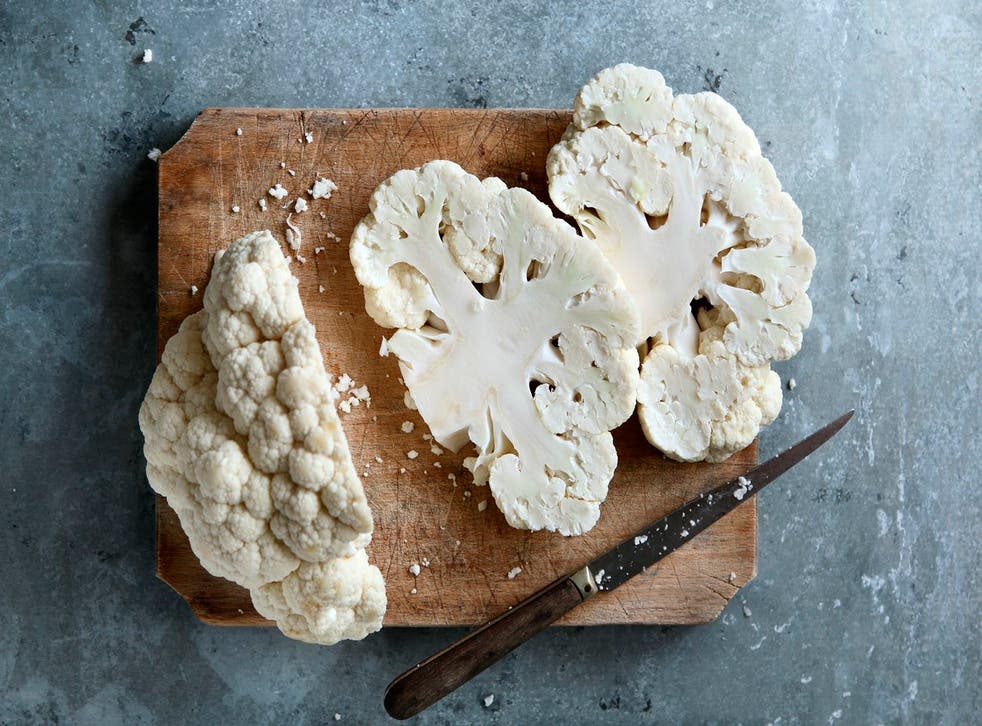 Marks and Spencer derided by customers for selling overpriced 'cauliflower steak'
This is not just food. This is overpriced vegetarian food.
Marks & Spencer has received a barrage of criticism for selling a cauliflower steak for twice the price of a typical cauliflower.
Each serving of the cauliflower steak, which is part of the M&S vegetarian range, comes with two slices of cauliflower and a sachet of lemon and herb dressing.
Not only is the product being sold for £2 after previously appearing on the shelves at £2.50, but customers have also pointed out that its packaging has been made using an excessive amount of plastic.
Marks & Spencer sell whole regular cauliflowers for £1.
Rachel Clarke, a self-confessed "foodie" living in Manchester, pointed out the irony of the product.
"Marks and Spencer stores are selling sliced cauliflower as 'Cauliflower Steak' with lots of lovely plastic and charging £2 (normally £2.50)," she wrote on Twitter.
"A cauliflower costs about 69p from a local veg store."
While Marks & Spencer has tried to appeal to their vegetarian customers by offering them a meat-free steak alternative, many people have expressed that the retailer has evidently missed the mark by overcharging for the product and sparing little thought for the environment.
Jane Cook, a woman from Cardiff who runs a lifestyle blog called hungrycityhippy.co.uk, felt outraged by Marks & Spencer's lack of reasoned thought.
"Marks & Spencer have a public 'sustainability action plan' called Plan A which is where they outline their commitments to create a positive impact on communities, wellbeing and the planet," Cook explained to The Independent.
"That's all very commendable, but if M&S want to be taken seriously for their sustainability efforts, they need to re-evaluate their excessive use of single-use plastics to create unnecessary products like this one."
This isn't the first time a product aimed at people following plant-based diets has been found to cost an extortionate amount.
A 300g packet of courgetti is sold at Sainsbury's for £1.25, in comparison to a 500g packet of normal spaghetti for 85p.
Lauren Fairley, a vegan living in Manchester, couldn't believe her eyes when she came across a packet of mushroom mince being sold at Sainsbury's for £1.20.
"New 'mushroom mince' from @sainsburys which is - you guessed it - literally just chopped mushrooms #veganuary", she wrote on Twitter.
Marks & Spencer launched their new vegan and vegetarian range in November last year to coincide with World Vegan Month.
The range includes a selection of thirteen products, including a sweet potato steak, beetroot falafel and edamame bean burgers.
According to the UK Vegetarian Society, as many as 2,000 people are opting to go vegetarian every week, with an estimate of three million people currently following vegetarian lifestyles in the UK.
Marks & Spencer provided The Independent with the following statement:
"We have launched a ready-to-cook Cauliflower Steak with a herb dressing as part of our new Veggie range. This is for customers looking for a quick and convenient vegetarian meal option.
"The plastic tray protects the product and is widely recyclable. We continue to look at ways to optimise our food packaging and ensure it can be widely recycled."
Register for free to continue reading
Registration is a free and easy way to support our truly independent journalism
By registering, you will also enjoy limited access to Premium articles, exclusive newsletters, commenting, and virtual events with our leading journalists
Already have an account? sign in
Register for free to continue reading
Registration is a free and easy way to support our truly independent journalism
By registering, you will also enjoy limited access to Premium articles, exclusive newsletters, commenting, and virtual events with our leading journalists
Already have an account? sign in
Join our new commenting forum
Join thought-provoking conversations, follow other Independent readers and see their replies