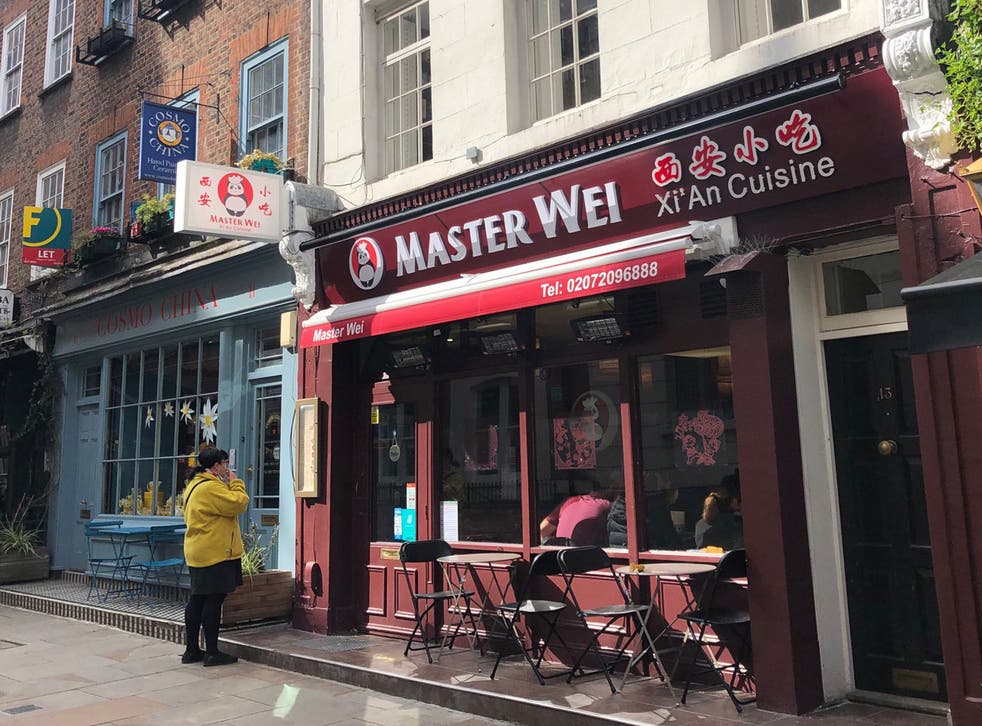 Master Wei restaurant review: It's not quite the master of everything, but the noodles still bang
Master Wei is much like its cousin Xi'an Impression, bringing Shanxi cuisine to London, writes Ed Cumming
Ed Cumming
Friday 29 March 2019 13:48 Comments
Xi'an Impression is a Chinese restaurant in the shadow of the Emirates Stadium that has one of the best size: reputation ratios in London.
From a tiny kitchen to a handful of tables, they serve delicious noodles, soups, "burgers" and a few sides, specialities of Xi'an City, in the northern province of Shanxi. As one of the historic starting points of the silk roads, Xi'an will have helped a fair number of the world's flavours on their way west over the years. Since it opened four and a bit years ago, Xi'an Impression has featured frequently in "best restaurant" lists. The main problem with the place, as someone who lives nearby, is that it can be impossible to get in. Much of its menu doesn't Deliveroo well.
Luckily its success has helped its founders, Zhang Chao and chef Wei Guirong, to move on to different projects. Chao started Xi'an Biang Biang, a noodle-focussed site in Spitalfields. Wei has moved to Bloomsbury to open this, Master Wei, a larger space, although still small, down a side street between Southampton Row and Great Ormond Street. The location is cunning; more convenient than Highbury for the foodie searchers, and right next to large Chinese student populations at Soas and UCL. The number of Chinese students in the UK has more than doubled in the past 10 years and it seems more than coincidental that this has come at the same time as a boom in excellent regional Chinese restaurants. Think of Chilli Cool and Kaki, two fine Sichuan places within a short walk of the fashion victims at Central St Martins in Kings Cross.
Master Wei is meant to allow Wei a fuller expression of Shanxi flavours. There are plans for tasting menus, supper clubs, Xi'an desserts and other items she has not explored as she would like. The new room almost feels like an embassy or tourist office, with illuminated pictures above the bar depicting the region's famous buildings and Terracotta Warriors.
Unsurprisingly there is lots of overlap with Xi'an Impression's ain't-broke menu. I have eaten so much pasta that it is tempting to pretend I am some kind of instant noodle expert (as opposed to an instant-noodle expert, which is rather closer to the truth), but in fact when it comes to these kinds of dishes I can only go on what's in front of me. Thick-cut liangpi "cold-skin" noodles come doused in a light chilli oil with bean sprouts, little sticks of julienne cucumber and chunks of spongy wheat gluten. These are served "cold", or rather at room temperature, and, without the masking effect of heat, the textures – a hint of slime here, a bit of bite there – take some getting used to. Do I actually like them, or am I pretending to in order to appear sophisticated?
Other dishes are more accessible: smacked cucumber in its sauce of garlic, sesame paste and chilli oil, "burger" buns filled with Xi'an pulled pork or cumin-doused beef. Then there are the biang biang-noodles, named for the noise the dough makes whacking against the work surface as it is pulled into flat, belt-like strips, wide as two fingers, which are then boiled and mixed at the table with bok choi, piping hot chilli oil and a choice of meats. Mine came with fat chunks of beef, the texture and flavour of which suggested cows with happier lives than some.
So far, so Xi'an Impression. I ask the waiter to recommend something I couldn't get in Highbury. He suggests spring rolls – are these Xi'an? – or the House Special Mixed Vegetable Salad, one of a few lighter options introduced to appeal to a greens-craving lunch crowd. The dish had the air of an earnest mistake, the kind of enthusiastic random-ingredients collection a young child might make for a parent. A pile of sliced iceberg lettuce was mixed with cucumber, radishes, white onion, wood-ear mushrooms, tomatoes and, most bafflingly, cut strawberries, all stirred through with an astringent dressing. The clean-eaters at Abokado or Chop'd ought not to lose too much sleep. Wei is not quite master of everything, but the noodles still bang.
Should you go? Yes.
Would I go back? Yes, but mainly if I still can't get into Xi'an impression.
Support free-thinking journalism and attend Independent events
Register for free to continue reading
Registration is a free and easy way to support our truly independent journalism
By registering, you will also enjoy limited access to Premium articles, exclusive newsletters, commenting, and virtual events with our leading journalists
Already have an account? sign in
Join our new commenting forum
Join thought-provoking conversations, follow other Independent readers and see their replies