McDonald's give 'gold cards' to handful of celebrities
'This is a real thing that exists you guys'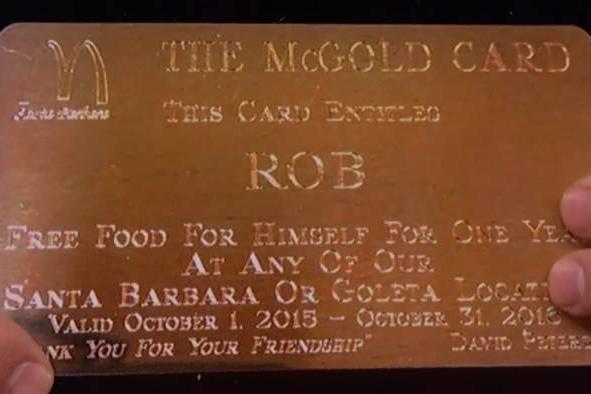 Just when you thought celebrities had it all, it transpires that a select few have McDonald's "gold cards" that entitle them to unlimited free meals from the fast food giants.
Rob Lowe, Warren Buffett and Bill Gates are just some of the starry names to reportedly possess a legendary "McGold Card".
Lowe flashed his shimmering card on Jimmy Kimmel Live, telling the US talk show host that his friend's father invented the McMuffin, hence why he was given one.
"This is a real thing that exists you guys," Lowe said, failing to mention that in order to get your hands on one, you need to have some pretty strong connections.
David Peterson's father, named Herb, created the popular breakfast dish in 1972 and co-owned a Santa Barbara, California branch of McDonald's with his son until his death in 2008.
The card Peterson subsequently gave to Lowe entitles the Hollywood actor to unlimited food for a year – but there's a catch.
Lowe's "McGold Card" is only valid at his friend's Santa Barbara franchise.
Meanwhile, according to Santabarbara.com, Peterson also gave a "McGold Card" to Larry Crendell, a local philanthropist, for his 90th birthday.
Warren Buffet revealed that he and Bill Gates were also lucky cardholders in 2007.
"There's just a few of them," the billionaire investor told CNBC.
"Bill Gates has one. His is good throughout the world, I guess. Mine is only good in Omaha, but I never leave Omaha so mine is just as good as his!"
While it's not known whether the mysterious cards are available to the general public or not, a McDonald's spokesperson told Mirror Online that they do not currently exist in the UK.
"Individual stores will make a call on the individual, for example a regular customer or local/national hero but there is no policy in the UK of giving away food to people and no plans to introduce it," they explained.
Join our commenting forum
Join thought-provoking conversations, follow other Independent readers and see their replies