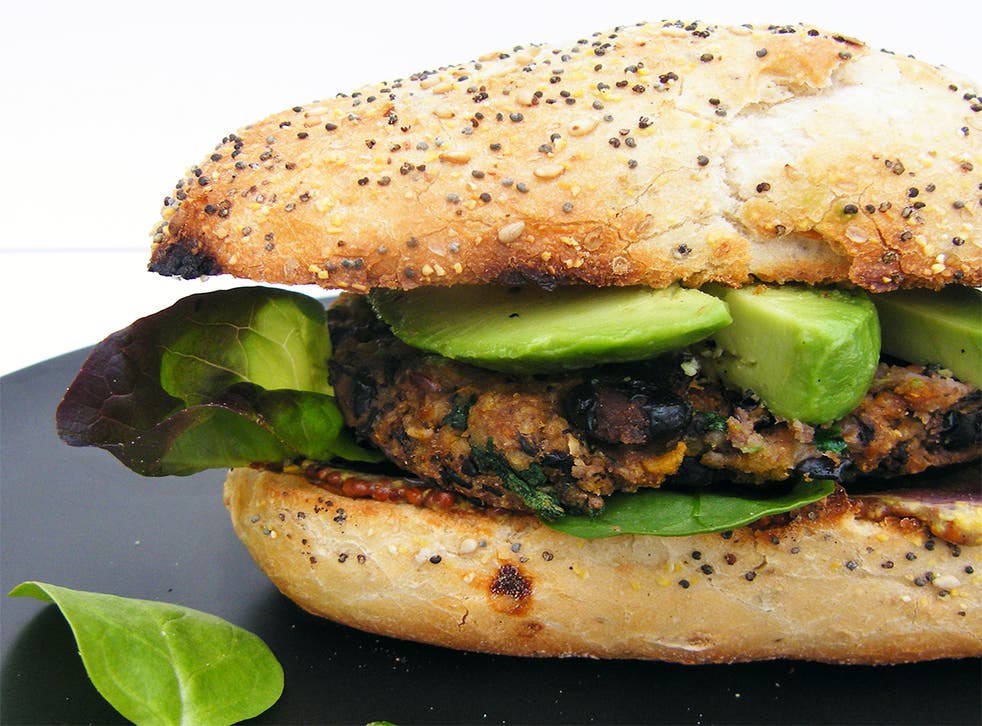 From Mediterranean Tomato Tart to Raw Caramel Peanut Pie: Recipes for World Vegan Day
These delicious recipes don't need meat or dairy...
Today is World Vegan Day, and this year is set to be bigger and better than ever, with vegans and vegetarians now making up 12 per cent of the UK population, and that number is said to rise to 20 per cent for 18- to 24-year-olds.
To celebrate, I'm sharing some of my favourite delicious animal-free recipes with all food lovers – vegan and non-vegan alike.
Cajun Spiced Black Bean and Sweet Potato Burgers
Spicy burgers made with black beans, sweet potatoes, spinach and oats but no eggs or dairy. Droolworthy and healthy burgers.
400 g tin black beans
1 medium sweet potato, baked
100 g spinach
Boiling water
2 tsp flaxseeds (optional)
½ cup porridge oats
2 tsp Cajun spice
1 clove garlic, crushed
Black pepper
Rinse the beans and add them to a mixing bowl. Mash, but leave half of the beans intact for a bit of texture.
Scoop the flesh out of the baked potato with a spoon and add to the bowl.
Rinse your spinach in a colander, then pour a kettleful of boiling water over it to wilt it.
Rinse with cold water to refresh, then squeeze as much water out as you can. Chop and add to the bowl.
Next add the seeds, oats, spices, garlic and black pepper and mix until well combined.
Shape your mixture into 4 hearty balls, then flatten out into burger shapes.
Pop the burgers onto a plate until you're ready to use them. You can bake or fry them in a little oil. I fried my burger in a little cold-pressed rapeseed oil for a few minutes on each side until brown and crisp.
These burgers will also freeze well. Layer them between sheets of greaseproof paper in a Tupperware tub and pop in the freezer. Enjoy!
Makes 4 burgers
Adapted from Jacqueline Meldrum • www.tinnedtomatoes.com
Mediterranean Tomato Tart
Puff pastry
3–4 large tomatoes
2 Tbsp Dijon mustard
1–2 Tbsp semolina (or breadcrumbs)
2 tsp dry herbes de Provence or thyme
Olive oil
Preheat the oven to 220ºC/425ºF/Gas 7.
Roll out the pastry and place in a 23-cm loose-bottomed tart tin.
Prick the pastry all over with a fork.
Place a sheet of parchment paper inside the pie and fill with baking beads.
Pre-bake the pastry for 5 minutes.
In the meantime, slice the tomatoes.
Remove the baking beads and parchment paper and brush the pastry evenly with the Dijon mustard.
Sprinkle 1 to 2 Tbsp semolina (or breadcrumbs) to absorb the liquid from the tomatoes.
Place the tomato slices on top.
Sprinkle with dry herbs.
Drizzle some olive oil on top.
Cook for 20 minutes at 220ºC/425ºF/Gas 7. Decrease oven temperature to 190ºC/375ºF/Gas 5 for another 10 minutes.
The tomato tart is cooked once the pastry is slightly brown and the tomato skin slightly curled.
Serve hot or cold with a salad.
Adapted from http://theflexitarian.co.uk/recipe-items/mediterranean-tomato-tart/
Warm Lentil Salad with Smoked Tofu
750 ml vegetable broth
350 g Puy lentils
5 Tbsp olive oil (plus extra for frying)
1 onion, finely chopped
3 garlic cloves, crushed
3 medium carrots
1 medium leek
2 bay leaves
2 tsp dried thyme
200 g smoked tofu
1 Tbsp whole-grain mustard
2 Tbsp balsamic vinegar
2–3 Tbsp capers
1–2 handfuls fresh parsley leaves (finely chopped)
Salt and pepper
Place vegetable broth and lentils in a pan. Cook for around 15 minutes until the liquid has evaporated and the lentils are cooked but still have a bite to them (if the lentils take longer to cook add more liquid). When the lentils are cooked, drain any leftover liquid from the lentils and keep covered.
In the meantime heat some olive oil in a casserole dish. Gently fry together the onion and 2 of the crushed garlic cloves until soft while you cut the vegetables.
Peel and dice the carrots. Chop the leek finely.
Add cut vegetables in the casserole dish. Add bay leaves and thyme and cook at medium heat until vegetables are soft. (Add more olive oil if necessary)
Once the vegetables are soft, add lentils and diced smoked tofu. Mix well.
Make dressing in a separate bowl by mixing together mustard, 5 Tbsp olive oil, balsamic vinegar and 1 crushed garlic clove.
Add dressing to the lentil salad along with the capers and finely chopped parsley leaves. Toss well. Season to taste with the salt and pepper.
Serve warm.
Adapted from http://theflexitarian.co.uk/recipe-items/warm-lentil-salad-smoked-tofu-vegan/
Raw Caramel Peanut Pie
This is one of those sickly sweet, desserts that you just can't get enough of. There're only five ingredients to this wonderful pie – or six if you want to add a bit of salt to give more depth to the flavour.
For the Base:
1/2 cup pecans
1/2 cup walnuts
1/4 cup dates
1/4 cup raisins
2 Tbsp peanut butter
Pinch salt (optional)
For the Middle:
2 Tbsp peanut butter
For the Caramel Top:
1/2 cup dates
2 Tbsp peanut butter
Pinch salt (optional)
Make the base by putting all the base ingredients in a food processor and processing until all the nuts have been crushed and a shortbread-like dough has formed. Scoop this out of the processor and press into a small cake tin.
Spread the peanut-butter layer over the base, until completely covered. You can use more if you want or if necessary.
Make the caramel top by combining the ingredients in a food processor and blending until the dates have broken up but are still in small pieces (so that the mix is spreadable). Spread this on top of the peanut butter, and sprinkle with walnut pieces if desired.
Place in the fridge and let set for about 30 minutes. Then remove, slice, and indulge!
Adapted from http://harrietemily.com/raw-caramel-peanut-pie/
Join our new commenting forum
Join thought-provoking conversations, follow other Independent readers and see their replies