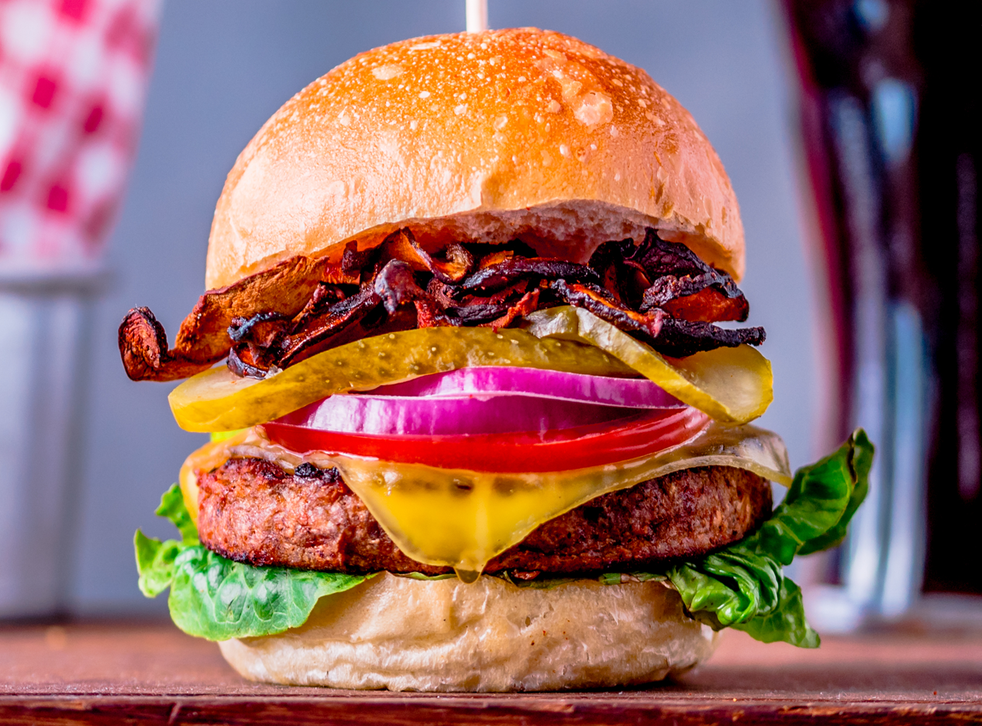 National Burger Day 2018: Best deals and discounts, from All Star Lanes to Patty and Bun
Take your pick from the tastiest meaty and meat-free burgers in town
National Burger Day is upon us once more, a day to celebrate the glory and deliciousness of the best burgers around.
With the national foodie celebration taking place today, countless restaurants are offering special deals for you to indulge in.
While one may typically think of a chunk of meat in between two slices of bread when visualising a burger, there are also plenty of vegan options available.
We try the UK's first vegan bleeding burger
From discounts at Patty & Bun and Ed's Easy Diner to a full-flung party to mark the occasion, here are the best deals and discounts for National Burger Day 2018:
Take a trip to your childhood
If you look back on childhood parties spent at bowling alleys fondly, then heading to All Star Lanes on Thursday will be the ideal choice for you.
All Star Lanes, which is situated in multiple locations across London and also in Manchester, is going to be offering 20 per cent off all of its burgers on the day.
There are 10 burgers to choose from, including the "Reuben Pragel", which consists of salt beef and Monterey Jack cheese sandwiched by a combination of a pretzel and a bagel, and the "Zuccado", a burger containing panko-fried avocado and courgette slices.
Try the creative combo
Fancy trying something slightly experimental?
Mac and Wild has created an entirely new burger especially for National Burger Day that may tickle your fancy, especially if you're a fan of traditional British cuisine.
For "The Scotch Egg Burger", the restaurant has brought together the two most popular dishes on its menu: the "Veni-Moo" burger and the "Haggis Scotch Egg".
Splurge on the discounts
If you're a self-professed burger lover, then you'll be spoilt for choice when trying to figure out where you're going to eat on Thursday.
A number of well-known restaurants are offering 20 per cent off all of their burgers so that their customers can make the most of the day.
These eateries include Ed's Easy Diner, Patty & Bun, Gourmet Burger Kitchen, Byron and Honest Burgers among many others.
Simply visit the Mr Hyde National Burger Day website, choose the restaurant you're going to visit, fill in the form, wait for your voucher to arrive and enjoy!
Check out the vegan offerings
National Burger Day isn't solely reserved for the meat-eaters among the crowd.
There are also plenty of discounted vegan burgers that are just as succulent and tasty as the meatier options.
The "Vegan Mac Daddy Burger" at Dirty Bones, the "Vegan Bacon and Cheese Burger" at Maxwell's, the "Moving Mountains Burger" at Henry Burgers and the "LB-B12 Burger" at Lucky Beach Café in Brighton are all being offered with a 20 per cent discount on Thursday.
Visit the National Burger Day website for even more vegan options.
Join in the party
If you want to take your love of burgers to the next level, there's an official National Burger Day party taking place next week that you can attend.
On Thursday August 30, the 2018 National Burger Day Party with Mr Hyde is going to be held at Hawker House in Canada Water, catering to more than 2,000 partygoers.
There's going to be an array of delicious food available at the do, include 17 brand new burgers created exclusively for the event.
Furthermore, for £15 your ticket will include a free Budweiser and "MacPickleback" shot.
Click here for more information and to buy a ticket.
Join our new commenting forum
Join thought-provoking conversations, follow other Independent readers and see their replies