The Final Table: Has Netflix reinvented the recipe for food programmes?
As a nation obsessed with food shows, will the streaming service's latest culinary competition put traditional versions to shame, asks Kaleem Aftab
Friday 16 November 2018 12:57 Comments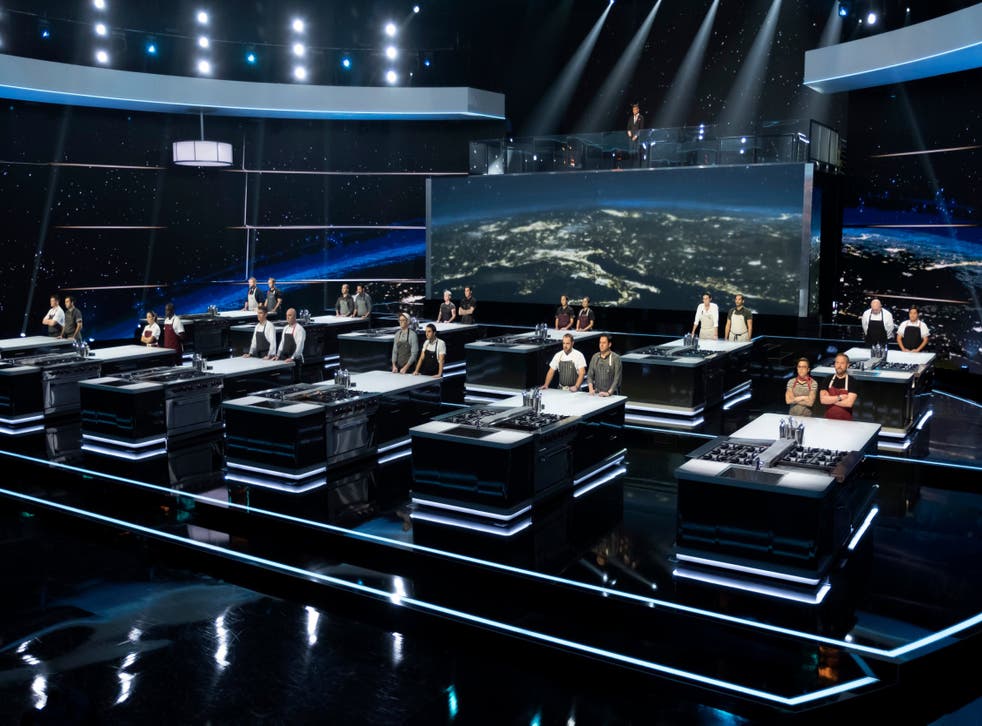 Bored of Brexit? Well the debate about whether The Final Table is better than this series of MasterChef: The Professionals is likely to be the hottest topic in kitchens up and down the country over the coming week as Netflix unveils it's new rival to the BBC culinary show.
When it comes to glitz and pizzazz Netflix has turned up the heat to maximum. Last December, in the Sony Studio in Culver City, California, where The Wizard of Oz and Spider-Man were filmed, Netflix made its own Kansas and gathered together kitchen superheroes for its first competitive culinary show.
The stage and set is extravagant. From the top to the bottom of the set there is a crescendo of LED screens and flashing bulbs, while the floor is full of kitchen workstations kitted out with the finest equipment. Behind them, there is an illuminated pantry where the ingredients are waiting to be chosen, before being chopped, boiled and remodelled into dishes that look like they are designed to be uploaded on Instagram.
A digital mural of the heavens, replete with clouds and stars engulfs us. The temporary audience stand seems more suited to watching a sports event than a cooking show, which reflects how this show is trying to position itself as the Sunday roast of culinary competitions.
There is a raised balcony where the nine judges – elite chefs from all over the world – watch over the contestants who are beavering away at their workstation. The judges are renowned professionals, some with their own Michelin stars. While the host, Andrew Knowlton – editor-at-large of American food magazine Bon Appetit, waltzes between them.
This being the final, I'm sworn to secrecy not to reveal which contestants have made it this far. But the format of the finale is slightly different to the rest of the series and it's the only time that all nine chefs from around the world are here, which is why I've been invited today.
In a cordoned off green room, where the sandwiches on offer would normally seem luxurious but today seem like the pigeon offerings, I have our chance to meet the chefs. Clare Smyth is the elite chef representing Britain, from France is the usually television shy Anne Sophie Pic and giving his expertise on Spanish cuisine is Basque based Andoni Aduriz. There's also Enrique Olvera (Mexico), Helena Rizzo (Brazil), Vineet Bhatia (India), Grant Achatz (United States), Carlo Cracco (Italy), and Yoshihiro Narisawa (Japan).
Each of the nine episodes leading up to today's grand finale are organised around a country where one of the elite chefs is from. The first episode, based on Mexico, sees the 24 contestants paired up with other chef's they've either met before or have a similar cooking style to.
Graham Campbell – who in 2009 became the youngest chef in Scottish history to receive a Michelin Star at the age of 25 – is paired with Aaron Bludorn of the French style Café Boulud in New York. The chefs have to work together through nine different cuisines before competing on their own, so that a single chef is crowned worthy of joining The Final Table of Elite Chefs.
Another innovation of this programme is that different judges are used throughout the competition. Two celebrities and a food critic from the country in focus also help judge the national dish from their home country. In the British episodes, Gary Lineker and Cat Deeley line up alongside food critic Jay Raynor to debate whether they should ask the contestants to cook a pie, roast dinner or an English breakfast. It's an interesting twist to have non-food related stars give their opinion as they feel more like the authentic voices of customers.
The cooks judged to have made the three poorest efforts in each round are put into a relegation play-off where. Then an elite judge picks an ingredient that contestants must make central to their dish. Smyth chooses the garden pea, and of the three teams, one surprises by throwing in seasoned charred onion with a pea puree, another adds in wasabi in an Asian style pea foam set off with mushroom, and a more traditional dish sees a pea jelly paired with confit salmon.
The filming happens just two months after Smyth's Notting Hill restaurant, Core, opened. But she says that although she was hesitant to be away from her nascent restaurant, she had accepted the invitation to be on the show in LA because of her love for Chef's Table, Netflix's culinary series, which tells the story of the chef's life as well as focus on their food. "It's one of my favourite shows."
Chef's Table undoubtedly transformed the fortunes of all the restaurants profiled. It now takes Herculean levels of desire and know-how to get a spot at a featured restaurants. So it's no surprise that all these chefs were happy to appear in the Netflix follow-up.
American chef Grant Achatz starred in the first episode of season two's Chef's Table and has been toasting the rewards ever since. The programme popularised him at the forefront of molecular gastronomy in the US, yet he admits, "Molecular gastronomy. I hate that term." But he has nothing but praise for the show: "It changed my life and how I'm recognised. The show reaches millions of people and I've had young children of 10 years of age write me hand-written letters saying that I've inspired them to take up cooking."
But sometimes recognition can be short-lived. Elite chef Bhatia caused shockwaves when he closed his London venue, VBL, five days after it was awarded a Michelin Star last year. "We were probably the shortest lived Michelin Star restaurant in the world," he jokes, before waxing lyrical about the "explosion in the Middle East market," where he has a number of eateries.
It's such a small world that the chefs know a number of the contestants as well as each other. But Smyth has no problem treating everyone equally, "We get judged every day by diners, so we're used to it. Today my job is easy, their job is hard, I'm just giving feedback."
Whereas Italian maestro Carlo Cracco complains, "It's impossible to judge, all the dishes are fantastic and amazing." Yet he manages to do so. "The presentation is the most important aspect. Because when the dish arrives the first thing you do is look, then you smell and taste. It's a balance and harmony of ingredients and of course it's about the colours"
It's a fun format, but has The Final Table really added anything to the cooking show format? It doesn't feel as original or innovative as Chef's Table did, but this recipe has so much chutzpah and celebrity that it's hard not to be impressed. After all, as Cracco was at pains to remind me, presentation is more than half the battle.
The Final Table is on Netflix 20 November
Register for free to continue reading
Registration is a free and easy way to support our truly independent journalism
By registering, you will also enjoy limited access to Premium articles, exclusive newsletters, commenting, and virtual events with our leading journalists
Already have an account? sign in
Join our new commenting forum
Join thought-provoking conversations, follow other Independent readers and see their replies