Anything but a vintage Bordeaux year after rain, hail and rot spoil 2013 wines
130,000 bottles – which usually sell at about €10 each – will be sold off as generic Haut Médoc red wine for about €2 or €3 each after vineyard decides it is unworthy of its label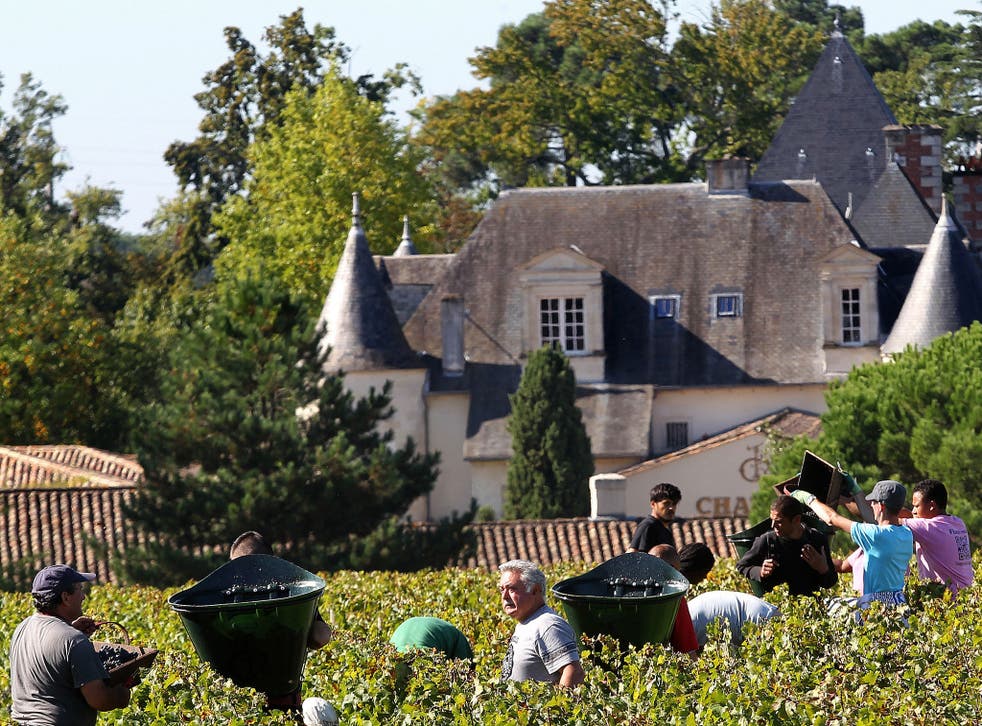 There will be no such thing as a Chateau Malescasse 2013.
The middle-ranking Bordeaux vineyard has decided that the claret it produced last year, after a series of weather-related calamities, is unworthy of its label.
All 130,000 bottles – which usually sell at about €10 (£8.30) each – will be sold off as generic Haut Médoc red wine for about €2 or €3 a bottle.
The decision sent shock waves through the Bordeaux wine industry, which is already bracing itself for a sour reaction to last year's vintage when the world's leading wine critics and buyers flock to France's most important wine-growing region from next month.
The influential American wine critic Robert Parker has postponed his traditional March tastings – the oenological equivalent of a papal visit – until the end of June to allow the 2013 vintage more time to reveal its true qualities (good or bad).
"I'm not saying that the wine is bad," Stéphane Derenoncourt, a consultant to Chateau Malescasse said. "But it does not measure up to our ambitions. Rather than squeeze something out of a wine we don't like, we prefer to cut off our own arm and move on."
The decision will anger scores of other Bordeaux chateaux who are still hoping to produce an acceptable wine from a bad year. Mr Derenoncourt predicted that many would follow his lead.
"They will have no choice," he told the newspaper Le Figaro. " Others will go to the market with ridiculous quantities, maybe 20 to 50 per cent of what they usually sell."
"All of Bordeaux is not bad. But even the top chateaux, which always make good wines, will have no great stars this year."
Last year had the worst conditions for wine-growing in Bordeaux for more than two decades. The vines were damaged by cold weather in May. The flowers failed to develop properly because of constant rain. Hail storms battered some vineyards in the height of summer, stripping the grapes from the vines.
When rot began to set in as the September harvest time approached, many chateaux were forced to pick their grapes early before they were fully mature.
Overall wine production in Bordeaux is expected to drop by 23 per cent, according to the French government, to 543 million bottles.
For Mr Derenoncourt, the reduction in quantities is bearable – even welcome, given the continuing global surplus of table wines or "plonk". The reduction in quality was, however, potentially disastrous for the long-term ambitions of a chateau still trying to make a name for itself.
He preferred to "dump", or downgrade, the wine rather than damage the label. The decision will cost the chateau up to €800,000.
A similar choice would be much more costly for the most prized Bordeaux chateaux, which sell their products at over €100 a bottle.
With China less eager to buy than in previous years because of a crackdown on corruption amongst top officials, this year already looks difficult for all but the very best Bordeaux chateaux. Doubts about last year's vintage could send the wholesale prices for the young wines into a downward spiral.
The chief problem with the 2013 wines, according to Mr Derenoncourt, is that they have a "poor keeping potential" because many chateaux were forced by bad weather to pick grapes that were still immature. "We all harvested a week too soon," Mr Derenoncourt said.
Register for free to continue reading
Registration is a free and easy way to support our truly independent journalism
By registering, you will also enjoy limited access to Premium articles, exclusive newsletters, commenting, and virtual events with our leading journalists
Already have an account? sign in
Register for free to continue reading
Registration is a free and easy way to support our truly independent journalism
By registering, you will also enjoy limited access to Premium articles, exclusive newsletters, commenting, and virtual events with our leading journalists
Already have an account? sign in
Join our new commenting forum
Join thought-provoking conversations, follow other Independent readers and see their replies