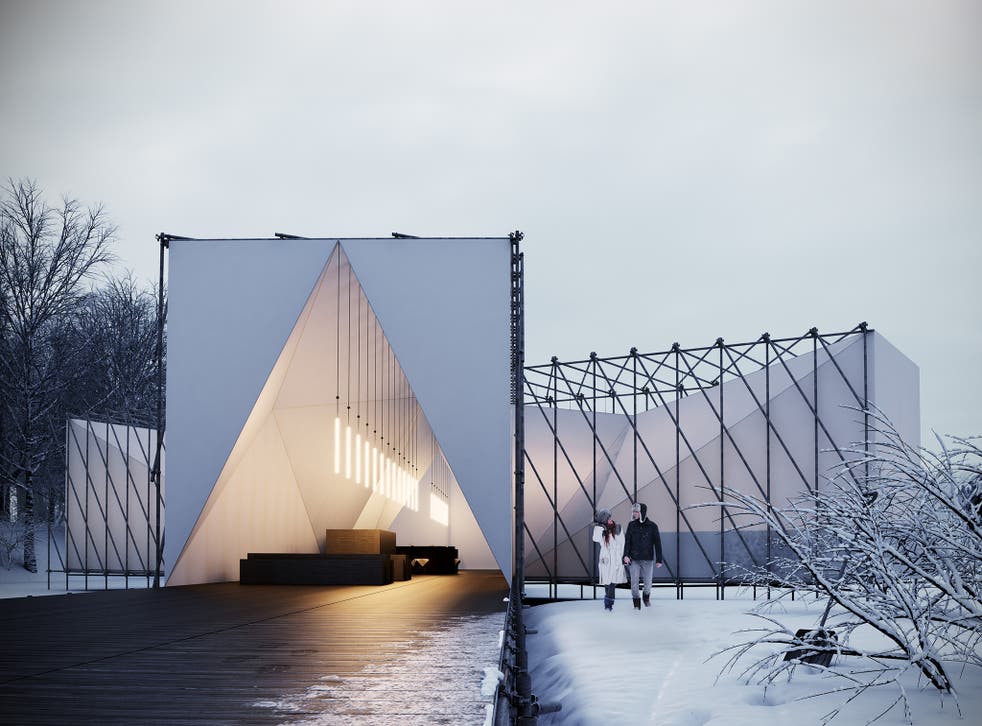 Best served cold: British architects create gourmet restaurant on frozen lake
Structure will host 60 diners at a time in Winnipeg, Canada
It is set to be the ultimate in cool dining experiences: a pop-up restaurant on a frozen river where the winter temperature rarely reaches much above -25C.
A pioneering lightweight design by British architects has won an international competition to build an eatery at Winnipeg in Canada. Situated at the mouth of the Assiniboine and Red Rivers – once the main conduit in the North American fur trade – the new structure will play host to some of the continent's leading chefs serving up nightly à la carte menus.
Architect Tony Broomhead, of Sheffield practice OS31, said the ice during the Canadian winter is typically two feet thick, making a robust platform on which to build.
But despite the chill, the food is guaranteed to arrive at tables still warm - even though diners should come prepared.
"There is some high-level heating and some heat that comes from the kitchen, but essentially you will need to wrap up warm. If we can get the temperature down to zero then it will be quite a cosy environment," he said.
The prefabricated structure, entitled RAW:almond, is believed to be the first ever building designed specifically to be situated on a frozen body of water. It will play host to 60 diners per sitting between January and March next year, when the thaw begins.
It is made from aluminium scaffolding poles and a high-tensile fabric interior. "The lighting was important because it is primarily open at night and there is not very much daylight during the day at that time of year. It is about being a social place as much as being a very expressive structure," Mr Broomhead added.
The cross-shaped building complete with terrace is inspired by the joining rivers where it is situated and also reflects the architecture of a nearby bridge. The interior was described by judges as resembling "drifts of snow" – the light form the interior illuminating the at times bleak Canadian landscape.
It will also have to withstand poplar storms including vortex which saw the mercury plunge to -37C.
Register for free to continue reading
Registration is a free and easy way to support our truly independent journalism
By registering, you will also enjoy limited access to Premium articles, exclusive newsletters, commenting, and virtual events with our leading journalists
Already have an account? sign in
Register for free to continue reading
Registration is a free and easy way to support our truly independent journalism
By registering, you will also enjoy limited access to Premium articles, exclusive newsletters, commenting, and virtual events with our leading journalists
Already have an account? sign in
Join our new commenting forum
Join thought-provoking conversations, follow other Independent readers and see their replies