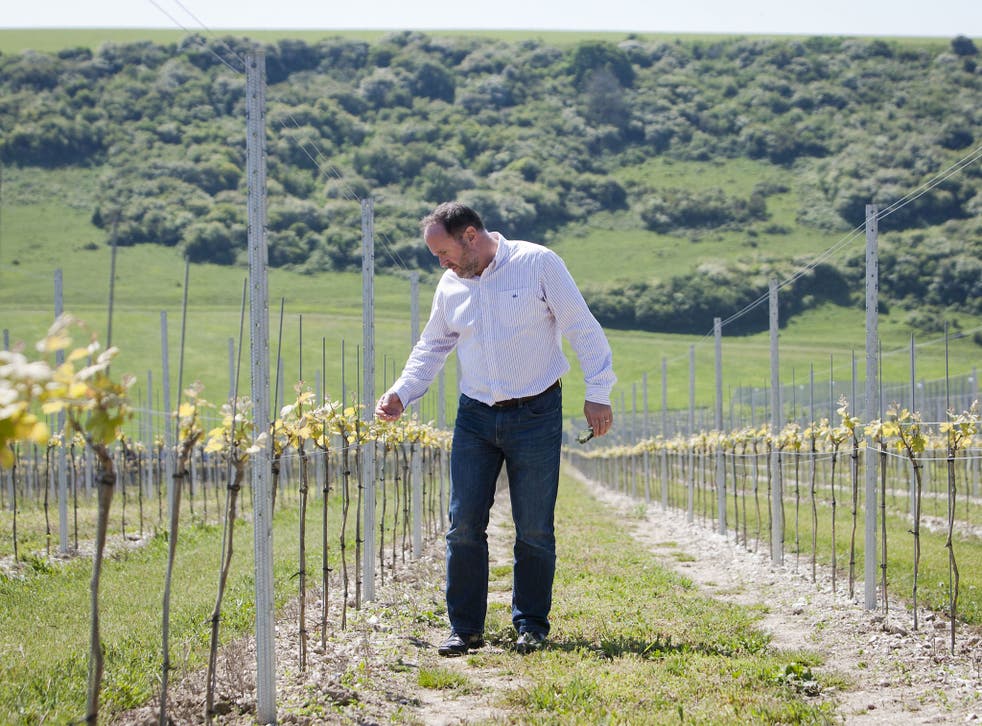 Britain's growing fizz biz: Our 'bubble beltway' of vineyards is aiming to take on established champagne houses
Counties in the south east share the same band of chalk that forms the Paris Basin, and already boast a clutch of award-winning wine-makers
The grapes are ripening on the vine, wine-maker Jonathan Médard is discussing the acidity of the chalky soil and local dignitaries are gathering to clink glasses. But this isn't a tasting session of a new vintage in Champagne; it's the opening of the latest vineyard in England's very own "bubble beltway".
The 400-acre Rathfinny Wine Estate near Alfriston in East Sussex, which opened on Friday, is the brainchild of former banker Mark Driver. The 49-year-old came out of early retirement to invest "more than £10m" of his own money in the project, with the aim of producing a million bottles a year.
Sussex, Kent and to a lesser extent Hampshire and Surrey all share the same band of chalk that forms the Paris Basin, the home of champagne, and already boast a clutch of award-winning wine-makers. Mr Driver, a former Hong Kong-based fund manager, has higher ambitions, though. He wants to transform English sparkling wine into a "global brand".
Mr Driver is a slick operator and – speaking in the sort of sunshine he surely hopes will ripen his grapes for years to come – is bullish about the project: "There's not a bank in the land that would lend to you for this sort of thing, but we've built the largest, greenest, purpose-built winery in the UK," he says. "The aim is nothing less than to produce the finest Sussex sparkling wine."
The English industry is bubbling with optimism after wins last week at the prestigious International Wine Challenge for nearby Nyetimber and Cornwall's Camel Valley. New figures show a record-breaking 2013 harvest of more than 4.5 million bottles of wine, of which about two-thirds are sparkling.
That means tough competition for Mr Driver from more than 400 British vineyards, including the trail-blazing Nyetimber, 40 miles to the west of the Rathfinny site, as well as Chapel Down's vines just along the chalk vein to the east. Then there's the award-winning Camel Valley, Cornwall, and the big volume Gusbourne Estate, near Ashford, Kent, which has financial backing from Conservative peer Lord Ashcroft.
English sparkling wine is often similar in price to champagne, at £20 to £35 a bottle and is proving so popular that supermarkets are struggling to meet demand. Waitrose, which expects to double its sales this year, has launched its own brand, made from grapes supplied by its own vineyard in Hampshire.
"There are more and more wines coming to market from lots of interesting individuals. It just shows how seriously big investors are taking the industry," says Julia Tristram Eve, director of trade body English Wine Producers.
Back at Rathfinny, it's clear that Mr Driver's bold dreams will take some time to be realised. Tourists stopping off at the visitor centre can't help but spot that many of his vines are still rather small and weedy. He won't have a bottle in the shops until 2017 at the earliest but he's confident there'll "still be a thirst that needs quenching".
He plans to sell up to 50 per cent of his wine abroad. To do that he'll need to attract drinkers in Japan, China and North America.
Business Secretary Vince Cable, who is Mr Driver's MP, managed to drag himself away from the election trail for the Rathfinny launch.
"We often think of industry and manufacturing in terms of wings and wheels, but food and drink is a key area for the British economy," Mr Cable said. "I look forward to the day I can take my French opposite number a bottle of this English fizz and say, 'Here is something we do better in Britain'."
Ironically, the man in charge at Rathfinny is a Frenchman, Jonathan Médard, who has worked for champagne maker Louis Roederer. Mr Driver says Mr Médard has "bubbles in his blood" and will create a wine that will be "sweet and fruity … similar in some ways to prosecco".
There is some scepticism, though. "Mark Driver has not yet produced a grape," warns Stephen Skelton, a master of wine and well-respected figure in the UK industry.
At Nyetimber, head wine-maker Cherie Sprigg comments that it has traditionally been a family business that thinks "in terms of generations rather than years". "You have to play the long game in this industry to get what you want out of it," she says.
Stephen Skelton, master of wine and viticulture consultant, said the "incredible" sparkling boom had been made possible by "climate change resulting in warmer night-time temperatures", which created "optimal" conditions, similar to those found in the Champagne region. Though changing weather patterns also brings extremes, he pointed out, like a wet 2012 harvest season, which resulted in "a very poor crop".
Join our new commenting forum
Join thought-provoking conversations, follow other Independent readers and see their replies