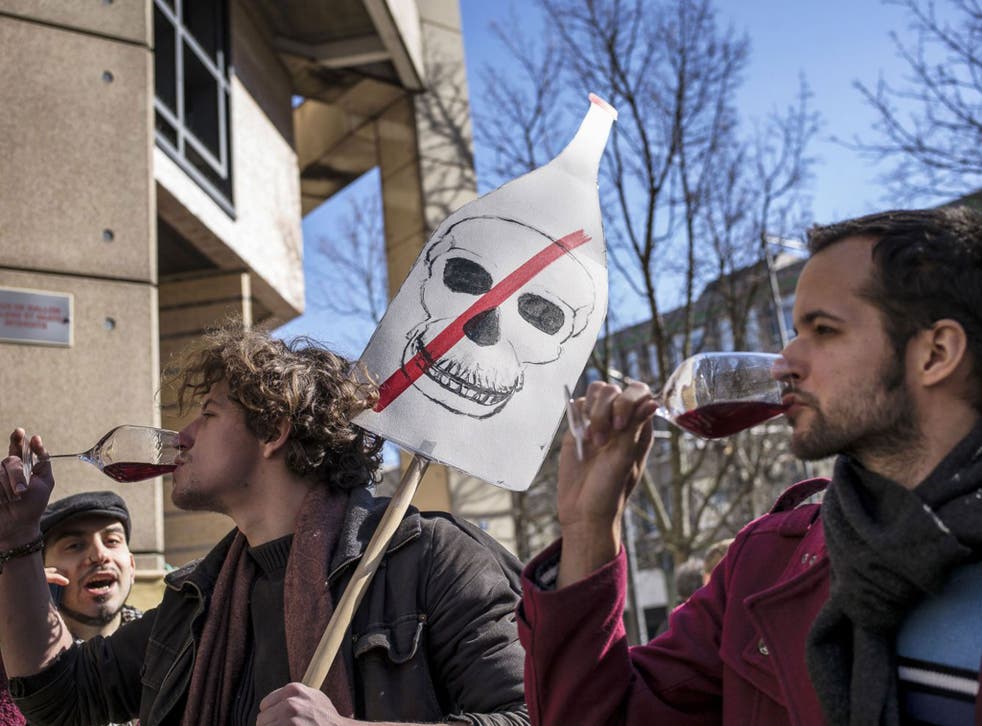 Burgundy winemaker cheers a 'victory for people power' after conviction for refusing to spray vines with pesticides is overturned
Emmanuel Giboulot refused to comply on the grounds that the flavescence dorée disease is not an immediate threat in his region
John Lichfield
Sunday 07 December 2014 01:00 Comments
Few wine drinkers consider pesticides a required ingredient but a vineyard owner in Burgundy had to resort to the courts to uphold his right to keep them from his latest vintage.
Emmanuel Giboulot, 53, won broad support last year when he refused a government edict to spray pesticide on his vines near Beaune in the celebrated Côte d'Or region of France.
Now, in a vindication for the trend towards "bio" or natural wines in France, his conviction and a €1,000 (£789) fine has been overturned on appeal.
"This is a victory for people power and for whistleblowing," Mr Giboulot said of his stand, which divided the Burgundy wine industry but won admiration all over the globe.
A petition in his defence gathered more than half a million signatures. A Facebook page explaining his reasons for defying French officialdom attracted 130,000 "likes".
In the spring of last year all wine producers in Burgundy, in central France, were ordered to spray pesticide on their vines to fight flavescence dorée, a crippling bacterial disease spread by an insect.
Mr Giboulot produces high-quality organic or "bio-dynamic" red and white wines from 35 acres of vines under the appellations "Côte de Beaune" and "Haute Côte de Nuits". He refused to obey the pesticide order on the grounds that the disease was not an immediate threat in his region.
He was supported by some of his fellow wine-producers, but others accused him of placing the whole of the Burgundy vineyards – among the most prestigious in the world – at risk.
The leaf-hopping insect Scaphoideus titanus, which spreads flavesence dorée (or "golden rot"), has been compared to phylloxera, the pest which devastated French vineyards in the 19th century. Mr Giboulot said he would be ready to use pesticide against an immediate threat but the "knee-jerk" and "systematic" use of chemicals was bad for human health – and bad for the quality of wine.
In court last week he said he would have sprayed his vines in 2013 had there been an immediate threat. Since then, he said, golden rot had appeared in only 16 villages in the whole of Côte d'Or – and not in his own part of the département (county), the Côte de Beaune. "This is proof that we are not faced by a pandemic and there was no need to spray the whole département."
In response, the main association of Burgundy wine producers and traders accused him of "peddling untruths" on the quantity of chemicals used in most Burgundian vineyards. Wine producers, they said, had a right to protect their livelihoods from a devastating plague which could only be held at bay by pesticides.
The appeal court in Dijon found in Mr Giboulot's favour. It was the local prefect – or senior national government administrator – who had acted illegally by ordering all Burgundian vineyards to be sprayed when there was no clear threat. The court also ruled that the local agricultural board and the prefect had failed to seek the approval of the ministry of agriculture in Paris.
Organic wine used to be regarded in France as a "hippie" aberration. Mr Giboulot is part of a gathering movement which says the French wine industry's excessive use of pesticides and fungicides has undermined its own argument that good or great wine can only flow from "terroir" – or natural conditions of soil or climate. An examination of 300 French wines last year found that 90 per cent contained traces of the chemicals most commonly used to treat vines.
Mr Giboulot wishes more wine producers realised "there is a social problem here – the impact of agricultural practices and the use of pesticides on the quality of produce and therefore on human health. Burgundy, which has vineyards of exceptional quality, should be promoting practices which respect the environment."
Register for free to continue reading
Registration is a free and easy way to support our truly independent journalism
By registering, you will also enjoy limited access to Premium articles, exclusive newsletters, commenting, and virtual events with our leading journalists
Already have an account? sign in
Join our new commenting forum
Join thought-provoking conversations, follow other Independent readers and see their replies