Chocs away: Crunch time for fans of Green & Black's almond bars that have all but disappeared from shops
Retailers have been told that their disappearance is linked to an 'ingredient shortage'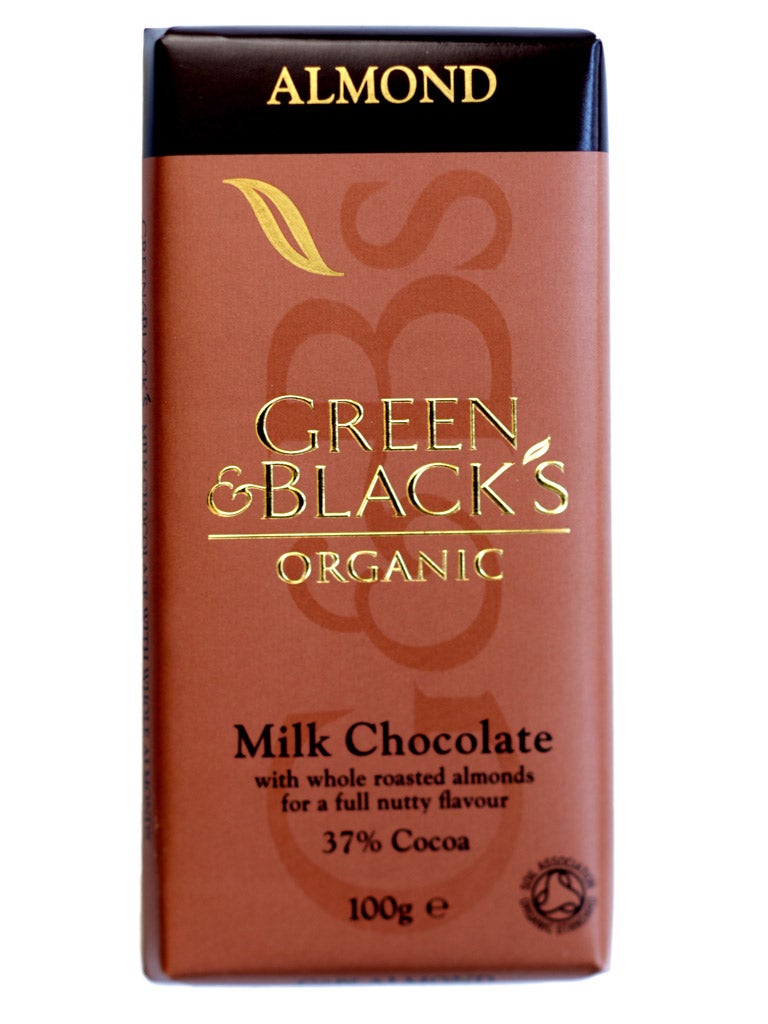 It may come to be known as the mystery of the vanishing Green & Black's Organic Almond chocolate bars.
Stores across the country – including Waitrose and Wholefoods – have reported running out of stock of the high-end snacks, which usually retail for £2.29 for 100g bars.
Fans of the bars, which combines milk chocolate with whole roasted almonds for a "full nutty flavour", have described frantic week-long searches for their favourite chocolate treat.
Green & Black's refused to be drawn on the situation – declining even to confirm whether there was a problem with supply.
But The Independent can reveal that retailers have been told that the disappearance of the bars is linked to an "ingredient shortage" – almost certainly of the almonds central to their recipe.
Leading almond importers across the UK have reported a year-on-year price increase of up to 35 per cent due to a perfect storm, made up of last year's heatwave in California, dwindling bee populations and a poor European harvest.
Dave Price, commercial manager at a leading nut supplier, said that these factors have led to almond stocks seeing one of the largest increases amongst an upward trend in commodity prices.
"Extreme temperatures in California meant the state was hit by a drought, leading to smaller nut sizes. Exporters calculate the product by weight, so more nuts are needed. In turn, only larger nuts can be used in processing, all of which has exacerbated price increases," he said.
"It looks like Spanish and Italian crops, which have seen demand rise to make up the shortfall, will run out before the end of the season, despite their raised prices." Experts say that the effect of the Californian heatwave was further exacerbated by a slump in the bee population in the US state – which grows 80 per cent of the world's almonds – saw crops hit by a reduction in pollination.
The price increases have led to knock-on factors including the withdrawal of long-term contracts as importers fear price increases from distributors, while farmers may hold back almond stocks with an eye on a better price.
Mr Price reported prices rising from around £4,200 in January 2012 to over £7,000 last month, adding: "The consumer hasn't seen the full impact yet. While there's been a steady increase, prices have really taken off over the last two to three months." While this may seem a distinctly middle-class problem to some, the repercussions of an increase in almond prices would be wide-ranging. Marzipan suppliers recently expressed concern about the increase, while the nuts are used in a range of cakes and breakfast cereals.
Robin Fitzgibbon, commodities manager at Infinity Foods, a specialist in organic wholesale and retail produce said that while almond crops are short, the nut can still be found and that demand remained healthy.
"The price of organic almonds has gone up around 35 per cent in the last year. That might be an issue for some buyers, and could be the final nail in the coffin for certain products."
Waitrose and Wholefoods both confirmed that Green & Blacks Almond Chocolate bars were out of stock. Wholefoods said they had been informed the product had been discontinued, but Green & Blacks did not comment.
Green & Black have since come back to The Independent and said supplies of the chocolate will be back on shelves "as soon as possible".
A spokesperson from the company said: "Regarding the Green & Black's Organic Almond Bar, we have experienced some challenges in the production of the bar and are working closely with the suppliers of our organic whole roasted almonds to make sure our much loved Almond bar makes it back on shelf as soon as possible.
"We want to take this opportunity to reassure our fans that the product is not being discontinued."
Join our commenting forum
Join thought-provoking conversations, follow other Independent readers and see their replies