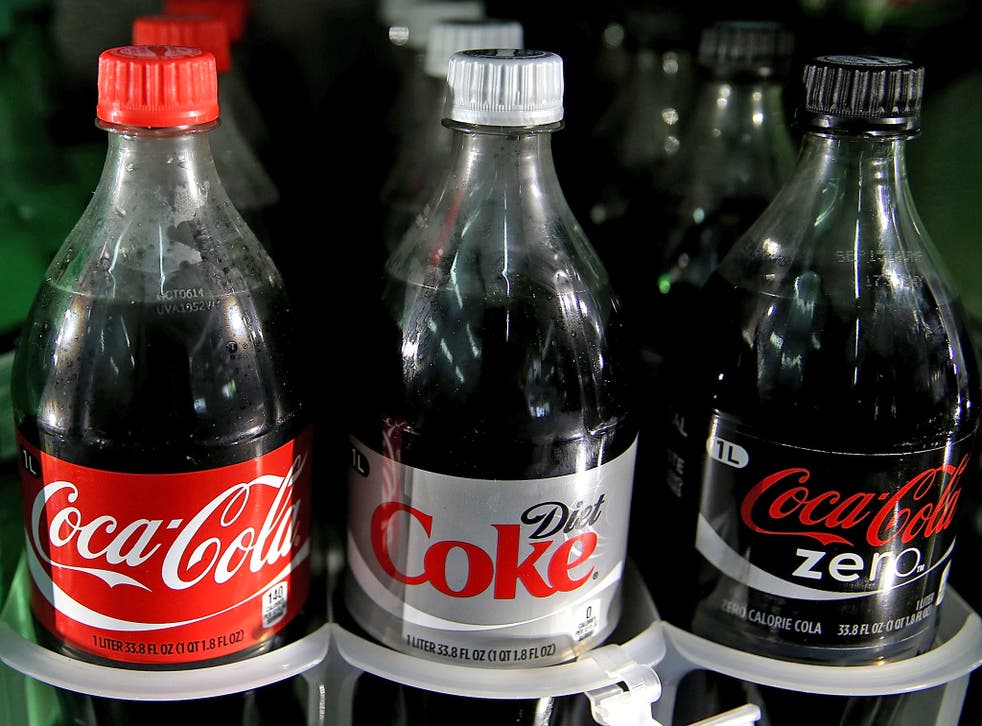 Coca-Cola, Dr Pepper, and Pepsi pledge to reduce US calorie intake from soda
But health food experts claim the promise is a marketing ploy
Soft drinks companies in the US have pledged to help cut the calories that Americans consume from their drinks by a fifth.
Drinks giants the Coca-Cola Company, PepsiCo Inc. and Dr Pepper Snapple Group Inc. promised to make the 20 per cent cut before 2025, as part of efforts to tackle the nation's obesity crisis and escalating diabetes and heart disease rates.
The corporations will all promote and expand their lower-calories alternatives including water, reduce portion sizes, and raise awareness of sugar levels in 'full-fat' soft drinks. Some may also introduce and expand new lower-calorie products and smaller-portion packages
The programme will be rolled out using company-owned vending machines and coolers in shops, as well as drinks dispensers used by fast-food restaurants and at cinemas, and in supermarkets in end-of-aisle promotions. The firms control almost all of those machines, as well as around one-third of vending machines and 80 percent of coolers.
The cities of Little Rock, the capital of Arkansas, and Los Angeles, California, will be the first to see the new changes.
The firms made their promise with other members of the American Beverage Association, at the 10th annual Clinton Global Initiative in New York.
"This is huge," former President Bill Clinton told the new York Times. "I've heard it could mean a couple of pounds of weight lost each year in some cases."
He added that he could understand why people drink a lot of soda, because it is a cheap way to stave off hunger, but added he now prefers water and iced tea.
"When I was in my freshman year in college trying to live on a dollar a day, I drank at least one and sometimes two 16-ounce bottles of Royal Crown Cola a day because they cost 15 cents," he said.
He added that in some low-income communities, soft drinks can account for half or more of the calories a child consumes each day.
On average, sugary sodas account for 6 percent of the average US citizen's daily calorie intake.
"We'll use the most critical levers we have at our disposal, and the focus really will be on transforming the beverage landscape in the US over the next 10 years," said Susan Neely, chief executive of the American Beverage Association, the industry trade group.
Kelly Brownell, an expert on obesity and dean of the Sanford School of Public Policy at Duke University, branded the pledge a publicity stunt, as sales of sugary drinks have already been declining for over a decade, due to consumers being more health conscious.
"All the trends are showing decreased consumption of high-calorie beverages, and so what better way to get a public relations boost than to promise to do what's happening anyway?" she told the New York Times.
Marion Nestle, a professor of nutrition and public health at New York University food issues writer said companies have previously fought such initiatives.
"While they're making this pledge, they are totally dug in, fighting soda tax initiatives in places like Berkeley and San Francisco that have exactly the same goal," Professor Nestle told the newspaper.
Register for free to continue reading
Registration is a free and easy way to support our truly independent journalism
By registering, you will also enjoy limited access to Premium articles, exclusive newsletters, commenting, and virtual events with our leading journalists
Already have an account? sign in
Register for free to continue reading
Registration is a free and easy way to support our truly independent journalism
By registering, you will also enjoy limited access to Premium articles, exclusive newsletters, commenting, and virtual events with our leading journalists
Already have an account? sign in
Join our new commenting forum
Join thought-provoking conversations, follow other Independent readers and see their replies