The UK's first Cuddle Cafe, where a hug will buy you tea and biscuits
The café has been designed to maximise visitors' happiness levels, following research into the emotional and health benefits of a cuddle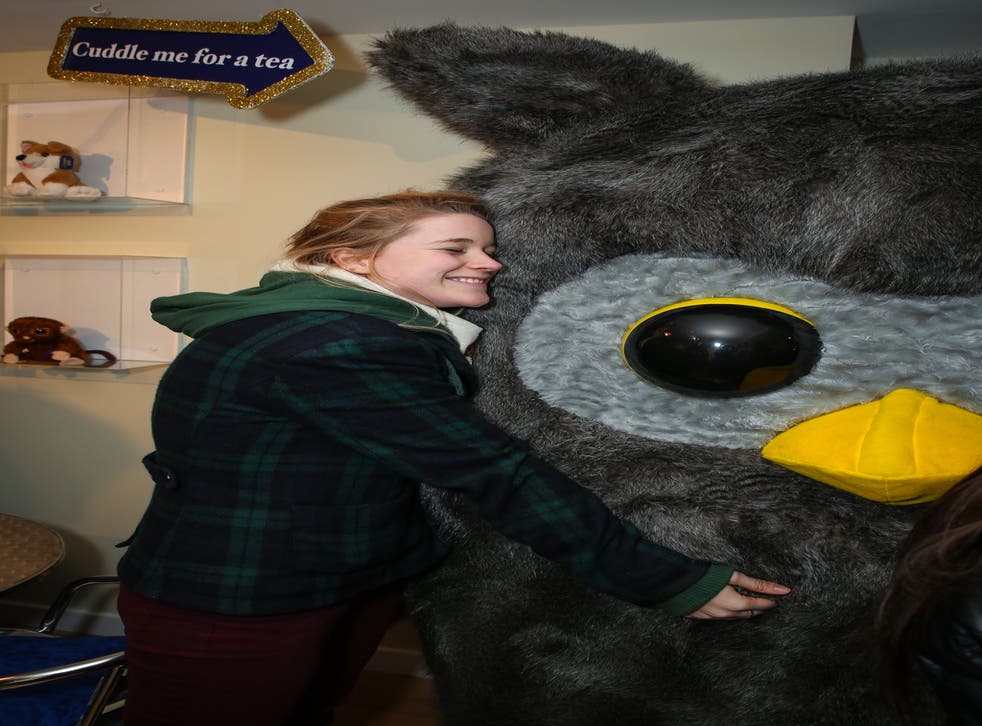 Beat the winter blues and get a hot drink and sweet treats in exchange for cuddles today at the UK's first Cuddle Café.
The McVitie's Cuddle Café is the biscuit company's answer to recent research where it revealed that nearly three quarters of Brits would like more cuddles in their life (we apparently get an average less than 10 a week). This cuddly pop-up will allow visitors to snuggle down and enjoy wall-to-wall cuteness in the form of cuddles with tea, cake and biscuits.
Everything at the café is prescribed to help stimulate happy feelings similar to those we get from receiving a cuddle, and therefore cuddles will also be the only currency accepted at the café. Visitors will be offered hot drinks and yummy treats, all for the price of one cuddle with the adorable oversized McVitie's BN Owl.
The café has been designed to maximise visitors' happiness levels, from the soft and comfy furnishings to delicious tea, cake and biscuits, and cute images. Scientifically proven to make us go 'ahhh', all of the elements in the café have been carefully crafted with the help of Dr Stuart Farrimond, who has conducted the research into the emotional and health benefits of a lovely cuddle.
Cuddle Cafe: in pictures

Show all 6
Dr. Farrimond said: "My research not only discovered that cuddling a soft toy triggers a similar emotional response and health benefit to hugging a person, but also that the act of drinking a hot beverage can stimulate similar warm, positive feelings, so what better combination that a cuppa and a cuddle?"
His research builds on the knowledge that when we hug a familiar person we release oxytocin, the chemical also known as the 'love hormone', which exerts a powerful effect on the brain making us feel happier, which in turn reduces levels of cortisol, the stress hormone, making us feel more relaxed. Dr Farrimond's research shows that hugging a cuddly toy could share some of the health benefits of hugging other people.
The McVitie's Cuddle Café is open 11 February, 11am until 8pm.
52 Tottenham Street, Fitzrovia, London, W1T 5RN.
Register for free to continue reading
Registration is a free and easy way to support our truly independent journalism
By registering, you will also enjoy limited access to Premium articles, exclusive newsletters, commenting, and virtual events with our leading journalists
Already have an account? sign in
Register for free to continue reading
Registration is a free and easy way to support our truly independent journalism
By registering, you will also enjoy limited access to Premium articles, exclusive newsletters, commenting, and virtual events with our leading journalists
Already have an account? sign in
Join our new commenting forum
Join thought-provoking conversations, follow other Independent readers and see their replies