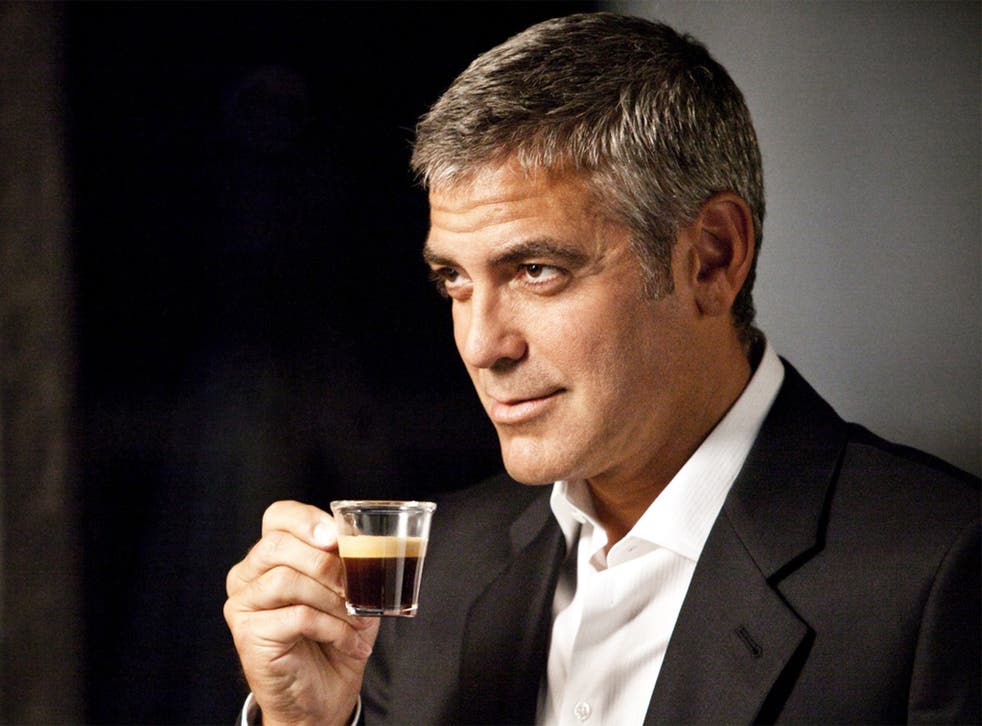 'George Clooney effect' sees coffee pods added to national shopping basket
Britons spent £109m on coffee pods last year, getting through around 260m of them
To some, they are a modern convenience, to others an expensive and wasteful indulgence. Yet while they may divide opinion among coffee purists and gadget-obsessed Britons, disposable coffee pods are now a regular part of the British diet, according to the Government.
The popularity of the pods, helped by Nespresso's adverts featuring George Clooney, has prompted their inclusion in the 'shopping basket of goods and services' the Office for National Statistics (ONS) uses to measure consumer price inflation. The changes to the contents of this year's basket, announced on 15 March, "reflect evolving consumer tastes," according to the ONS.
Coffee pods are one of 15 items which have been added, and represent a "distinct and growing product" within the hot drinks category. Britons spent £109m on coffee pods last year, getting through around 260m of the plastic pods. And more than one in five people own a coffee pod machine, according to The Grocer magazine.
Other new additions to the ONS basket include foods such as microwave rice, big chocolate bars, and meat based snacks representing the demand for "buffet-type food." Cream liqueurs have been added to the spirits category, in a bid to improve the measurement of an area where there is a "high degree of price volatility due to discounts." And Lemons are now included in the basket, to boost the representation of citrus fruit.
Sometimes products are dropped because they can be incorporated into a wider category. This is the case with organic dessert apples and carrots. Both have been removed and will now be counted in the general apples and carrots categories as a result of "organic produce becoming mainstream with less distinction from non-organic products," states the ONS. But in the case of cooked sliced turkey, it has been removed and "replaced by cooked sliced poultry since turkey was increasingly difficult to find in shops."
Are you drinking too much coffee
Commenting on the changes, Carina Perkins, buying and supplying editor, The Grocer, remarked: "The ONS basket offers a great insight into the UK's changing food and drink habits. Shoppers are becoming more health conscious, and the addition of meat snacks reflects the protein craze and demand for 'healthier' alternatives to crisps, while the addition of microwaved rice and coffee pods shows convenience still counts,"
And an ONS spokesman said: "In the longer term the basket does reflect changing habits with, for example, a move towards more prepared food and drink reflected this year in the inclusion of coffee pods and pouches of microwave rice, which join existing coffee and rice items in the inflation basket." He added: "However other changes are designed to improve the overall estimate of inflation and don't necessarily reflect changed spending or eating habits – for example the inclusion of lemons this year."
It's not just food and drink where the tastes of Britons are changing. New trends in the way in which people spend their time are also revealed in the 2016 shopping basket. Rewritable DVDs and CD Roms are among 14 items dropped, with both described as declining technologies. And computer software and downloadable computer games "reflecting evolving trends towards online services" have been added.
The cost of getting into a nightclub has been dropped from the basket, due to "reduced expenditure as the number of nightclubs is declining," while women's leggings and nail varnish have been added because of the amount people spend on them.
The 'shopping basket' of the typical goods and services bought by Britons is informed by around 180,000 price quotations measured every month. It includes around 700 items – ranging from bread and pasta to nursery fees – and draws on an annual Living Costs and Food Survey of more than 5,000 households.
Food and drink news

Show all 35
Other changes to Britain's 2016 shopping basket
In
* Boy's t-shirt – replaces the boy's branded sports top previously included, to cover both casual and sportswear clothing
* Gloss or emulsion paint – previously counted as two separate items within DIY materials
* Restaurant main course – replaces previous categories of meat, fish and vegetarian main courses, because prices move in a similar way
Out
* Power point – removed from an over-full tools and equipment category
* Pub snacks – taken out of the over-covered 'restaurant meals' category which already still includes pub meals
* Prescription lens – not needed, with glasses and contact lenses already in the basket
Register for free to continue reading
Registration is a free and easy way to support our truly independent journalism
By registering, you will also enjoy limited access to Premium articles, exclusive newsletters, commenting, and virtual events with our leading journalists
Already have an account? sign in
Register for free to continue reading
Registration is a free and easy way to support our truly independent journalism
By registering, you will also enjoy limited access to Premium articles, exclusive newsletters, commenting, and virtual events with our leading journalists
Already have an account? sign in
Join our new commenting forum
Join thought-provoking conversations, follow other Independent readers and see their replies