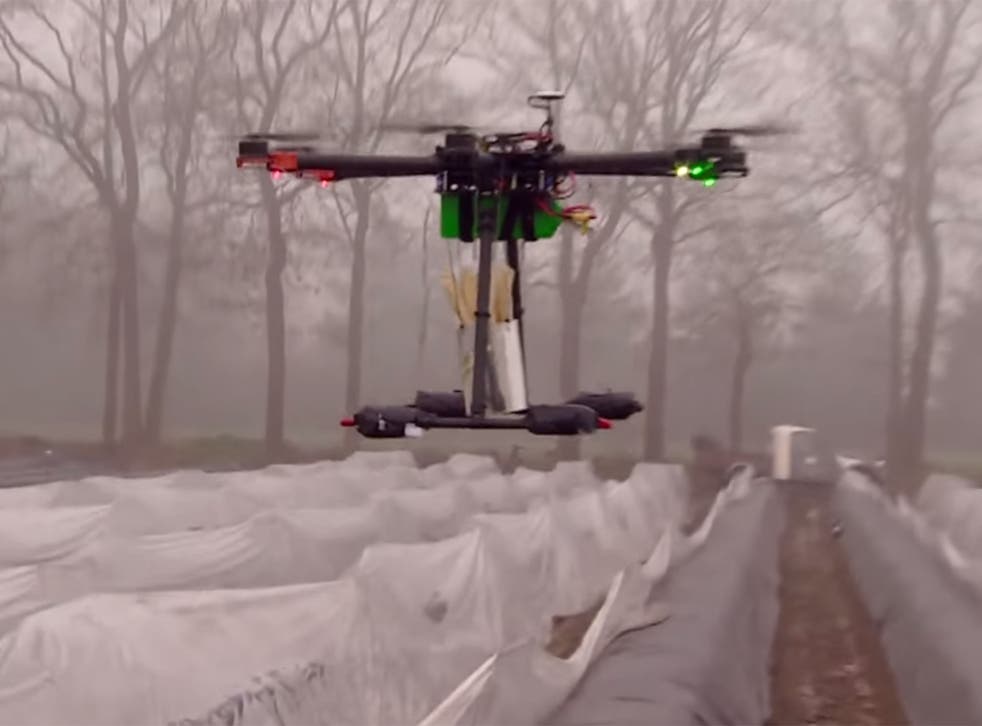 Drone delivering asparagus to Dutch restaurant crashes and burns
The restaurant behind the stunt has used Formula 1 cars to deliver new asparagus crop in the past
Kashmira Gander
Thursday 16 April 2015 09:53 Comments
An attempt by a Dutch restaurant to deliver a pot of asparagus from field to kitchen using a drone met a fiery end, when the device crashed into a road and burst into flames.
As part of a publicity stunt to mark the start of the asparagus season, a Michelin-starred restaurant loaded a consumer quadcopter with the vegetable, and launched it into the sky.
Followed by a pilot in the back of a van and a local TV channel, the drone and its veggie cargo initially travelled smoothly.
But it came into trouble when it landed to get its battery changed. When the drone was launched back into the sky, it made a dramatic descent and burst into flames - filling the air with thick smoke.
After the crash, Ronald Peijenburg, the owner of the De Zwann restaurant in Etten-Leur, North Brabant and mastermind behind the idea, told the Omroep Brabant local TV station: "Yeah, that wasn't funny. You think you have a cool idea – with a drone – how original can you be? Picking up asparagus with a drone,"
According to a translation by the International Business Times he added it was "very sad" because the owner of the drone is an amateur pilot who used his own equipment.
Luckily, the main shipment of asparagus was successfully transported, and is now on the restaurant's menu.
In the past, Peijenburg used a Formula 1 racing car and a hot air balloon the deliver the first asparagus of the season to his restaurant.
Register for free to continue reading
Registration is a free and easy way to support our truly independent journalism
By registering, you will also enjoy limited access to Premium articles, exclusive newsletters, commenting, and virtual events with our leading journalists
Already have an account? sign in
Join our new commenting forum
Join thought-provoking conversations, follow other Independent readers and see their replies