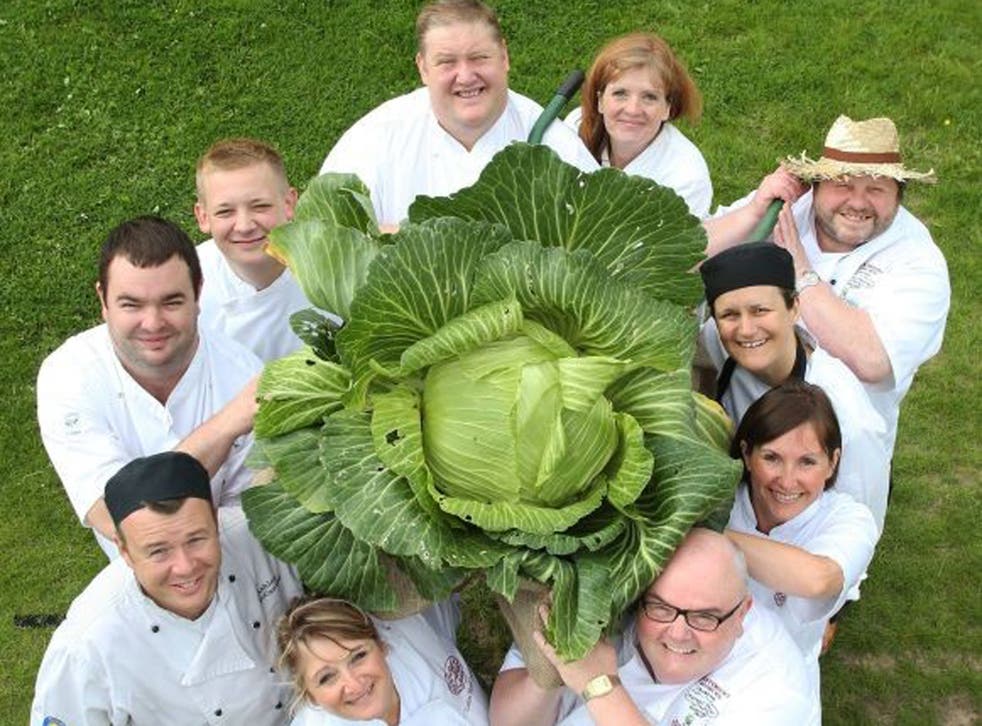 Eat your greens: Yorkshire chefs plan record attempt with giant cabbage
They hope to prepare 105 dishes in one day from single veg
A team of top chefs are hoping to set a new world record by preparing a total of 105 dishes in one day from one single giant cabbage.
The attempt to make the most dishes from one single vegetable will take place at the Harrogate Autumn Flower Show, in North Yorkshire, on 13 September.
TV chef Stephanie Moon and Gilly Robinson will be the first to slice up the giant green when they start creating 30 different dishes in 45 minutes in the show's Plot to Pot Cookery Theatre.
The rest of the team will then produce 15 dishes each throughout the day with a world-beating target of 105 recipes, all including a portion of the super vegetable.
Show director Martin Fish said: "The giant vegetable competition has proved to be incredibly popular since we launched it in 2011. One of the big questions many people ask is what it would be like to cook with one of the monster exhibits, so we thought it would be fun for our visitors to find out.
"We already host the record weigh-in for the world's heaviest onion and, when we researched previous attempts to cook with giant veg, we couldn't find any records for the greatest number of dishes you can get from one specimen."
The cabbage has been produced specially for the show by champion grower Peter Glazebrook, from Newark, Notts, who will be competing again this year to see if he can break the heavy onion record for the third year running.
The Harrogate Autumn Flower Show is staged at the Great Yorkshire Showground from 13 to 15 September.
Register for free to continue reading
Registration is a free and easy way to support our truly independent journalism
By registering, you will also enjoy limited access to Premium articles, exclusive newsletters, commenting, and virtual events with our leading journalists
Already have an account? sign in
Register for free to continue reading
Registration is a free and easy way to support our truly independent journalism
By registering, you will also enjoy limited access to Premium articles, exclusive newsletters, commenting, and virtual events with our leading journalists
Already have an account? sign in
Join our new commenting forum
Join thought-provoking conversations, follow other Independent readers and see their replies