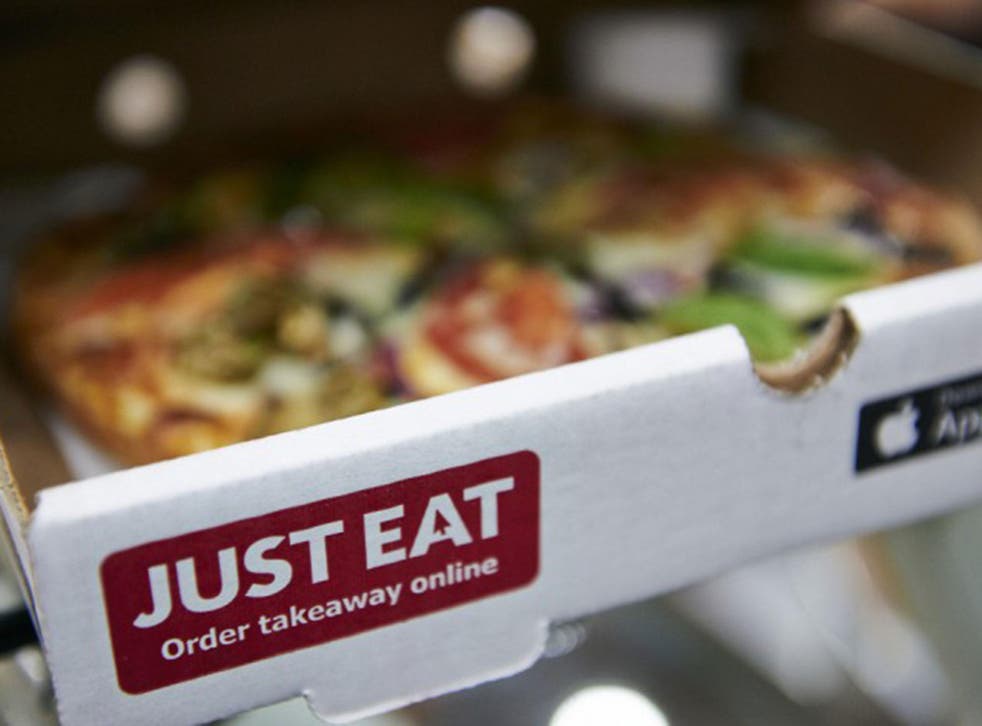 Food-ordering websites like Just Eat could put us out of business, say high street takeaways
Just Eat revealed this week it kicks underperforming takeaways off its site
Simon Neville
Monday 10 August 2015 15:10 Comments
Thousands of high street takeaways fear that the huge growth of food-ordering websites such as Hungry House and Just Eat could put them out of business.
Two of the biggest federations, representing Chinese and Asian takeaways in the UK, have described joining the internet platforms, which allow customers to view takeaways that have signed up in their local area and order meals online, as "like taking a drug".
The warning that stores should beware of the downsides of what can at first appear a good business deal comes after the boss of Just Eat revealed this week that the company kicks hundreds of underperforming takeaways off its site each year.
Yawar Khan, the chairman of the Asian Catering Federation, told The Independent that the websites "were good for our members when it started as it would give a boost to their business, but now so many takeaways are on the platform, it is no longer a benefit, with many of the same customers returning, rather than new customers joining."
He added: "It's like a drug. Just Eat would offer great incentives to join, but once they've got you hooked it becomes very addictive and then they put their fees up."
Mr Khan, whose organisation represents 1,500 takeaways, said it was now encouraging its members to take control of their own online ordering systems by setting up their own websites in an attempt to undercut Just Eat and Hungry House and avoid the high fees.
Just Eat – the biggest takeaway web platform in the UK – typically charges each takeaway a joining fee and takes a cut of every order received – of around 12 per cent. Extra charges can be added to allow a takeaway to appear higher up the list.
Mr Khan added that Just Eat also pushed its listed businesses to offer 20 per cent off online orders – which the takeaway must cover, further squeezing profits, although Just Eat insisted this was mainly Mondays to Thursdays during quiet periods.
Just Eat has grown rapidly in recent years after being founded by the Danish businessman Jesper Buch in 2000. The concept has been adapted for several countries in Europe and last year it joined the London Stock Exchange, where its shares have jumped more than 100 per cent in a year to value the company at £2.8bn.
Releasing its latest results this week, chief executive David Buttress said "a few hundred" outlets had been removed due to "detrimental consumer retention" by being late with orders, delivering the wrong food, or not taking orders at all.
Hungry House was launched in 2003 by Shane Lake and Tony Charles, with the pair rising to fame after appearing on Dragons' Den. The company charges less than Just Eat in commission, but is not as popular as its larger rival.
Thomas Chan, the chairman of the Chinese Takeaway Association, which represents 10,000 takeaways across the country, suggested that Just Eat and Hungry House were taking advantage of many businesses which effectively had to sign up to the platforms or risk losing business.
He said: "Our members feel like they are in a dilemma – do you put in more effort to churn out more meals, meaning you maintain your business but with much more work and much less profit, or do you leave and run the risk you go out of business.
"They worry that it gives the platforms too much power over their destiny."
Mr Chan added that Just Eat had approached him to discuss gaining accreditation from his organisation, but he declined because of the concerns of his members.
A spokesman for Just Eat said: "Just Eat takes pride in bringing significant value to our restaurant partners and customers. We take the weight off thousands of small businesses so they can focus on what they do best.
"The great majority of our 25,000 UK restaurants are highly professional family firms who provide a great experience to our customers. We continue to drive up the standards in the takeaway sector and work with our partners to try and improve their services. However, we occasionally remove restaurants from our platform if they continuously fail to deliver on customer expectations."
Hungry House did not reply to requests for comment.
Britain's most popular takeaway food
Pizza: Recently pushed Chinese into second place thanks to the growing appetite for authentic Italian pizzas, with sourdough bases and buffalo mozzarella.
Chinese: A firm favourite of takeaway fans, Chinese food has topped the list for the past decade but has slipped as customers look for healthy options.
Indian: A long-term favourite, the curry house also features the dish that is still riding high as the nation's favourite, chicken tikka masala.
The fastest growers
Greek: Just Eat believes the rise in Greek food is due to the view of some customers that fresh salads and simple cuisine provide a healthier alternative to curries.
African: Another fast growing area, foodies are keen to experience more exotic foods and a more diverse population is helping this cuisine grow.
Register for free to continue reading
Registration is a free and easy way to support our truly independent journalism
By registering, you will also enjoy limited access to Premium articles, exclusive newsletters, commenting, and virtual events with our leading journalists
Already have an account? sign in
Join our new commenting forum
Join thought-provoking conversations, follow other Independent readers and see their replies