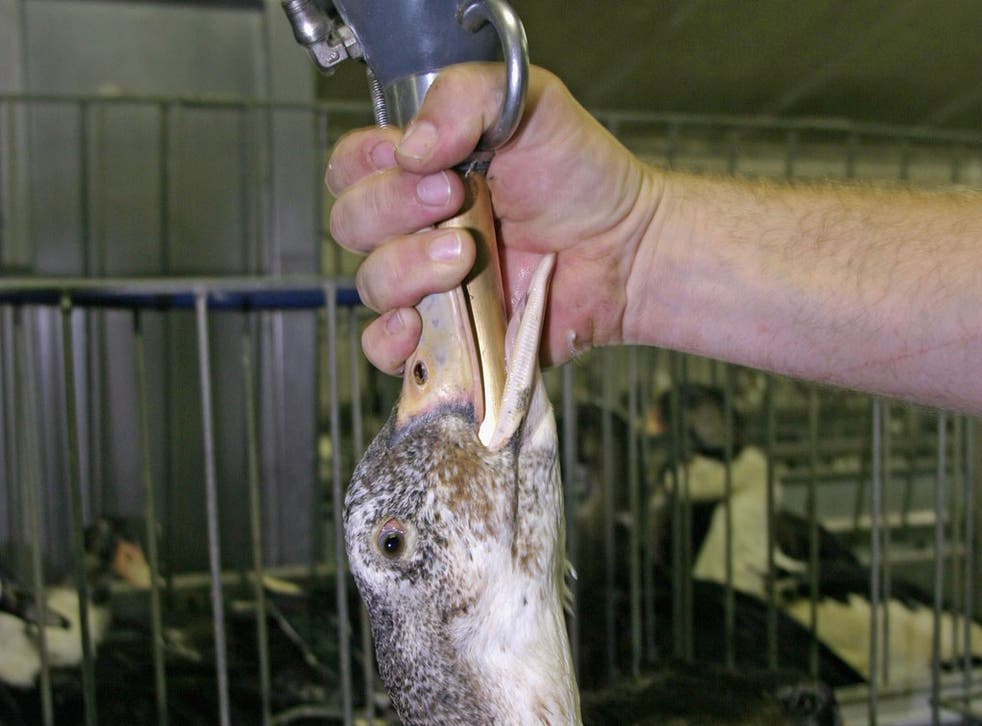 French call for Californian wine boycott as US state bans foie gras
Aggrieved diplomats in Paris to raise issue with US ambassador
Aidan O'Donnell
Saturday 14 July 2012 00:00 Comments
A French MP has called for the boycott of Californian wine after the US state banned the sale of foie gras.
A few days before the ban on the making, cooking and selling of foie gras came into effect on 1 July, the French Ministry of Foreign Affairs said that it had appealed to California to reconsider its position. That intervention failed, and the Ministry are now turning to public relations to try and convince the world that they are not cruel animal tormentors.
Foie gras, a delicacy of French cuisine, is produced by over feeding a goose or a duck, which makes the liver swell in size. It was classified as a "protected gastronomic and cultural heritage" by the French state in 2006 but opponents say that the force-feeding – known as gavage – amounts to animal cruelty.
The Ministry of Agriculture in Paris says the French government plans to raise the issue with the US Ambassador in Paris. But Philippe Martin, the French MP for Gers in the south-west heartland of foie gras production, proposed they go a few steps further. "I call on all the restaurants in France that sell Californian wine to stop doing so in a show of solidarity for our foie gras makers and, more broadly, for all food makers," Mr Martin has said.
Marie-Pierre Pé, head of France's Foie Gras promotion body, the Cifog, dismissed anti-foie gras campaigners as "animal rights activists who only want to push vegetarianism and put an end to the consumption of animal products," but rejected Mr Martin's suggestion.
"We want the consumer to have free choice – that he or she can buy wine from California, and that people in California aren't stopped from buying foie gras," she said.
Ms Pé wants to show people that the production of foie gras is not cruel, and plan to open farms to concerned members of the public. "Twenty years ago, people used to say 'it has to be hidden because people are shocked' but today we're saying 'you have to show people and explain' because you can see that our critics are spreading false information."
But the anti-foie gras campaigners are equally vocal. On Thursday, a group of animal rights activists held a rally outside the US embassy in Paris to support the California ban. The protesters wore T-shirts declaring that "every foie gras you buy means a duck has been stuffed" and carried placards that read "Thanks California for the ban on foie gras!"
Register for free to continue reading
Registration is a free and easy way to support our truly independent journalism
By registering, you will also enjoy limited access to Premium articles, exclusive newsletters, commenting, and virtual events with our leading journalists
Already have an account? sign in
Join our new commenting forum
Join thought-provoking conversations, follow other Independent readers and see their replies