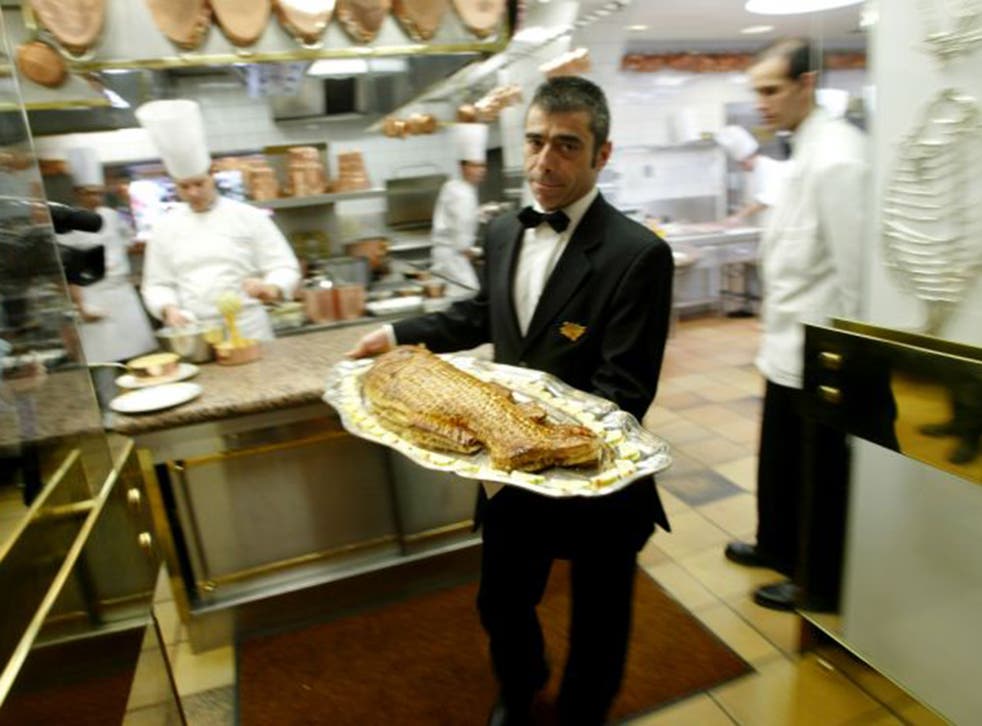 French chefs get 'le huff' as nation slips down global cuisine rankings
Fury at British best restaurants survey sees French magazine produce a rival list
John Lichfield
Sunday 01 February 2015 01:00 Comments
War is declared, not for the first time, between France and Britain. The conflict might be called "Michelin star wars" or the gastronomic empire strikes back.
French chefs and culinary experts have long been infuriated by the "World's 50 Best Restaurants" survey launched more than a decade ago by the British magazine Restaurant. In the 2014 list, for instance, there were only three French restaurants in the top 50. The highest was at 11th place.
The survey has sometimes been used in the British and American media – though not by Restaurant magazine – to suggest that French cooking is overrated or passé.
Last week, the French gastronomic magazine Le Chef produced a rival list. And quelle surprise! Six of the world's top chefs, according to the survey, are French. The top two places go to Pierre Gagnaire (92nd in the 2014 Restaurant survey – which, beyond its name, in fact lists a top 100) and the ageing "pope" of French cuisine, Paul Bocuse, who is not in the "British" list at all.
Le Chef magazine's top 10 world's chefs and restaurants

Show all 10
The highest-placed UK restaurant in the French list is Heston Blumenthal's Fat Duck at Bray, Berkshire, which is 28th. The restaurant that topped the "Best 50" list last year – and on three previous occasions – René Redzepi's Noma in Copenhagen, appears much lower down in the rankings by Le Chef.
A question of taste? Or a question of propaganda?
In presenting his new list, the editor of Le Chef, Francis Luzin, said last week that it was the "first accurate snapshot of the best restaurants in the world". He made a direct attack on the "so-called 50 best" which, he said, "revolted many French chefs".
Mr Luzin complained that the composition of the "jury" for the "50 best" was "problematic" because it allotted 10 jurors to each country – whether that country had a strong gastronomic tradition or not. This is inaccurate. The British survey is based on 27 regional juries of 36 chefs and cookery writers. France, because of its strong culinary tradition, is a region of its own.
In any case, the jury chosen by Le Chef has a dubious claim to objectivity. The French magazine asked all the Michelin three- and two-star chefs in the world to name the "five restaurants where you should eat at least once in your life". The Michelin star system, while prestigious, is skewed towards French and Japanese cuisine. Of the 512 three- and two-star chefs polled by the French magazine, 109 were in France. Many of the others were French "starred" chefs working elsewhere. No fewer than 137 members of the Le Chef "jury" were Japanese.
Small wonder, therefore, that the magazine's list of 100 best chefs and restaurants should be heavily larded with French and, up to a point, Japanese names. The results were seized upon, uncritically, by the French media as proof that the country is still the world's "top chef". But is it credible that six of the top 10 chefs in the world – and 31 of the top 100 – are French? Le Chef editor Francis Luzin, did not return our calls.
William Drew, former editor of Restaurant, now editor of the "World's 50 Best Restaurants" and its spin-offs, was philosophical about the rival list. "All these things are subjective," he said. "Our aim is to celebrate good cooking and attract attention to chefs all over the world who are doing great things."
Drew objected to the misrepresentation of the "50 best" jury system by Le Chef magazine. He also denied that his listings were, in some way, anti-French. "If you look at the restaurants which have appeared over the years, France has always been one of the countries best represented," he said.
Has Le Chef magazine over-egged the pudding with such a Francocentric list? "You could say that," Drew said. "I couldn't possibly say it myself."
Vive la Difference! The rival lists
Le Chef magazine's top 10 world's chefs and restaurants
1. Pierre Gagnaire, Restaurant Pierre Gagnaire, Paris, France
2. Paul Bocuse, L'Auberge du pont de Collonges, Collonges au Mont d'Or, France
3. Joan Roca, El Celler de Can Roca, Girona, Spain
4. Thomas Keller, Per Se, New York, US
5. Alain Ducasse, Louis XV, Monaco
6. Michel Bras, Le Suquet, Laguiole, France
7. Eric Fréchon, Epicure, Paris, France
8. Yannick Alléno, Ledoyen, Paris, France
9. Seiji Yamamoto, Nihonryori RyuGin, Tokyo, Japan
10. Daniel Humm, Eleven Madison Park, New York, US.
Restaurant magazine's 'World's Best 50 restaurants' top 10 2014
1. Noma, Copenhagen, Denmark
2. El Celler de Can Roca, Girona, Spain
3. Osteria Francescana, Modena, Italy
4. Eleven Madison Park, New York, US
5. Dinner by Heston Blumenthal, London, UK
6. Mugaritz, San Sebastian, Spain
7. DOM, Sao Paulo, Brazil
8. Arzak, San Sebastian, Spain
9. Alinea, Chicago, US
10. The Ledbury, London, UK.
Register for free to continue reading
Registration is a free and easy way to support our truly independent journalism
By registering, you will also enjoy limited access to Premium articles, exclusive newsletters, commenting, and virtual events with our leading journalists
Already have an account? sign in
Join our new commenting forum
Join thought-provoking conversations, follow other Independent readers and see their replies