Grub Kitchen: Paying a visit to Britain's first insect-only restaurant
Rachael Pells decided to worm her way in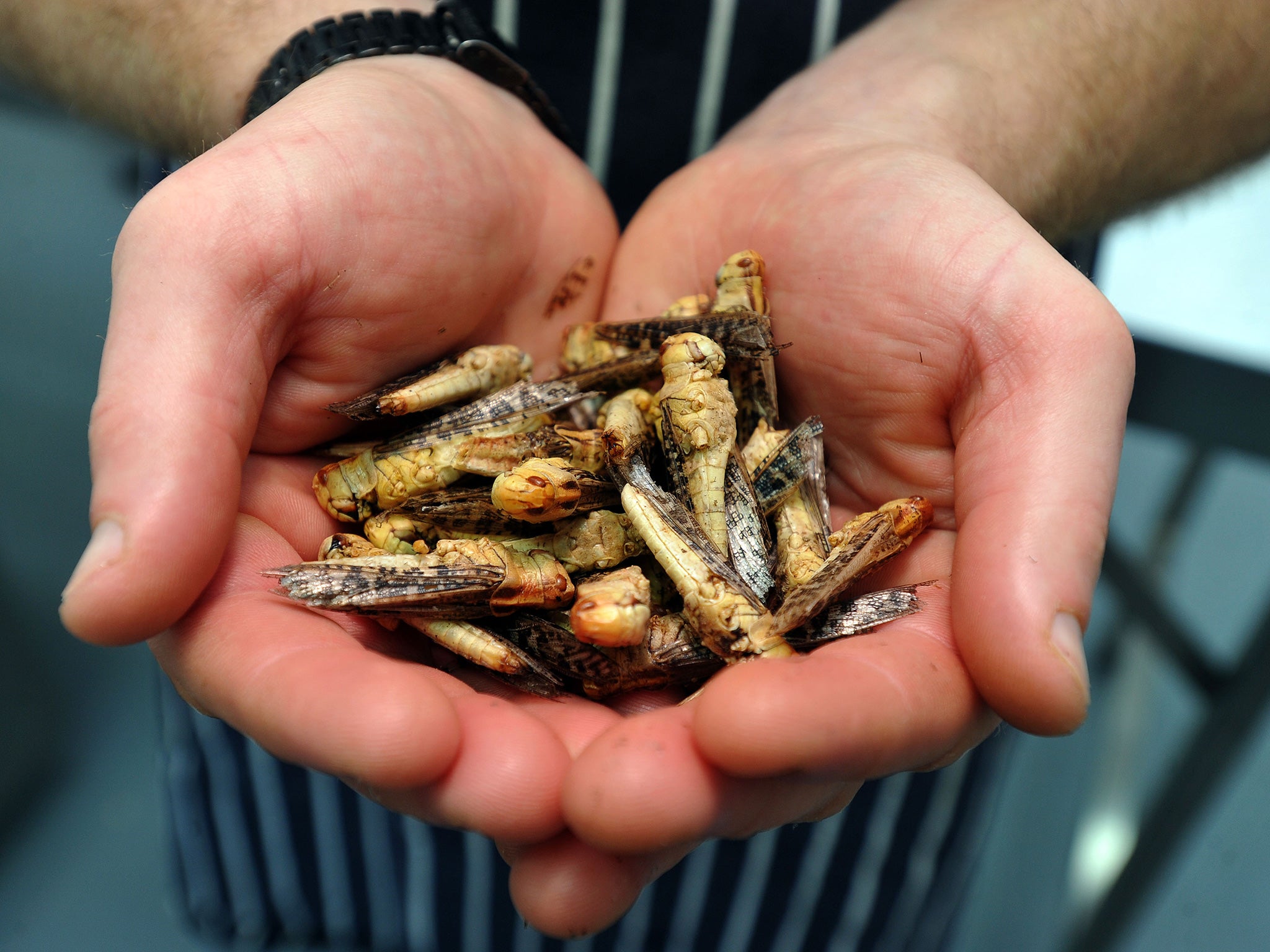 It is usually frowned upon for a restaurant to welcome the company of cockroaches, let alone a family of large Madagascan ones. But one kitchen in rural Pembrokeshire has won a social entrepreneur award for doing just that, before it even opened.
Grub Kitchen, a partner business to the Bug Farm at Lower Harglodd, near St David's, opened two weeks ago and is already taking Christmas bookings. All its food is primarily made from insects. The Independent reported on the opening last month, so it seemed only right to go along and sample the food.
Visitors are taken on a guided tour of the "bug zoo", where tarantulas, millipedes and Rampant Robert the Rainbow Stag Beetle live.
I am led from the tropical haven to the kitchen to eat some of Robert's less fortunate relatives. Grub Kitchen itself is a bright and homely café-restaurant which has been transformed from an old tin-roofed farm shed. Tables are made from disused railway sleepers and a bar from floorboards, so it is decidedly sustainable-chic.
With separate daytime and evening menus, guests can enjoy starters ranging from toasted cumin mealworm hummus and breads to zesty black ant and olive-crusted goat cheese (approx £6.50).
Grasshoppers and crickets have always been a popular dish in South America and some African countries and it seems the British have been missing a trick. Slightly crunchy they are, like everything else exoskeletal, and slightly nutty in taste. Yet somehow it feels as natural as munching on Bombay Mix.
For my main meal, chef Andy Holcroft joined me for his personal recommendation: a cricket, locust, mealworm and grasshopper burger with polenta chips, side salad and grasshopper garnish.
On first impressions, the burger tasted very much like any gourmet veggie burger – soft in texture but with a little added nutty crunch. Remnants of mealworm peeped out from where I'd bitten to remind me of what I'd just eaten.
Everything about this experience initially felt wrong. Bug burgers clearly look and feel very different from steak but no more so than other meat substitutes such as Quorn. Yet the meal was so delicious I was soon eyeing up pudding.
The cricket cookie packs a nutty punch, which you might put down to Nutella or peanut butter; in fact it's the 90 per cent ground cricket flour.
Kids menus offer the option of a bug burger or something a little "safer", such as macaroni cheese. But in Holcroft's experience, it's children who are the most adventurous.
"Some people come in wanting to see the bugs they're eating – for them that's part of the experience. But others need easing in a bit more.
"We're putting into place a scale of insect-iness, with one being something very mild on the palate and an easy way in to the idea of bugs as protein.
Join our commenting forum
Join thought-provoking conversations, follow other Independent readers and see their replies