Grub Kitchen: Welcome to Britain's first insect restaurant
'I've always been really interested in trying to do something different with food'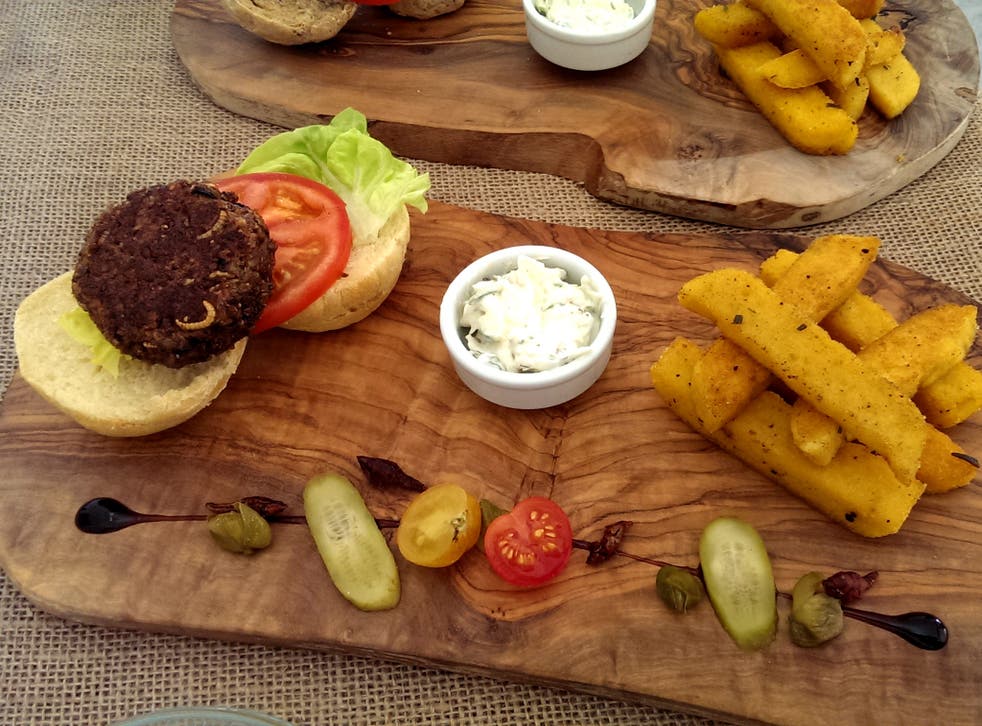 Ordinarily, an exclamation of: "Waiter, there's a fly in my soup!" would result in a grovelling apology from the restaurant manager. In Grub Kitchen, however, staff would likely respond with a polite: "Is everything to your taste?"
Britain's first insect restaurant, in Pembrokeshire, south-west Wales, is due to open its doors next week and the head chef is confident diners will "love" his bug-laden dishes.
"I've always been really interested in trying to do something different with food," Andy Holcroft said. "I want to make people think about their food."
The award-winning chef is a passionate advocate of entomophagy – eating insects. At least two billion people worldwide already do so, with about 1,900 species commonly consumed, according to the Food and Agriculture Organisation at the United Nations.
Eating insects for protein is increasingly popular in other EU countries such as the Netherlands, and Mr Holcroft believes his restaurant in Haverfordwest will be a step towards normalising it here.
He has conducted extensive market research to finesse his menu. "The first dish I created was a mealworm and cricket kofte kebab," he said. He subsequently developed the restaurant's signature bug burger – a blend of toasted crickets, mealworms and grasshoppers, mixed with spinach, sundried tomato and seasonings – and experimented with more exotic nibbles, from cheesy locust croquettes to bamboo worm pad Thai curry.
For diners with a sweet tooth, desserts include cricket crepes with bamboo worm fudge ice cream, and treacle tart with bug brittle and hedgerow compote. Mr Holcroft's cricket cookies even won Women's Institute members' seal of approval.
"Kids love the edible insects – they don't have that fear factor," he said. "I wouldn't expect everyone to like them, in the same way I wouldn't expect everyone to like fish or mushrooms or pork."
There is no current UK law on how to breed insects for human consumption. The critters served at Grub Kitchen are bred in laboratories and imported from a variety of European firms, but Mr Holcroft is in talks with the Food Standards Agency and hopes to be breeding his own supply by next year.
Mealworms have a pleasantly "branny" texture, while crickets could be compared to puffed rice, he said. Weight for weight, crickets can contain more protein than beef and can nourish humans up to 25 times more efficiently, as "the exoskeleton breaks down very easily when you chew it".
Bugs you like: Grub Kitchen's menu
* Insect tasting board featuring a selection of plain and seasoned insect treats
* Chilli cricket cocktail with bloody Mary salsa and lemon chapuline salt
* Caerfai cheddar, tomato, Grub farmhouse pickle, fresh leaves and herb salsa
* Grub garden salad of local organic leaves, tomatoes and herbs with crunchy insect granola, goat's cheese and balsamic jelly
* Cricket falafels with tatziki, olives, lettuce and Caerfai cheddar
* Bug blinis with wild garlic humus and toasted cumin mealworms
* Bug burritos; lemon and coriander bulgar wheat, spicy beans and chilli-con crickets with chilli chapuline and tomato salsa, sour cream and sago worm guacamole
* Sago, and bamboo worm pad Thai curry
* Cricket crepes with bamboo worm fudge ice cream
* Carrot, cricket and cardamom sponge cake with caramelised crickets and lemon crème fraiche
* Treacle tart with bug brittle and hedgerow compote
Register for free to continue reading
Registration is a free and easy way to support our truly independent journalism
By registering, you will also enjoy limited access to Premium articles, exclusive newsletters, commenting, and virtual events with our leading journalists
Already have an account? sign in
Register for free to continue reading
Registration is a free and easy way to support our truly independent journalism
By registering, you will also enjoy limited access to Premium articles, exclusive newsletters, commenting, and virtual events with our leading journalists
Already have an account? sign in
Join our new commenting forum
Join thought-provoking conversations, follow other Independent readers and see their replies