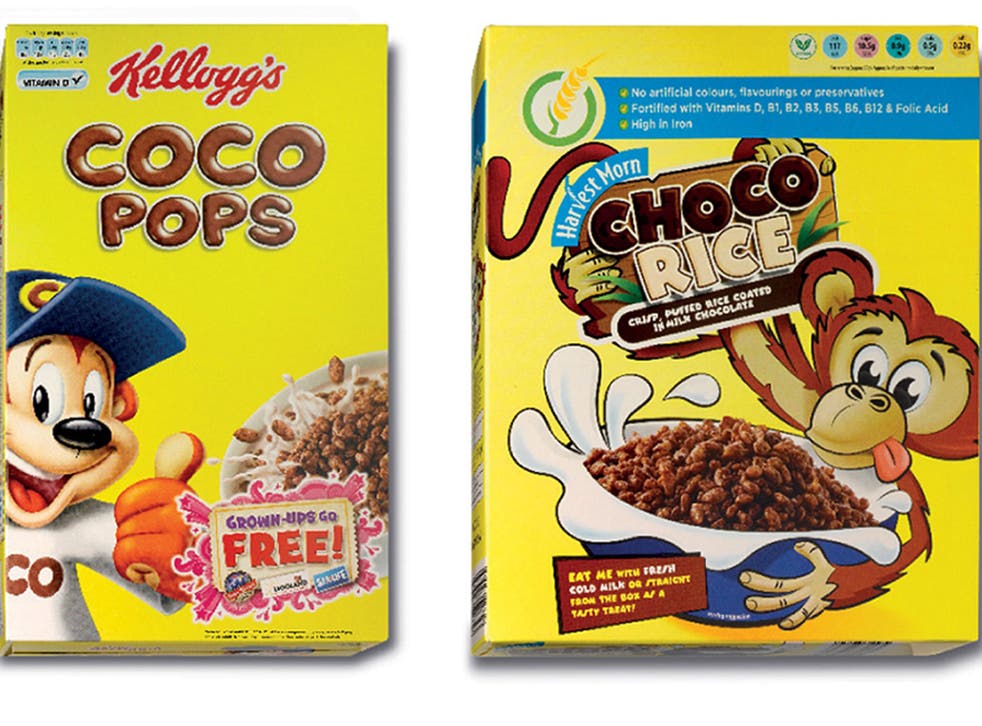 Have a break, have a copycat: the supermarket misleaders
Imitation may be the sincerest form of flattery – but it's proving more than a little confusing for shoppers looking for their favourite brands.
Supermarkets have been accused of tricking consumers into buying own-brand products by making them look like household labels.
Which? claims that retailers have been "free-riding" on the reputations of brands by mimicking the packaging of better-known producers of biscuits, cereals and bath products.
One-in-five shoppers had accidentally bought a supermarket version of their favourite brand, according to the consumer watchdog. An investigation by the consumer group found that more than 150 supermarket own label products had "borrowed" elements from the packaging of branded competitors. They included McVitie's Digestives, Kellogg's Coco Pops, Simple cleanser and wipes, Radox bath gel and Jacob's Cream Crackers.
Packaging consultant Mark Shayler said Aldi's version of the cream crackers used the same colour scheme as Jacob's with an almost identical design. He said: "Retailers use this copycat packaging to reassure customers that their product is of a similar quality to the brand leader. There's also the possibility of confusing customers so that they buy the own-label product instead."
The Which? survey found that products in Aldi, Asda, Lidl, Morrisons, Sainsbury's and Tesco appeared to have borrowed from leading brands. It said Danish Lurpak butter seemed to have "a recognisable own-label imitator" in most major supermarkets.
British Brands group director John Noble said: "Currently in the UK there is little to stop a competitor packaging its product to look like a familiar brand, whether or not the product's performance is in any way similar."
The cosmetics retailers Boots and Superdrug also stocked products that looked "very similar" to leading brands, Which? said. One-in-three of more than 2,000 shoppers surveyed told the watchdog that they "felt misled" after buying an own brand product by mistake. The survey comes as own-brand products are becoming increasingly popular with customers, with retail analysts claiming the catalyst for their increasingly popularity are the economically-strained times.
Industry experts have said that many retailers allowed small independent companies to "take risks" with new products, then replicated them in a cheaper own-brand format if they are successful.
In response to the Which? survey, Boots explained the similar packaging by claiming colours used could be synonymous with active ingredients.
Morrisons, Superdrug and Aldi all said retailers used the same colours as branded products in order to help shoppers find products quickly.
"Retailers should make sure that people are under no illusions about what they are buying and not leave so many consumers feeling that they have been misled," said a Which? spokeswoman.
Top tricks: Trade secrets
Mimicking the packaging of popular brands is just one of a legion of tactics used by supermarkets to keep shoppers shopping and spending. Others include:
* Keeping sweets and snacks near the checkout where shoppers are tired and hungry and will be likely to make an impulse purchase.
* Shelves are stacked tactically with the most expensive items often at eye level and bargains tucked away out of sight.
* The layout of supermarkets is also carefully planned. Fruit, vegetables, meat and dairy are all placed around the outer limits of the store, with pre-packed, processed and frozen foods at the centre. That means shoppers must pass through the "unhealthy sections" to buy products needed for a balanced daily diet.
Join our new commenting forum
Join thought-provoking conversations, follow other Independent readers and see their replies